SOHO VoIP (Small Office/Home Office)
The advent of Voice over IP has introduced a whole new phone service option to both home users and businesses alike. One market segment that has benefited greatly is the Small Office / Home Office (often referred to as SOHO) business customer. This niche market can take advantage of the solutions targeted at the home user as well as the solutions targeted at small businesses, providing many options.
The phone service market targeting Small Offices and Home Offices and indeed Small to Medium sized Businesses (SMB) has become very competitive recently and as such the winner is undoubtedly the customer. Companies offering Voice over IP service are cutting their prices and offering feature sets you would expect for large businesses. This is very valuable to small businesses as the features such as auto attendant and the quality of service give the appearance of a much larger business. Follow these simple steps to finding the right choice for your phone service needs.
Read our Small Office / Home Office (SOHO) VoIP phone systems guide below if you are new to this technology.
Compare home providers (great for 1-2 lines) and business providers (great for 2+ lines or expanding).
To save time simply complete the form to the right to get free custom pricing quotes from award winning providers.
Provider Options for SOHO Needing 1 to 2 Lines
If your SOHO business only requires 1-2 phones and you do NOT anticipate that to expand in the future then a residential style plan can be a great choice, particularly for a home business. Here are some popular options.
Provider*
Highlights
Startup
Reviews
More Info

Save 53%+ on Your Phone Bill
Over 40 Included Features
Easy Setup & Free Adapter to Use
No Contract or Cancellation Fee

30-day Money Back


Read Reviews

Special: Limited Time Offer
No setup fees - US Based Support
Free Adapter, 50+ features
No Annual Prepay

No Cancel Fees


Read Reviews

Special: $149 for 2 Yr's service
Free 2nd line + Int'l mins
Free setup. No contract
45+ features. US-based support

30-day Money Back


Read Reviews
Provider Options for the Expanding SOHO
If your SOHO business is currently small and only using 1 or 2 lines BUT you expect to grow that number, OR you already need 2+ phones then we would suggest considering a business service provider like the options listed below.
Provider*
Highlights
Startup
Reviews
More Info

Over 84,000 Businesses Trust Vonage
36% Savings and No Annual Contract
In-house Customer and Tech Support
NEW! Amazon Chime Incl, no Extra Cost

Cancel Anytime


Read Reviews

Simple to Use for Admins/Users
No Fees for Add-ons/Upgrades/Features
Unlimited Calls, from $19.95/mo
Get First Month Free!

Free Trial


Read Reviews

Powerful Communication Features
Fast, Easy, Free Setup & Install
Trusted by 50,000+ Customers
Unlimited Calls. Flexible Pricing.

30-day Money Back


Read Reviews
A Guide to SOHO VoIP Phone Service
A typical home office or small business solution is highlighted in the diagram below. Note that additional phone lines and PCs can be added simply by connecting them to the LAN side of the router. Note that all the calls are handled by your service provider at their office. This is often referred to as a "Hosted" solution. The advantage here is that scalability is a simple exercise and everything, data and voice, is sent over your broadband connection.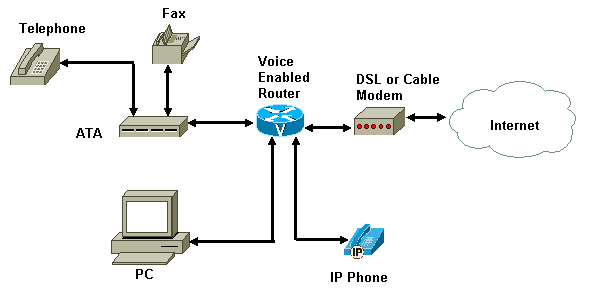 Not every SOHO setup for VoIP is the same though and it is important to ensure that your voice traffic receives a higher priority than data traffic. Otherwise your calls may be choppy or disconnected when large data uploads or downloads are occurring in parallel with phone calls. This is easily accomplished through use of Quality of Service (QoS) which is the terminology that refers to various protocols that enable traffic prioritization. For more information on QoS and to evaluate other potential equipment setups, please visit our VoIP setup section.
Arguments Against Voice over IP for SOHO Environments
As with any technology or service, there are naysayers that will convince you against trying it because they are concerned about potential issues such as:
Power Outages: It is true that if you have this type of voice service and your power goes out you will lose phone service. Firstly, ask yourself how often your power goes out to determine if this is even a remote concern. Secondly, if it really is a concern then you can purchase a cheap uninterruptible power supply that will keep your phones up and running. With a home office, you should likely have one of these anyway if power outages are frequent, as it will also keep your computers running.
Sound Quality: This should actually be better than a regular landline as it is digital technology. The main reason for the perception of poor sound quality is due to Internet bandwidth issues. As long as you have a decent amount of Internet bandwidth and you have a good router, you should enjoy great sound quality.
Essential Features that can Benefit your Small Office
Although you have a small or home office, you likely still want to give the perception of a larger company and will definitely want to demonstrate a professional appearance to all new or existing customers. Here are some key features that can give a big business feel to your small company:
Auto-Attendant: This is a must have feature as having an auto-attendant for the main company number is now the norm. Allowing people to choose which department they want to get in touch with and offering other options such as company hours, location, dial-by-name directory, etc can leave a great impression on anyone who calls. Don't worry though, you can always just forward every selection to your own phone.
Conferencing: Most services offer some form of conferencing and if you are running a small business, it is likely that you will need to setup a conference more often than not.
Unlimited Nationwide Minutes: This comes included with the majority of plans. Note that unlimited is often based on some "reasonable usage" limit (such as 5,000 minutes/month).
Many Others: Unlike landlines, VoIP comes with almost every feature you can think of such as call waiting, call hold, call transfer, voicemail-to-email, and many more.
An Alternative Solution - Virtual Office Business Phone Number Service
With BYOD (Bring Your Own Device) becoming more and more popular with businesses, there are more companies now offering a service that can provide you with all the features of a business phone service that you will likely need, while utilizing your existing phones. These services are quick and easy to setup and can be one of the most cost effective phone service solutions for small businesses. To learn more about these service, please visit our article on how to turn any phone into a business phone system.