Cloud-based hosted PBX services have transformed business telecommunications in recent years, offering tremendous benefits to companies big and small alike. Cost savings are realized by eliminating the need to purchase, maintain and upgrade expensive hardware as well as the ability to reduce costs associated with internal management of networks that power such communications.
RingCentral and Vonage Business are two of the major players in the cloud communications space that focus heavily on small and medium-sized businesses (SMBs).
If you are in the market for cloud-hosted voice services and want to know more about how these two companies stack up against each other, read on.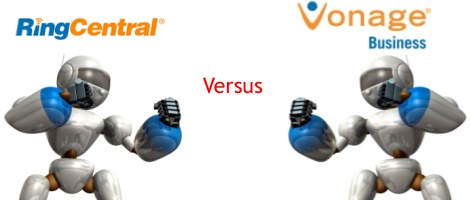 The RingCentral Approach
RingCentralís offering and marketing squarely centers on the medium business market. It capitalizes on the desire of these companies to leverage not only the power of the cloud but the "Bring Your Own Device" (BYOD) movement, or so it says.
Technically, you could say that a BYOD solution is any offering that allows people within an organization to use their existing hardware (most commonly a Smartphone but it can also be a tablet or even a laptop) in conjunction with the companyís network and infrastructure. That definition is clearly what RingCentral is hanging its hat on these days, although it is not what a BYOD solution in its purest form really is, nor is it what RingCentral used to offer.
In the past, RingCentral delivered software that gave employees the ability to use their personal electronic devices on company networks, i.e. to make business calls with personal cell phones. Thatís it. Today, RingCentral requires that companies sign up for more comprehensive service plans that offer this functionality and more. Without the purchase of actual phone lines and the accompanying features, customers cannot get the app that enabled the BYOD capability. RingCentral seems to be doing a good job of leveraging its old marketing and reputation as 'the' BYOD company even though it has changed its methodology somewhat.
The Vonage Business Approach
Vonage Business has a range of features that can accommodate everything from small businesses to larger enterprises depending upon the options selected.
Perhaps the most obvious manifestation of the difference in the approach between RingCentral and Vonage Business is their pricing models. RingCentral follows a standard setup with three basic plans structured on a graduated set of features.
Until recently, Vonage Business did not offer set plans but operated solely on a "Build Your Own" approach. This provided amazing flexibility and scalability of solutions but could also be quite complex and, quite frankly, daunting especially for small or medium businesses. It has just recently launched three plan levels but still touts its customizable path as well for those who want it.
Even with the rollout of set plans by Vonage Business, the structure of each company's plans and the features offered in each are different that the best way to compare them is by feature type.
One point of note is that Vonage Business does provide a mobile app which allows businesses to let their employees use personal devices with the service. Given this, Vonage Business is every bit a BYOD provider as RingCentral even though they donít tout it near to the extent that RingCentral Does. Vonage Business even gives users the ability to consolidate message receipt from multiple devices (desk phones, different computers, mobile phones and tablets) into one inbox for easy management.
A Detailed Comparison of RingCentral Versus Vonage Business
The information in the tables below is pulled from our provider databases and is in no way intended to be static as it will be updated as and when these providers release new features or update their existing features or pricing. Please use the comments section below if you have any questions or comments and we will answer within 48 hours.
No providers selected for comparison.
WhichVoIP has made this information on RingCentral and Vonage Business available for comparison purposes only and does not guarantee the accuracy. Please confirm details with the providers directly.
User Feedback Comparison
The table below provides a summary of the user submitted ratings for Ringcentral and Vonage Business so you can compare them side-by-side.
| Description | RingCentral | Vonage |
| --- | --- | --- |
| Total Ratings | 258 | 135 |
| Features | 4.6 | 4.1 |
| Reliability | 4.5 | 3.8 |
| Sound Quality | 4.5 | 4 |
| Customer Service | 4.5 | 3.8 |
| Value for Money | 4.4 | 3.9 |
| Recommended | 90% | 74% |
| Average Rating | 4.5 | 4 |
| Provider Links | RingCentral | Vonage |
Which One is Right for Your Business?
The bottom line is that both companies will give you robust services and allow integration with desktops, laptops, tablets and Smartphones to make your workforce as productive as possible from virtually anywhere. There is likely no right or wrong answer as to which one you should choose, just a matter of which one is right for your business at this time. We recommend you read our user reviews for both providers to see which one appeals most.
Other Popular Providers
Here are some other popular providers worth comparing to Ringcentral and Vonage.
Provider*
Highlights
Startup
Reviews
More Info

Top Rated Customer Service
Unlimited Calls, Easy to Use
35+ Features, No Contracts
Dedicated Support Person

Free Trial


Read Reviews

Includes Phones on Select Plans
Outstanding Reliability
Incredible Features

Cancel Anytime


Read Reviews

Free Phones with sign-up
No Contract, No Commitment
USA Based Customer Support
Plans from $14.99/mo

Free Trial


Read Reviews