MightyCall Review by WhichVoIP
The Company
MightyCall was founded in 1999 in Seattle, Washington, and now has its headquarters in Palo Alto in California. They currently employee over 50 people as of 2020 and serve over 25,000 customers. Mightycall provide an affordable and scalable cloud based virtual phone system for small businesses and entreprenuers with a focus on the 1 to 50 employee sized company.
The Good
Mightycall has developed a virtual phone system with a particular focus on being fast and easy to setup, easy to use and manage, and for businesses that prefer to use their existing smart devices (cell and computer). Using existing smart devices reduces up front capital costs associated with purchasing IP desk phones and also allows for fast set up (no waiting for pre-programmed IP phones to be delivered to you). They boast a 10 minute setup time for a 15 person company, which is very impressive.
They have broke the mold with their pricing model for their available plans. Most providers charge per user so for example, an office of 5 people, each using a phone is 5 users and charged accordingly. Mightycall has three (3) available plans named "Basic", "Standard", and "Ultimate", each with a different fixed monthly rate, regardless of the number of users.
The "Basic" plan is $19.99 per month and includes taxes and fees, so $19.99 is what you pay each month for this plan. In their words, this plan is aimed at the "side gigs with a minor call load, and for getting your company's feet wet". It includes 1,000 minutes of usage (voice calls), 2 phone numbers (either local or toll free), unlimited text messages, unlimited users/extensions and up to 10 clients in the Contact Book feature (more on this later). Features like voicemail, voicemail transcription, auto-attendant, time conditions, available/DND status, custom greetings, call queues, conference calls, caller ID name, webphone, and mobile App are included with all plans. Overage fees are $0.04 per minute if you go over the 1,000 minute limit on this plan.
The "Standard" plan is $39.99 per month, including taxes and fees. This plan is aimed at "established businesses with multiple employees". This plan includes unlimited calling minutes, up to 5 numbers (local or toll free), unlimited clients in the Contact Book feature, call recording, voice to text, and presence indicator. This plan also supports desk phone options and various third party softphones.
The "Ultimate" plan is $69.99 per month all in. This plan is aimed at the "communication-centric business with a massive call load". This plan includes all the features of the Standard plan plus up to 10 phone numbers, voice studio recordings, and access to their API.
All plans come with a 7-day free trial, a 30-day money back guarantee, and are month to month with no long term contracts. With a focus on customers using their own smart devices makes it easier for free trials so this makes a lot of sense for them. Depending on your company needs you can change plans at any time. You can also port in your existing numbers for free. You can cancel at anytime without any cancellation fees.
As mentioned earlier setup is fast and easy and they provide a visual call flow configuration tool to allow you to set up your companies call flow in a flowchart format. Figure 1 below provides an example of this tool.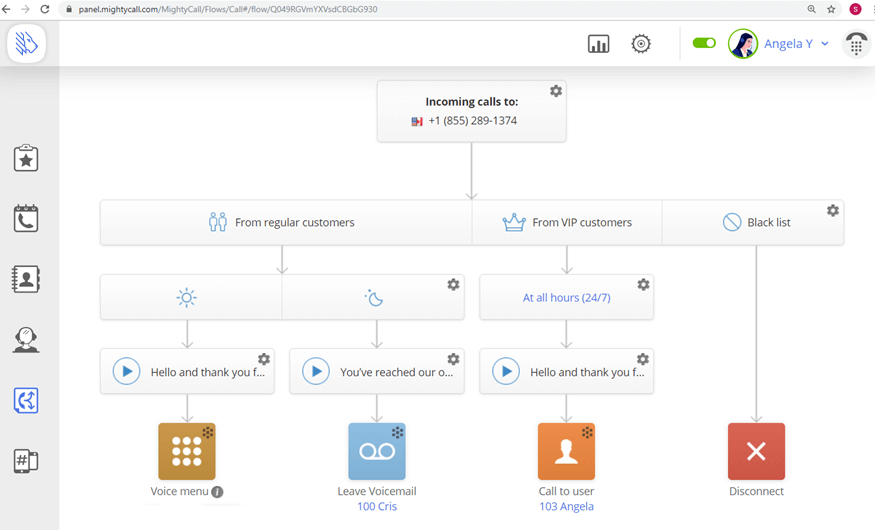 The call flow tool allows you to set things like time conditions, greetings, auto-attendant routing, different call flows for VIP customers or specific customer groups, sequential or simultaneous ringing, call blocking, call groups, and more. This tool is part of their management portal which can be used to manage your whole phone system. As the focus is more on customers using their own smart devices call forwarding is an important step in set up. You can set numbers to forward to any device like your cell number, a landline, or an extension set up in your system (with a softphone, webphone, or mobile App feature).
Mightycall has various options available for making and receiving calls. As we have mentioned, Mightycall service is focused on utilizing your existing smart cell phones and computer devices (laptops, PCs, etc). So options include routing incoming calls directly to your cell phone, to their Webphone, to their Mobile App, and to a third party Softphone App. A webphone provides all the features of a desk phone but runs in a web browser. The disadvantage of this option is only really that you need a web browser open to use it. They have their own Mobile App available for iOS and Android which supports all their key features for day-to-day work. A softphone is an App that allows you to use your computer device to make and receive calls, without the need for a web browser to be open. They support Linphone, Bria, Zoiper, Microsip, and 3CX softphone products.
There are some hardware phone options detailed on their website which includes a Cisco SPA303 phone, an Aastra 6731i phone, a SNOM 300 phone, the Yealink W52P DECT phones, the Yealink T19P phone and a Grandstream GXP1610 phone. These are all low cost phones and can provide good options for communal areas at the office if needed. They also offer a few Analog Telephone Adapter (ATA) options (Cisco SPA112, Grandstream HT701) in case you want to use existing analog phones.
One of their newest features is the Business Contact Book which they say is essentially a mini-CRM (Customer Relationship Manager) feature. It allows you to store contacts information like name, number, email etc. and also allows you to add notes and comments to better remind employees of any history with that customer. This feature is per account so all your employees have access to it. There is also an import and export feature.
The Mightycall website includes a support section with a good selection of guides to help in the set up of all the system features. Many guides have short how-to videos also. If you cannot find the help you need you can submit a ticket or call them on a toll free number.
Mightycall won a few awards in 2019 including Gold in the Network Products Guide 2019 Annual IT World Awards in the Hot IT Company of the Year | Telecommunications category. They also won Silver in the IT Products & Services for Small and SOHO Business (1-10 employees) category. They were also named Rising Star in the Call Center Management Software category for the Winter 2019 Customer Success Report.
The Bad
If you are a more traditional small business that are still tied to desk phones then your options are limited and this may not be the best solution for your needs.
For the Standard and Ultimate plans, if you are deemed to be using excessive minutes compared to the vast majority of other customers then you may be charged overage fees on a per minute basis.
Be aware that like most providers unlimited calling has a fair usage policy. Per their terms of service, "Unlimited Standard plan is limited by 15,000 plan minutes per applicable Term. Unlimited Ultimate plan is limited by 45,000 plan minutes per applicable Term.". Here is an excerpt regarding exceeding plan minutes, "In case you reach a threshold of plan minutes per applicable Term, included in a particular plan type, you will need to deposit balance on account at your service management dashboard, otherwise the Service will be suspended.".
Here is another excerpt from the Fair Use Policy with respect to SMS, "SMS usage is limited by 1,000 monthly text messages for Basic plan, 2,000 monthly text messages for Standard plan, 5,000 monthly text messages for Ultimate plan.".
If you port your number and then cancel service within the 30-day money back guarantee window then you will be charged $10 for number porting. This seems very fair to cover porting costs. Just be aware of this and we always recommend testing out a service before deciding to port your business numbers.
The Bottom Line
Service is focused on small business with a sweet spot of 1 to 10 employees.
Pricing is based on a per plan basis rather than a per user basis, and is inclusive of all taxes and fees.
Basic plan is $19.99 per month, Standard plan is $39.99 per month, and the Ultimate plan is $69.99 per month.
Emphasis is on using your existing smart devices (cell, computer devices) with limited desk phone options.
All plans include a 7-day free trial, 30-day money back guarantee and month-to-month service.
A good feature selection with fast, intuitive and easy call flow configuration within their portal.
Mini-CRM feature allows storing contacts with ability to add comments/notes.
Webphone and Mobile App options as well as multiple third party softphone App support (Bria, Zoiper etc.).
Overall Thoughts
Mightycall are setting themselves apart from the majority of the VoIP industry by offering plans that are structured with a per month pricing model rather than the more standard per user pricing model. This could work out cheaper for many businesses depending on usage and needs. Up front capital costs can be removed by utilizing your existing smart devices with their Mobile App and Webphone features.
Based on the features available, the pricing model and the focus on utilizing existing smart devices Mightycall are very well placed as a solution for modern small businesses.