VoIP Innovations Review by WhichVoIP
VoIP Innovations is owned by ABG Capital and has been offering Wholesale VoIP services since 2007. With over 8,500 rate centers and a DID warehouse that exceeds 500,000 DIDs it has established itself as a leader in origination and termination services. In addition, it offers E911 wholesale and has expanded into hosted billing for providers that offer Class 4 and 5 services.
The Good
VoIP Innovations has multiple tier 1 carrier interconnections. This aggregation is very valuable to VoIP service providers, since it means they can focus on their core competencies, rather than spending time forming partnerships with the tier 1 carriers. VoIP Innovations also offers Local Number Porting (LNP), another valuable service that providers can utilize without needing to setup an LNP department themselves.
By aggregating Tier 1 carriers and providing redundant Sansay switches, data centers and power grids this ensures high platform reliability and peace of mind for service providers.
With access to over 500,000 DIDs in the US and Canada you can choose a DID based on price, tier or by carrier. Toll-free numbers can also be purchased.
It has a global presence in over 60 countries so you can purchase DIDs for thousands of cities across the planet, including toll-free numbers.
The VoIP Innovations back-office (referred to as Titanium) is a very powerful portal that gives you access to customized rate decks, DIDs, E911, CDRs, LNP and Endpoints. You can even resell services through this back-office. This one-stop shop is very powerful for service providers as they can off-load a lot of their customer requests to VoIP Innovations. Tools are made available to support rate queries, number ports and E911. It is also in the back-office where endpoints are created in order to authenticate the IP addresses for the service provider's Class 5 switches. The main dashboard for the back-office is highlighted in Figure 1 lower down the page.
The Bad
All authentication is performed using Endpoints. Look at an Endpoint in a way similar to how an IP address is white-listed in a firewall. In order for VoIP Innovations to accept SIP traffic from your servers, you must enter the static IP address for your server into an Endpoint Group. This in itself is a secure way to reduce fraud but some wholesale providers also offer the ability to authenticate using SIP credentials, where a username and password is required. IP only authentication can be problematic for some PBXs, as sometimes full SIP credentials are required in the trunk configuration of the PBX software. However, VoIP Innovations does a good job in its Wiki showing you how to configure the trunk settings of the major PBXs, in order to work with its platform.
The wholesale pricing can be a little confusing at first as there are multiple rate decks based on the rate centers and the carriers. This is more a factor of the aggregation service that VoIP Innovations performs and they do provide a rate query tool to assist with pricing queries.
Industry Awards
Pittsburgh 100 award for fastest growing companies in Pittsburgh (2013).
Inc 5000 award for fastest growing companies in the US (2014).
Tech 200 award for revenue percentage growth (2013).
WhichVoIP.com editor's choice award for wholesale VoIP service (2014).
The Bottom Line
Rates: Competitive rate decks for termination services. Customize your own rate decks based on price, quality or carrier.
DIDs: Pricing from $1.50/month per DID. Porting from $10.
Toll Free: Pricing from $1.50/month per number.
Caller ID: Pricing from $1.50/month per DID.
Authentication: IP authentication only. No SIP style credentials (username/password).
Overall Thoughts
VoIP Innovations provides an impressive wholesale service. It has all the features you would expect from a wholesale provider and all of the tier 1 aggregation is done for you. This can be of great value to service providers, especially in their early years. Pricing is very reasonable and rate decks are customizable based on price, quality and carrier.
If you need a global operation you will be pleased to know that VoIP Innovations has a presence in over 60 countries including the ability to order International DIDs and toll-free numbers for thousands of cities across the world.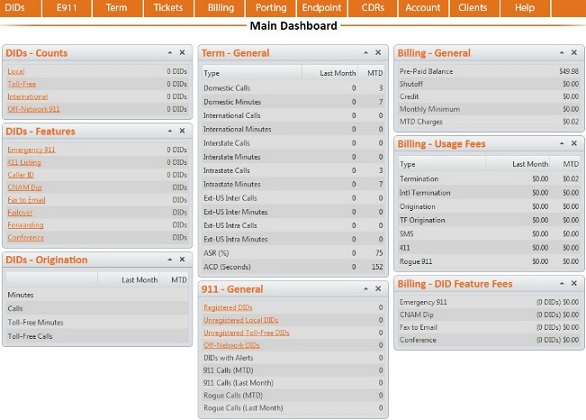 Figure 1: VoIP Innovations Dashboard