CallHero Review by WhichVoIP
The Company
CallHero was founded in 2019 and is head quartered in Tel Aviv, Israel. It is primarily aimed at small businesses that use their cell phones for business communications and uses an App along with Artificial Intelligence (AI) to screen all of your business calls, essentially acting as a digital secretary.
How Does it Work?
When you install the CallHero App the configuration steps required very much depend on the cellular provider you are using for your business calls. Essentially what is happening here is you are setting up Conditional Call Forwarding for your cell phone calls. If you are already on a call or a call does not match with the contacts in your phone, it will forward the call to CallHero's servers to handle the call on your behalf. At this point, the CallHero AI servers will answer and inquire as to the reason for the call. If it deems it to be a spam call, based on its algorithms (>90% accurate), it will not pass the call through to your cell phone. If the call appears to be real, it will ping you using the CallHero App on your cell phone to make you aware of the call in real-time. At this point you can get CallHero to ask additional questions to screen the call and then determine whether to accept or reject that call. CallHero needs access to the contacts on your phone for this to work, to ensure they always allow incoming calls through when they are known to be safe.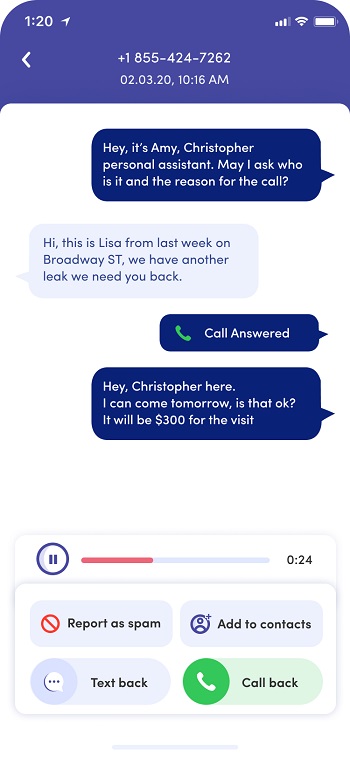 As an example, to configure CallHero with T-mobile, you must perform the following steps:
Temporarily disable your phone's Wi-Fi connection.
Open your phone's dialer, and dial the following three codes and press the send button each time. Note: If the message states call forwarding activation was a success then you are done. If it failed redial the activation code.
*61*5512027253#
*62*5512027253#
*67*5512027253#

The *61, *62 and *67 feature codes for T-mobile are the ones that enable conditional call forwarding when not reachable or busy. The phone number that is displayed is the forwarding phone number for the CallHero AI servers.
The Good
The main benefit of the CallHero service is its ability to intelligently automate all of your incoming calls. It will remove spam calls automatically with over 90% accuracy (you still receive notifications) and interface with you through the App to determine whether to route calls that are determined to be real but not already in your contacts. It responds to your caller in a human voice (you can select which one you prefer) and in under one second. It can also connect with your Customer Relationship Management (CRM) tool to further personalize the call. Potentially this tool could save you the cost of having to hire a real secretary.
CallHero servers have the capability to interface with various calendars and booking tools, such as Calendly for example, in order to handle bookings automatically and seamlessly 24 hours per day, 7 days per week.
The AI learns from your calls and therefore over time it will provide even better accuracy and automation. This also makes it better than traditional robocall Apps that rely primarily on global databases and caller ID, which can be spoofed.
The CallHero App is available for all iOS and Android phones.
Support is primarily through articles and guides and a Zendesk ticketing scheme for additional questions. The articles focus on all of the US cellular providers and how to configure them for CallHero.
There are some interesting plans for future revisions of the software. A guardian angel option could be useful for ageing relatives, where incoming calls are screened by the AI servers and then sent to your App as a second screen before sending to your relative. This could be a really good method of preventing your older relatives from falling for various social security and tax scams. There is also a future plan for the hard of hearing, where calls are transcribed using speech to text algorithms and displayed in the App in real time. This sounds like a great feature and it is a good fit since they are having to perform similar functionality in their servers already.
The Bad
All support is online only, there is no support number to call for help, just a ticketing system and a support email address. Also, the support focuses on configuring your phone for CallHero, but there is little on actually optimizing the CallHero App or best practices.
There is no information on the free version of the App in terms of how many call screens you get per month. A comparison table would be very useful. The terms and conditions imply that it may just be a free trial that expires after a period of time.
Your cellphone voicemail is bypassed if an incoming call is not in your contacts. For this reason, you will need to create a new voicemail inside the CallHero App (under voicemail in the secretary customization settings).
Although CallHero states that they take privacy very seriously and use encryption for additional security, keep in mind you need to give them access to all of your contacts on your phone. They do not store your contacts on their servers though.
The Bottom Line
Free (trial) version with limited feature set and screenings available.
Call Hero Unlimited: $39.90 per month per phone line. Annual version for $339 per year (i.e. $28 per month equivalent).
Overall Thoughts
If you are super busy and need help screening calls, CallHero may be a good option for your business. Although it is relatively expensive, your time savings each month may make this a valuable tool for your business life.