Slack Review by WhichVoIP.com
Slack was officially launched in 2013, offering a cloud based service that focuses on instant messaging among groups, teams and individuals. All content is indexed meaning it is searchable, which can be very powerful for teams wishing to have something more real-time than email.
The Good
Unlike many VoIP-based business services, the primary focus of Slack is messaging and collaboration. The application caters to businesses where different departments or teams need to interact with each other on a real-time basis.
If you were invited to join a pre-existing team, you will have access to various channels, essentially chat-rooms, based around some subject, project or company department, denoted by a keyword. New users of the free edition and team members with elevated privileges of a paid service will have the ability to create as many unique channels as needed. These channels can be public where anyone on your team has the ability to participate or by utilizing the option to privatize a room, communication will be limited to invited members only.
Once in a room, individuals engage in conversation with an intuitive user interface. Both channels and direct messages between users index information such that items, even something as simple as a word, are easily retrieved by the search function. Searches may be narrowed down by including one or more modifiers, allowing a user to find a piece of dialogue by channel, to or from another user, by time-frame and/or including one of many other additional options.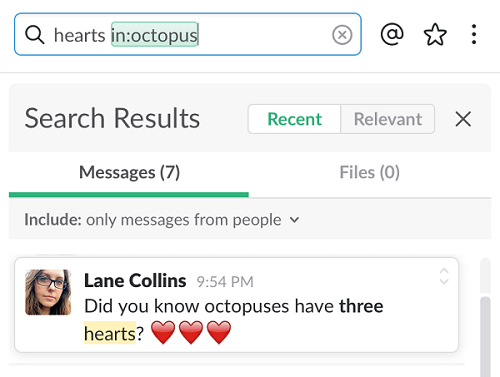 Slack teams have the option of integrating various applications into any given channel, depending on the needs of a particular group. Several applications directly interface with the system, providing functions such as CRM capabilities, file access, project management and several others. Since Slack does not natively support voice or video at the time this review was produced, Google Hangouts or Skype, may be utilized in the interim. Note that VoIP and video capabilities are in the pipeline.
The most basic tier of service is free to use but it has a limited feature set. Up to ten thousand messages are retained in archives, a free app is furnished for popular mobile platforms and up to 10 integrations are possible, at no cost. The Standard service at $6.67 per month per user provides unlimited message archives and app installations as well as additional authentication methods (e.g. Google, two-factor, etc), user groups and more. At $12.50 per month per user the Plus service promises a 99.99% up-time SLA (Service Level Agreement), user provisioning and de-provisioning plus syncing with active directory via services like OneLogin, Okta and Ping.
The Bad
The only true drawback to Slack in its current state is that video or voice connections require a third-party application. This limits certain conversations requiring more direct, real-time communication to either integrate an application or altogether, utilize another service. Fortunately, calling services are in Beta form so this feature should be available in the near future.
Some of the third-party applications appear a little redundant to each other, some even seem to provide the same service as Slack itself. This is great if already utilizing one of these applications however, many provide limited value beyond the niche audience targeted. With that said, some of the applications are incredibly popular (and free) which is ideal for some teams, especially those on a budget.
It is perhaps not too surprising, based on the price for this service, that all support is online only and there is no phone number to call for immediate help. Slack does appear to have an extensive support section, containing numerous articles and guides that will help the majority of users. For additional support, users can log in and submit a request for support.
The Bottom Line
Basic service provides small teams a free, powerful tool for text-based communication. More powerful options at $6.67 and $12.50 per month per user provide much greater capabilities.
A high number of third-party applications provide additional tools for processes including design, workflow, analytics and more.
Messages archive in conjunction with a powerful indexing feature allowing bits of conversation to be easily located in the future.
Currently there is no first party support for voice or video. However, the beta versions are available with limited capacity and with full support scheduled for later in 2016.
Messaging system includes the ability to modify text typeface as well as natively upload images or files within the service.
Overall Thoughts
Most text-based messaging services for business seem to be of little use for a standalone product. Even though Slack may initially appear to fall into this category, it truly has much more to offer than a simple messaging utility.
The fact Slack implemented a powerful search tool able to parse various channels and direct conversations indicates the team behind the service knows the frustration of losing pertinent information buried in dialogue. From an operational standpoint, everything is so familiar and the fact the basic service is free to use, makes one wonder why something similar has not graced the market previously.
Even though voice and video are currently only possible by integrating a third party application, the service is incredibly powerful and will almost certainly improve over time.