NetTALK Versus MagicJack Comparison
NetTALK versus MagicJack is a discussion that comes up frequently at WhichVoIP, as many people are trying to decide which of these residential phone service solutions is the best option for their home calling needs. Specifically, the MagicJack PLUS and NetTALK DUO products are the most common topics of discussion, so let's examine what each has to offer, what sets them apart, and if either of them is a good choice for you.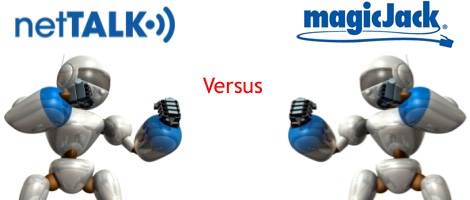 Comparison of NetTALK DUO and MagicJack Plus
Before jumping into lengthy details on the pro's and con's of each service, we are first going to give you a bird's eye view of what each product offers. While this might actually provide all the information you are looking for, continue reading the remainder of this article if you are interested in the finer details.
Feature
NetTALK
NetTALK
NetTALK
MagicJack
Product
DUO II
DUO WIFI
DUO WIFI
Plus
Length of Service
3 Months
1 Month
12 Months
6 Months
Unlimited USA/CAN Calling included with Service
Initial Cost (excluding taxes & fees)
$34.95
$29.95
$64.95
$39.95
Cost after initial service period is over
$39.95/year
$39.95/year
$39.95/year
$5/month,
$20/6 months,
$35/12 months,
$99.75/5 years
Number Porting Fee
$19.95
$19.95
$19.95
$20 port in
$30 port out
Fee to keep phone number
No
No
No
$10/year
Money Back Guarantee
30 day
30 day
30 day
30 day
Unlimited monthly calling usage limit
1,500 minutes
1,500 minutes
1,500 minutes
Not Stated
No number blocking for some free conferencing services
No Charges for calls to conference lines
Free in-network worldwide calling
Connect via WiFi
Connect via Router
Connect via PC
DID (phone number) Included
411 Directory Assistance
Call Blocking
Call Waiting
Caller ID Number Display
Caller ID Name Display
Caller ID Blocking
Call Forwarding
7 Digit Dialing
Voicemail
Speed Dialing
3-way Conference
Meet-me Conference Calling
Voicemail to Email
E911
Works with a Fax Machine
SMS Text Messages
Online Management Portal
Mobile App
iPhone, iPod, iPad, Android
iPhone, iPod, iPad, Android
iPhone, iPod, iPad, Android
iPhone, iPod, iPad, Android
Free App to App Calls
Live Chat
Mon-Fri
10am-5pm
Mon-Fri
10am-5pm
Mon-Fri
10am-5pm
Mon-Sat
9am-10pm
Sunday
10am-7pm
Phone Support
FAQ
Videos
User Guides
Important Notes
Unlimited calling - please note that although almost every service provider claims to offer unlimited calling plans, these plans are always subject to reasonable usage limits.
Service termination - while it is not stated in the MagicJack terms and conditions, many people have reported that the service will be terminated if more than 50 calls per day are made.
Call termination - again, while this is not stated anywhere, users have reported that MagicJack will terminate every call that lasts over 90 minutes.
Customer service - although live chat is offered by both services, users have reported horrible experiences in trying to actually get a response from a customer service rep, with wait times often being many hours in length.
NetTALK
What do you get with NetTALK DUO?
Essentially, the NetTALK DUO device works the same way as MagicJack PLUS and and can be used as a phone service (either to replace existing or as a 2nd line) that leverages the Internet to make calls, while allowing you to continue to use the same phone. You can also make calls with the NetTALK mobile app from your Smartphone or other mobile device. NetTALK has the same policies as MagicJack in terms of free calls between network users, free calls to the United States and Canada and free calls between Smartphones worldwide through use of the mobile app.
International calls are charged on a per minute basis with rates varying depending on the country being called. There are also add-on plans available that provide unlimited international to certain countries for an annual fee.
Both the Duo and the MagicJack Plus are compatible with fax machines and both of the services allow for voicemails to be emailed to you.
There are however a few extra features that make NetTALK different. Unlike MagicJack, NetTALK allows you to connect exclusively with a WiFi signal if you want to avoid dealing with the clutter of Ethernet cables. Another added bonus that makes NetTALK better for cell phone users is their integration of free text messaging. While MagicJack PLUS simply transfers your existing phone number, NetTALK also offers you another free phone number in addition to your existing phone number when you sign up. Plus, you can block callers and use enhanced 911 (E911) to automatically send your location to an emergency-response team.
What does NetTALK DUO cost?
According to the rates listed as of February 2015, the NetTALK DUO II that does not have WiFi costs $34.95 with three months of free phone service included, which is less than the included six months of phone service offered by MagicJack. On the plus side, all plans come with a 30-day, money-back guarantee if you're not satisfied with the service.
There is no annual phone number fee with this service as compared to MagicJack which charges $10.
The cheapest NetTALK DUO that includes Wi-Fi service is just $29.95, but that only comes with one month of free phone service to start. If you decide to continue with the service you will need to purchase a basic call plan that provides service for one year at a cost of $39.95. For added value in the long run, you can opt for the DUO WiFi with one year of included phone service for $64.95. This is one of the most competitive offers available for home phone service.
MagicJack
What do you get with MagicJack PLUS?
MagicJack can completely replace your residential phone service by allowing you to make calls via Voice over Internet Protocol (VoIP) technology. One of MagicJack's unique advantages is that it doesn't require a computer if you have a broadband Internet connection. All you need to do is attach the little, black MagicJack Plus Analog Telephone Adapter (ATA) to your Ethernet cord and phone cord, while plugging it into a power outlet. If you prefer to use another Internet source from your computer, you can also make free calls from your home phone by connecting the MagicJack PLUS adapter directly to your computer's USB port, and then plug your phone cord into the MagicJack. You can use MagicJack PLUS to make unlimited calls to anywhere in the United States or Canada from your laptop, home phone or mobile phone via the MagicJack app. Both Android and Apple devices can download a free MagicJack app.
An added bonus for travelers is the ability to make unlimited free calls back home from any location in the world using MagicJack PLUS. Additionally, you can make unlimited, free international calls to any other MagicJack devices abroad.
The potential downside of both MagicJack and NetTALK services is that when you're using the MagicJack app to make calls from your cell phone, the calls aren't really free unless you're only making calls from free Wi-Fi hotspots. You still need to pay for a data plan on your phone in order to use the service everywhere you go. If cell phone service providers allowed for data only plans, you could technically replace your standard cell phone voice service with any VoIP app. This would likely require you to buy a larger data plan to support this service though. On the positive side, the MagicJack app offers the added value of letting you make free international calls from your cell phone to anyone else who also has the MagicJack app. However, you do have to buy international prepaid minutes in order to make overseas calls to regular landline phones and mobiles, which is a standard policy that's very similar to Skype and most other VoIP services. For more information on this, please read our article on low cost international calling.
The MagicJack app (or magicApp as it is called) does not support any emergency 911 calls. Additionally, any 911 calls made via the device will incur additional 911 calling charges. The is absolutely no guarantee that 911 calls will work correctly and all calls are made at the caller's risk.
What does MagicJack cost?
As of February 2015, you can get your first six months of phone service for free when you purchase a MagicJack PLUS package for $39.95, and that includes free caller ID, free voicemail messaging, free call waiting, free call forwarding and 411 service. After the initial six months, you can choose from plans starting as low as $5 monthly, $35 for a year or even $99.75 for five years of extra savings. International prepaid rates vary according to the country that you're calling and average at around two cents per minute. Remember that some additional taxes will apply to these rates.
How do NetTALK DUO and MagicJack PLUS compare in reviews?
Some NetTALK DUO users commented that they had issues with install, number porting, reliability, WiFi, customer support and actually getting the product to work in the first place. It's also important to note that without a high quality, high-speed Internet connection, the sound quality of your phone calls can become less than ideal. While NetTALK's prices are good, NetTALK's customer service ratings are generally their lowest-ranking area, and this is partially due to their live chats often directing you to fill out support tickets resulting in a delayed response.
With MagicJack PLUS, customers have experienced better sound quality than earlier versions of MagicJack due to the ability to connect directly to the router. Typical issues are often related to billing, subscriptions, refunds and call disconnections. Customer service from MagicJack currently has live-chat support available seven days a week while NetTALK only has live chat available for five days a week, making them difficult to reach outside the hours of your typical day job. Generally, MagicJack customers are most happy with the amount of money that they save on their phone bills.
| Description | NetTALK | MagicJack |
| --- | --- | --- |
| Total Ratings | 29 | 174 |
| Features | 3.3 | 2.9 |
| Reliability | 2.6 | 2.7 |
| Sound Quality | 2.9 | 3.1 |
| Customer Service | 1.9 | 2 |
| Value for Money | 3.1 | 3.1 |
| Recommended | 34% | 39% |
| Average Rating | 2.8 | 2.8 |
| Provider Links | NetTALK | MagicJack |
Conclusion
Overall, both these services are relatively cheap and offer what can be considered to be a no frills option for home phone service. The lack of responsive customer service support should be a big concern for anyone considering these products as most home networks are becoming complicated, resulting in the majority of people requiring support help to get a service like this up and running. Ask yourself if you are willing to put time and effort into getting this up and running and then figuring out how to support it in the long run.
Both products get low overall scores from WhichVoIP visitors. These services may however still be attractive to you as the cost is relatively low and there is the off chance that you will not have any issues. Whatever you decide, make sure you test the services for a while before even considering porting your home number over to them.
Remember that these are just two of many options when it comes to finding a low cost solution for your home phone service. It is highly recommended that additional residential phone services are evaluated prior to making a decision. Many of the alternative options are similarly priced while having a lot more features, a more reliable service and more accessible customer support. Here are some popular options:
Provider*
Highlights
Startup
Reviews
More Info

Save 53%+ on Your Phone Bill
Over 40 Included Features
Easy Setup & Free Adapter to Use
No Contract or Cancellation Fee

30-day Money Back


Read Reviews

Special: Unlimited Calling for $6.21/Mo
Keep Your Number or Get New One
45+ Features Included
Money Back Guarantee

30-day Money Back


Read Reviews

Save on hardware & low monthly rates!
No internet required
Free nationwide calling
Easy setup and no contracts

30-day Money Back


Read Reviews

Special: $75 per year!
Free hardware & activation
Money back guarantee
30+ features

15-day Money Back


Read Reviews
Published by WhichVoIP
Related Articles for Further Reading:
GO TO RESIDENTIAL ARTICLE INDEX
WhichVoIP Visitor Comments
#3 : Posted by Al Bourassa
I used NetTalk for 7 years in Ecuador with minor hiccups that I overlooked because I wanted to retain the phone number. Once I moved to Colombia however the wheels fell off. We tried to get 3 different DUO's to work without success, with NetTalk saying the Government or my Internet provider is probably blocking outside VOIP use. It did work very briefly so I don't believe this. I have had basically zero service since September, but I still paid in advance for my October annual renewal. I was promised to be reimbursed for all my lost days of service. So naturally I asked for the full refund of my Oct 2018 renewal. Now they have refused to refund me a dime. So, folks, don't trust any of them. Read all the reviews for NetTalk and MagicJack, and almost every other provider, and you will find tales of woe about lousy service, especially customer service. Stay away from them all.
#2 : Posted by Mark
I gave MagicJack and Nettalk a simultaneous test drive for a couple of years. Nettalk has a MAJOR flaw that is unacceptable to me. If you call a number that is disconnected Nettalk does NOT pass along the telco intercept recording, it simply continues to ring. Leading you to believe that the number is working and the party is simply not answering. And when you call a landline that happens to be busy, Nettalk does not transmit the busy signal, it tells you that the number is not working. This is a very serious issue if you are relying on this service as your main telephone. MagicJack does not experience this issue. I was so frustrated with Nettalk after I found out this was happening, that as soon as I got my MagicJack home, I called several non-working and disconnected numbers and I got the correct recording. Furthermore, I left my POTS landline off the hook and called with MagicJack, I got the busy signal. MagicJack works like a landline in this respect. Nettalk's inability to transmit the actual number status to the caller is a serious problem. By the way, I have run into this issue with other VOIP services as well. Whenever I run into a VOIP service I test it out by calling a disconnected number and a busy number. MagicJack definitely passed my test.
#1 : Posted by George
I switched from NetTalk to MagicJack because of dropped calls and no help from NetTalk. MagicJack is clearer and there is also an app for the smart phone to get calls to it. I also like getting an email when I get a voicemail stored. The equipment from MagicJack seems to be higher quality.