Which One is Right for Your Business?
Many customers choose to work with small businesses over large ones for a variety of reasons such as more personalized service. While your customers may like the fact that you are small, they still expect—and deserve—a professional level of service and overall experience. This relates to everything including how you handle your company phone calls.
When a small business budget cannot justify a full-time receptionist, what are the options? Today's technology gives you the ability to take advantage of cloud-based VoIP phone systems. These services not only let your business put forward a professional image to callers but also facilitate you working from anywhere. With more and more people working from various locations and servicing clients all over the country, this is extremely important.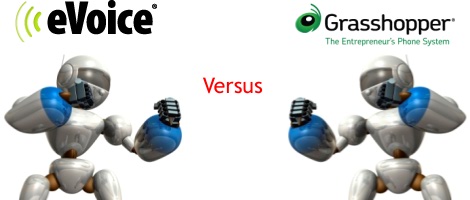 How These Virtual Phone Number Services Work
In general, a typical VoIP solution allows you to select a local or toll-free number with multiple extensions associated with it. From there, incoming calls are routed to the appropriate extension that represents either a department or an individual. Whereas a regular hosted solution works with desktop IP phones, a virtual phone number service leverages existing phones (Smartphones, etc) so no hardware investment is typically required. That saves you valuable money right off the bat. In addition, one of the main value propositions of this type of service is that they give a big company perception to even the smallest business by leveraging auto-attendant features to both answer and route calls.
There are many companies that offer virtual phone number services. Let's take a look at eVoice and Grasshopper, two of the major competitors in this space, and see how they stack up against each other.
Key Features and Differentiators
In evaluating these two VoIP solutions, some of the most important features to any such plan provide a good start to understanding which one may be a better fit for you. Following are seven important features you should know about.
Phone Numbers
Depending upon the size of your business, you may want to have more than one phone number. For example, if your company has a presence in multiple areas, it may be beneficial to you to have a local phone number for each area as a way to build or reinforce your brand and local relevance. With eVoice, you can get between 6 and 45 phone numbers depending on the plan you choose. Grasshopper limits you to a maximum of 3 phone numbers but they do allow you to keep an existing phone number which can be beneficial to your brand. Vanity phone numbers are available from both companies for an additional charge.
Extensions
Extensions can be identified for each phone number to properly route incoming calls. These can be for individual people or for departments such as customer service, technical support or billing. Where Grasshopper is limiting with its allowed number of phone numbers, it is extremely generous with its allowed number of extensions. You can get an unlimited number of extensions on any plan with Grasshopper as well as a name directory. This dramatically opens up the number of users you can accommodate. eVoice allows between 2 and 15 extensions depending upon the selected plan.
Conference Call Bridge
The ability to host conference calls for dispersed users is essential to many businesses today. eVoice trumps Grasshopper in this category offering conference call bridge capabilities for up to 95 participants at one time whereas Grasshopper only allows a maximum of 10 participants. eVoice also lets you host a web conference for up to 2,000 people and a video conference with 4 unique feeds and up to 25 viewers. The one caveat to be aware of is that the minutes used for these conferences come out of your overall plan for that month.
Voicemail Transcription
By transcribing your voicemails, you can have a record of important messages. Computer transcriptions are enabled at no cost from eVoice and sent to either a text message or saved as an MP3 file. Human transcription services are available at an extra cost. With an additional cost of $10 per month over your base plan, Grasshopper gives you the choice of computer or human transcription with files sent to email. There is no limit on the number of messages transcribed.
Outbound Calling
VoIP can let you and your employees make outbound calls that protect individual users' cell phone numbers and even display your company phone number to the call recipients. To do this with Grasshopper, you must go through three different rather cumbersome steps. The eVoice solution is far more streamlined and much faster to use, making it more functional on a regular basis.
Mobile App
Having access to your account information from anywhere is important. The eVoice mobile app is available for both iOS and Android devices. It lets you make calls, send texts, retrieve voicemail messages and even change your call routing. The Grasshopper mobile app is currently only available for iOS devices.
Faxing
When the need to send or receive faxes arises, both eVoice and Grasshopper offer some options including free inbound faxes with both programs. Grasshopper's outbound fax system is called Fax on Demand. With this, you essentially create a library of documents that can be faxed to customers upon their request. eVoice lets you initiate outbound faxes but adds a $1.95 charge to your account each month.
Greetings
Just as with your normal cell or landline phone service, you can record custom greetings for each number and extension. With eVoice, you can get one free greeting recorded by a professional voice talent. With Grasshopper, you can have an unlimited number of professional voice greetings at no charge if you are on their highest level plan or for a $75 per greeting fee if you are on any of the other three plans.
As you can see, there is no one company that is overall better than the other as each has some advantages and areas of strengths.
Plan Basics
Both companies give you four different plans from which to choose. For the purpose of our comparison, we will refer to them as Option A, Option B, Option C and Option D although each company has its own unique terms for each plan. Note that when it comes to phone numbers, these are offered as either DID (Direct Inward Dial) or toll free by both companies.
Option A
| Feature | | |
| --- | --- | --- |
| Monthly Cost | $12.99 | $12.00 |
| # of Phone Numbers | 6 | 1 |
| # of Extensions | 2 | Unlimited |
| # of Minutes | 300 | None included - metered at cost of 6c per minute |
Option B
| Feature | | |
| --- | --- | --- |
| Monthly Cost | $29.99 | $24.00 |
| # of Phone Numbers | 15 | 1 |
| # of Extensions | 5 | Unlimited |
| # of Minutes | 1,000 | 500 |
Option C
| Feature | | |
| --- | --- | --- |
| Monthly Cost | $49.99 | $49.00 |
| # of Phone Numbers | 30 | 2 |
| # of Extensions | 10 | Unlimited |
| # of Minutes | 2,000 | 2,000 |
Option D
| Feature | | |
| --- | --- | --- |
| Monthly Cost | $79.99 | $199.00 |
| # of Phone Numbers | 45 | 3 |
| # of Extensions | 15 | Unlimited |
| # of Minutes | 4,000 | 10,000 |
eVoice Versus Grasshopper Side-by-side Comparison
Now that we have gone through some of the key features and plan structures, let the following at-a-glance comparison chart help you finalize your decision about which of these companies may be best for your needs.
Feature
Monthly Plan Cost
$12.99 to $79.99
$24.00 to $199.00
# of Phone Numbers
6 to 45
1 to 3
# of Extensions
2 to 15
1 to 3
# of Monthly Minutes
300 to 4,000
0 to 10,000
Overage Fees
3.9c/minute
6.0c/minute
Mobile App
iOS, Android
iOS
Fax, Inbound
Free, unlimited
Free, unlimited
Fax, Outbound
$1.95 per month, unlimited
Free with Fax on Demand, unlimited
Conference Bridge Calling
Up to 95 participants
Up to 10 participants
Web Conferencing
Up to 2,000 participants
Video Conferencing
Up to 4 feeds and 25 viewers
Voicemail Transcription
Free unlimited via computer.

Extra cost for human.

(Delivered via SMS or MP3)

$10/month for unlimited via computer or human.

(Delivered via email)

Professional Greeting
1 free
$75 each

Unlimited free with $199/month plan.

Caller ID
Call Recording
Call Screening
Call Forwarding
Live Receptionist
Optional
Hold Music
Terms
Month-to-month
Month-to-month
Termination Fee
None
None
24x7 Support
US based phone and email.
International based phone email and chat.
Review Link
eVoice Reviews
Grasshopper Reviews
User Feedback Comparison
Just like any purchase decision you can't just look at specifications or features alone. User experiences with services or products are another factor that should be researched also. Below you will find a side-by-side comparison of user submitted ratings for eVoice and Grasshopper services.
| Description | eVoice | Grasshopper |
| --- | --- | --- |
| Total Ratings | 2 | 1 |
| Features | 3 | 4 |
| Reliability | 2 | 5 |
| Sound Quality | 3 | 5 |
| Customer Service | 2 | 5 |
| Value for Money | 1.5 | 4 |
| Recommended | 0% | 100% |
| Average Rating | 2.3 | 4.6 |
| Provider Links | eVoice | Grasshopper |
It's Your Choice
As with most things in life, there is likely not one company or plan that is absolutely ideal in your book (let's face it…a completely free plan on all levels would have to be considered ideal and that certainly will never exist). With that in mind, it is your job to assess the needs of your business to see which one of these companies you believe offers the best fit. When making this decision, be sure to not only consider your current situation but try to account for any future growth that you may be planning.
eVoice offers a 30-day free trial and Grasshopper a 30-day money-back guarantee. These trials and guarantees make it possible to have a risk free test and evaluation period. In saying that, the last thing you want to do is get into a situation where you are changing services all of the time, and that is not at all what we are recommending. It is, however, good to know that you have options with each provider and would not be locked into a contract or owe a steep fee if you changed your mind down the road.