Google Voice is a popular service with a basic feature set, but but there are many Google Voice competitors that also offer unlimited calling to the USA and Canada, with a more advanced feature set and full customer support.
In this article we will introduce the Google Voice service along with 3 top competitors that provide unlimited calling to and from the USA and Canada. Evaluations and comparisons are provided to empower you in making an informed decision.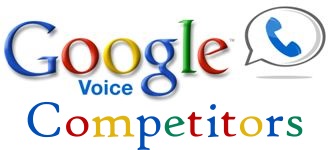 About Google Voice
Google Voice is a service from Google that allows you to select a new or existing phone number that people can call to ring all of your devices and locations. This service can help improve efficiency when maintaining separate home, work and cellular phone numbers. As it claims, the number is tied to you and not to a device. Other services offered include voicemail transcription, personalized greetings, international calling, SMS to email, caller blocking, and conference calling. You can also select which phones will ring based on who is calling. Since it is free and doesn't require any contract agreements, it can be very tempting to sign up without further research. However, there are numerous competitors who offer superior services at a low monthly fee.
Google Voice provides free calling within the USA for US residents so it's tough to complain about something that is free. However, there are some disadvantages with using this service as a home phone service solution:
It is a free service and as such could change at any time (disappear?), depending on Google's roadmap and needs.
There is no official customer support for this service so you are on your own for troubleshooting if issues arise.
E911 emergency services calling is not supported by this service.
This service only includes the basic features associated with VoIP service.
Local number porting is not supported currently (only mobile number porting). Note that if you port a mobile number over to Google it will automatically cancel your mobile service. There is also a one time fee for porting (admin fees).
You need to use an application on your computer or cell phone to make outbound calls. You can buy third party hardware/services though to help with this.
Based on these disadvantages millions of North American residents opt to go with a low cost VoIP phone service provider. Here are 3 top competitors to consider.
Competitor #1: VoIPo
VoIPo has been providing residential VoIP phone service since 2006 and is a well known and established privately owned company. They have a special deal where you can get 2 years of phone service for $149, which equates to a low monthly rate of $6.21. This includes unlimited calls to and from the USA and Canada plus 60 minutes of free International calling each month (to selected destinations). If you exceed the allocated free minutes the International call rates are very low, starting at 1c/minute. The service comes with a VoIP adaptor box, free activation, and over 40 premium features. You can also send/receive SMS text messages.
VoIPo has an extensive knowledgebase on it's website, including installation guides, features support and general VoIP support. If you can't find what you are looking for then you can email support directly, use the live chat option, or phone them Monday through Friday to talk with a live person.
If you want to test the service to make sure it is the right choice for you they offer a 30 day money back guarantee. One of the great advantages of using a service like VoIPo is you can use your existing home phone to receive and make calls, no messing with computers and software applications. Once you are happy with the service following the trial you can port your home phone number over to them (so you get to keep your existing home phone number that everyone already knows).
Competitor #2: 1-VoIP
1-VoIP service is very comprehensive and offers a variety of services and customer benefits that are unavailable with some other providers. These benefits give 1-VoIP an additional edge over some others. Multiple features are included that are beneficial to both home and business owners. These features include call waiting, caller ID, call hold, International call blocking, *69 call return and free in-network calling. Phone number porting is supported so you can keep your existing number.
A 30-day satisfaction money back guarantee helps to reduce the risk of trying the service, as well as an in-depth online knowledge base and 24/7 customer support line. A refer-a-friend program is offered that allows users to earn account credit whenever they refer a new customer to it's services. Plans are offered as low as $8.97 per month (as a special deal through WhichVoIP). Annual and month-to-month plans are available with a higher monthly payment. All plans include free calling to the US and Canada and they also have a World plan with unlimited calling worldwide.
Competitor #3: AxVoice
Axvoice provide both home and small business VoIP phone service for a low monthly cost. The most popular plan for home users is the Unlimited plan that is $75 for one year of service (special deal through WhichVoIP and equivalent to $6.25 per month). This includes unlimited calling to and from the USA and Canada, as well as free equipment, free activation, over 30+ features, an online account management portal, and the ability to port your existing home phone number. A sample of the features include caller ID blocking, simultaneous ring, music on hold, caller ID and call waiting, 3-way call, call forwarding and find me follow me, plus more.
A 15-day money back guarantee is available for those that want to test the service with a 200 minute usage cap. A reasonable knowledgebase is available on the website, including configuration guides and general FAQ's. Support can be contacted vis submitting a ticket through the website, emailing them directly or calling them on the phone during core hours of 8am to 7pm.
Service Comparison
The following table provides a high level comparison of Google Voice and 3 of the top competitors for home phone service.
Feature
Google Voice
VoIPo
1-VoIP
AxVoice
Logo
Free Plans
Annual Pricing
Free
$74.50/year
(2 year special)
$107.64/year
(1 year special)
$75/year
(1 year special)
Unlimited Calls US/CAN
Use Existing Home Phone
(1)
Port Home Number
Live Customer Support
International Calls
From 1c/minute
First 60 minutes FREE
Then from 1c/minute
Included in World Plan
From 1c/minute
From 1.5c/min
E911 Support
Features
10+
40+
40+
30+
Money Back Guarantee
Not Applicable
30-day
30-day
15-day
Free ATA
Visit Provider
(1) - You can use your Google Voice number with an Obihai adaptor if you want to use your existing home phone.
Review Comparison
The following table provides a comparison of the user submitted ratings for each of the 3 competitors and Google Voice.
| Description | GoogleVoice | VoIPo | 1VoIP | Axvoice |
| --- | --- | --- | --- | --- |
| Total Ratings | 1 | 68 | 230 | 92 |
| Features | 3 | 4.6 | 4.8 | 4.2 |
| Reliability | 4 | 4.4 | 4.8 | 4.1 |
| Sound Quality | 3 | 4.5 | 4.8 | 4.2 |
| Customer Service | 4 | 4.5 | 4.9 | 3.9 |
| Value for Money | 5 | 4.7 | 4.8 | 4.1 |
| Recommended | 100% | 88% | 98% | 83% |
| Average Rating | 3.8 | 4.6 | 4.8 | 4.1 |
| Provider Links | GoogleVoice | VoIPo | 1VoIP | Axvoice |
Conclusion
Although Google Voice is a free and tempting service, there are more powerful options available from competitors. These other services offer more features and greater benefits. If you need professional quality or are running a business, you'll likely discover that Google Voice does not have the features that you need. Regardless, you should always investigate other options and perform due diligence before committing to a potentially unsatisfactory product.