Ooma Versus Vonage Comparison
Ooma versus Vonage is a common dilemma for many people that are in the process of seeking out a low cost home phone service provider.
Technological advancements continue to improve the options and features available for VoIP-based home phone service. In addition to this, your choices in providers is also continuing to expand. Vonage certainly is a top name in the industry. Its strong market share and recognition extend into the business world as well as consumer world. But, for anyone willing to spend a little time investigating other companies' offerings, better options may be able to be found. One of the companies currently giving Vonage a run for its money is Ooma. I recently took a good look at how Ooma and Vonage stacked up against each other in the home phone service market, and what I learned may actually surprise you.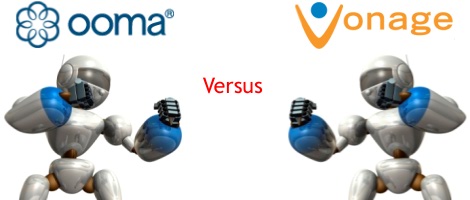 Phone Plan Structure Comparisons
From the get-go, there are clear differences between Vonage and Ooma. Vonage structures its plans not based upon features but based upon where in the world the subscriber typically wishes to call. In comparing the Vonage Anywhere and Vonage World plans, you see that the features offered in both are the same. It is the international calling availability and rates that differ.
Ooma, on the other hand, outlines both unique features and international availability and costs in its two primary plans - the Basic and the Premier plans.
Vonage does encourage contract sign-ups though does not require it. Customers wishing to avoid contracts simply pay a higher price for the first 6 or 12 months of service depending upon the plan selected. Here's a quick look at pricing for the Vonage Anywhere and Vonage World plans, followed by the Ooma Basic and Ooma Premier plans:
Vonage Plans
Feature
Vonage Anywhere
Vonage World
Monthly Price (Contract)
$9.99/mo
(1st 12 mo's)
then $24.99/mo
$9.99/mo
(1st 6 mo's)
then $27.99/mo
Monthly Price (no Contract)
$24.99/mo
$27.99/mo
Set-up costs
Included
Included
Unlimited Calling (in US)
Unlimited Calling (in CAN)
International Calling
Varied rates
Unlimited
(72 regions)
US to CAN
Included
Included
To/from Puerto Rico
Unlimited
Unlimited
US to India
5c/min
Included
US to China
1c/min
Included
US to France
1c/min (landline)
3c/min (mobile)
1c/min (landline)
3c/min (mobile)
US to Brazil
1c/min (landline)
3c/min (mobile)
1c/min (landline)
3c/min (mobile)
Ooma Plans
| Feature | Ooma Basic | Ooma Premier |
| --- | --- | --- |
| Monthly Price (Contract) | NA | NA |
| Monthly Price (no Contract) | Approx $4/mo (taxes/fees) | $9.99/mo |
| Set-up costs | $130 (adaptor) | $130 (adaptor) |
| Unlimited Calling (US) | | |
| Unlimited Calling (CAN) | | |
| International Calling | Varied rates | Varied rates |
| US to CAN | 1.4c/min | 1.4c/min |
| To/from Puerto Rico | 4.2c/min | 4.2c/min |
| US to India | 2.9c/min | 2.9c/min |
| US to China | 2.5c/min | 2.5c/min |
| US to France | 2.2c/min | 2.2c/min |
| US to Brazil | 4.7c/min | 4.7c/min |
| Ooma-Ooma Calls Worldwide | Unlimited | Unlimited |
Note: All information presented above is taken from the Ooma and Vonage USA websites and is from the perspective of a USA resident.
Important Notes
One of the big disappointments of the Vonage World Plan is that it only covers 16 countries when calling mobile numbers and is something that potential customers should evaluate carefully. Touting unlimited landline calling is so basic now that it's like a cell phone carrier proudly announcing that they offer unlimited free nationwide long-distance calling - hasn't that been a standard for some time now?
The covered areas for mobile calls with the Vonage World plan include:
| | | | |
| --- | --- | --- | --- |
| Brunei | Hong Kong | Puerto Rico | South Korea |
| Canada | India | Saipan | Thailand |
| China | Macau | San Marino | US Virgin Islands |
| Guam | Malaysia | Singapore | United States |
When evaluating Ooma's pricing the first thing that should strike you is the incredibly low pricing - and lack of contract pushing. Differences in features are also part of the pricing structure and we will review those separately.
Clearly Ooma wins in the realm of ongoing monthly costs - if you need a good domestic-only or North American-only solution. However, if international calls are a standard part of your world, the cost of Ooma could add up faster than you may like.
If paying per call is not your cup of tea, Ooma does offer two International Calling Plan options good in 61 countries that you can add onto your service - at an additional cost, of course. Basic or Premier customers can pay $9.99 per month for 1,000 minutes of calling via the Ooma World plan. This brings your monthly costs to either $9.99 or $19.98 per month with the latter approaching the cost of the Vonage Anywhere plan.
If you want unlimited international calling, you must have the Ooma Premier plan and add the Unlimited World plan. At $17.99 that brings your monthly out-of-pocket costs to $27.98 - equal to the Vonage World plan.
So, in my book, the answer to "which company is better?" in the pricing category depends heavily upon your international call needs. If those are minimal, Ooma wins hands-down. If they are heavy, it could be a close call.
One last word on monthly pricing - both companies of course charge taxes and fees on their services on top of basic pricing. So, even Ooma's "free" plan can cost you up to $4 per month.
For additional information on how to best call other countries please refer to our detailed article on low cost international calling options.
The Cost of Getting Started
This is one area where there really is no competition between the two companies. Ooma is far and away more expensive than Vonage. Part of this is because Vonage throws in some extras in exchange for the contracts but some of it is just the way Ooma does business. Hardware costs alone can cost you $100 or more with Ooma.
For me, one of the most frustrating elements of determining the up-front costs with Ooma was the sheer complexity of it all. I suppose you could call it flexibility as there are many variations of setups from which to choose but the company does not make it easy to figure out.
Their website in general lacks detailed information even on basic plan pricing. On top of that, via a live chat I found that their site also has inaccurate information - listing some features as available that are no longer offered. So, take what you see with something of a grain of salt and always check it out. Just be prepared for it not to be easy.
In addition to hardware costs, Ooma charges $39.98 to port your existing number - unless you want to commit to a one-year Premier plan. Hmm…so much for saying you don't have to have a contract. This is a "clever" way of hiding costs, I will say. Just as with other pieces of information, it was only after some digging that I actually found this out.
Comparison of Ooma and Vonage Plan Features
Ok, let's take a look at features for a moment. I know it may seem odd that I've left this for near the end but the cost structures are honestly bigger differentiators between the two companies, thus justifying more attention on them up front.
That said, it is important to review the features - especially between the two Ooma plans as they do vary here.
| Feature | Vonage | Basic | Premier |
| --- | --- | --- | --- |
| Call Waiting | | | |
| Call Return | | | |
| Caller ID | | | |
| Call Transfer | | | |
| Call Forwarding | | | |
| 3-Way Calling | | | |
| Caller Id Blocking | | | |
| Anonymous Call Blocking | | | |
| Do not disturb | | | |
| Ring to >1 phone | | | |
| Virtual Number | | | |
| Backup number for Internet Downtime | | | |
| 911 Calls | | | |
| 411 Calls | Free | 99c each | 99c each |
| Online Account Access | | | |
| Mobile App | | | |
| Voicemail | | | |
| - Basic | | | |
| - Remote Access | | | |
| - Online Access | | | |
| - Send to Voicemail | | | |
| - Send to Email | | | |
| - Send to Text | | | |
| - Forwarding | | | |
Certainly, comparing the Ooma Basic plan to any Vonage plan is useless - and really not even applicable. This plan fits a very specific niche and that's that. When comparing the Ooma Premier Plan to the Vonage plans, however, you'll see that there is very little difference. Both offer what I would consider to be standard in a full-featured home phone VoIP service.
So How Do You Choose?
I actually think that choosing between Vonage and Ooma is not all that difficult in the end, although there is no one clear winner. The choice really comes down to specific needs. Some of the time that means Ooma is the best choice and in other cases Vonage will be the best bet.
Here's my recommendation for how to make this decision:
| If you need... | Choose... | Because... |
| --- | --- | --- |
| Basic domestic phone service | Ooma Basic Plan | You can't beat free |
| Advanced domestic or Canadian phone service | Ooma Premier Plan | Low monthly price and robust feature set |
| Robust international service within the 17 Vonage World Plan service areas | Vonage World Plan | Combination of monthly price and setup costs beats same monthly price of Ooma |
| Robust international service outside the 17 Vonage World Plan service areas | Ooma Premier Plan with Unlimited World Plan | Best pricing for these locations when compared to Vonage |
How Do Ooma and Vonage Reviews Compare?
What you are sold on is unfortunately not always what you get so it is always important to check out some reviews and find out what existing customers are saying. Here is a high level summary of these two services taken from our review pages:
| Description | Ooma | Vonage |
| --- | --- | --- |
| Total Ratings | 34 | 505 |
| Features | 4.3 | 3.6 |
| Reliability | 4.3 | 3 |
| Sound Quality | 4.3 | 3.2 |
| Customer Service | 3.9 | 2.6 |
| Value for Money | 4.4 | 3 |
| Recommended | 88% | 45% |
| Average Rating | 4.3 | 3.1 |
| Provider Links | Ooma | Vonage |
Conclusion
While these two companies certainly offer some compelling and attractive services, remember that the home phone service market is flooded with providers. That being said, be sure to compare these to other options before making a final decision. For your convenience some of the most popular providers are listed in the comparison table below.
One final point to be aware of is that both of these companies do in fact also offer plans for businesses, so although we did not include these in this comparison, you may still want to check them out if you need phone service for your business.
Other Popular Providers to Compare
Here are some other popular providers worth comparing to Ooma and Vonage.
Provider*
Highlights
Startup
Reviews
More Info

Special: Unlimited Calling for $6.21/Mo
Keep Your Number or Get New One
45+ Features Included
Money Back Guarantee

30-day Money Back


Read Reviews

Save 53%+ on Your Phone Bill
Over 40 Included Features
Easy Setup & Free Adapter to Use
No Contract or Cancellation Fee

30-day Money Back


Read Reviews

Save on hardware & low monthly rates!
No internet required
Free nationwide calling
Easy setup and no contracts

30-day Money Back


Read Reviews

Special: $75 per year!
Free hardware & activation
Money back guarantee
30+ features

15-day Money Back


Read Reviews
Published by WhichVoIP
Related Articles for Further Reading:
GO TO RESIDENTIAL ARTICLE INDEX