Vonage versus MagicJack comparisons are popular searches on WhichVoIP that are becoming more frequent as these services continue to increase in popularity. So which provider should you choose? Well, the answer may actually be neither but it really depends on your requirements. In this article we take a deeper dive into each provider to compare the phone services offered by each of them.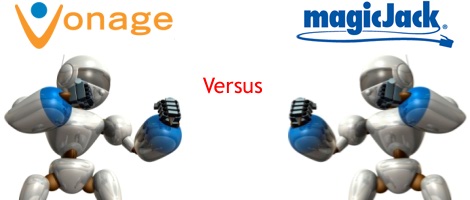 Vonage
Vonage is probably the most well known VoIP provider due to all of the advertising and branding that they do on the Internet, TV and radio. At this time of writing it has around 2.5 million subscribers.
The service is not cheap though, when you consider some of the other providers we have on our website, but they do have some of the most extensive plans for International calling, and currently support calls to over 60 countries.
However when you consider the monthly cost to get this International calling plan you will soon realize that it is far from a low cost service. For example, the unlimited Vonage World plan is currently $27.99/month plus taxes and the unlimited plan for USA and Canada is $24.99/month. In a year Vonage will cost you over $300 for unlimited calls - that is an expensive home phone service! There are some promotions that can bring down this price but usually only for the first three months. If you drop down to the 400 minute plan for the US and Canada, you can actually save money as cost is $12.99/ per month but then you need to be very careful as overages are charged at a very high rate of 5c per minute.
On the positive side, there is a fairly rich feature set included with all plans, for example voicemail to email, caller ID, call waiting, call block, 3 way calling and many more. The problem we have with Vonage is you can get all these features and often more, at half the price using other providers, such as those in our comparison table on the right.
For a more detailed breakdown of Vonage costs and competition check out our article Vonage Competitors. Also take a look at our Vonage reviews and ratings, we have over 300 user reviews to read. We always recommend reading provider reviews before signing up for service.
MagicJack
MagicJack is another well known brand in the USA and Canada and it is found in many retail stores. It can certainly be considered a low cost service, in fact one of the lowest you will find in the market, and the initial investment is usually around $50 for the magicJack Plus. This is the device that actually converts your voice to a digital format that can be sent over the Internet.
After this you need to spend approximately $40 (+ taxes) per year for unlimited calls within the USA and Canada. There is no doubt that this is a great deal! You can also pay for 5 years service up-front for a price of $100. Again, very tough to beat this price, and a huge saving compared to Vonage.
Sounds like an easy decision to make doesn't it? Well not quite, you see there are a few drawbacks with magicJack that you should be aware of before signing up. For starters the feature set is a very small subset of the features available from Vonage. You basically get a phone number, voicemail, voicemail to email and a couple of other calling features and that is it. There is no official fax support (though it may work on low speeds and with error correction disabled), or 3-way calling. In fact you will be missing out on about 25 to 30 features compared to Vonage and other providers you see on our website. In fairness though, there is one feature that it does offer which is pretty neat. It offers free iOS and Android Apps for download meaning you can make unlimited calls direct from your smartphone rather than using up your cell plan minutes.
The other red flag that we should point out is the quality. Take a look at our user ratings for magicJack and you will see a lot of concerns and complaints about the voice quality, dropped calls and poor customer support. When we tested the service we found the quality to be quite decent, in actual fact, but many of our users have had issues so it is worth noting.
A comparison of Vonage vs magicJack is somewhat difficult as each company has structured it's plans very differently. Let's not take a look at the latest plans and pricing.
Vonage Versus Magicjack Pricing and Plan Comparison
Vonage North America
$9.99/month for first 12 months (plus taxes and fees) and then $24.99/month thereafter.
1 Year contract required.
Includes unlimited calling to USA, Canada and Mexico.
Vonage World
$9.99/month for first 6 months (plus taxes and fees) and then $27.99/month thereafter.
1 Year contract required.
Includes unlimited calling to landlines in 60 countries and mobiles in 10 countries.
US and Canada 400
$12.99/month for first 12 months (plus taxes and fees) with no price increase after 12 month period.
1 Year contract required.
Includes 400 minutes of calling in USA and Canada with overages charged at 5c/minute.
magicJackGO
$39.95 for device plus 12 months of service.
No contract required as paying in advance.
magicJackEXPRESS
$29.95 for device plus 3 months of service.
1 Year Calling Plan
$35.00 for 1 year of unlimited calling in North America.
5 Year Calling Plan
$99.75 for 5 years of unlimited calling in North America.
User Ratings Comparison
The following table compares the ratings of each company at WhichVoIP.com. These ratings are submitted by real customers of each company and the averages are documented below. To view each user review and rating, follow the user review links in each section above.
| Description | Vonage | MagicJack |
| --- | --- | --- |
| Total Ratings | 505 | 174 |
| Features | 3.6 | 2.9 |
| Reliability | 3 | 2.7 |
| Sound Quality | 3.2 | 3.1 |
| Customer Service | 2.6 | 2 |
| Value for Money | 3 | 3.1 |
| Recommended | 45% | 39% |
| Average Rating | 3.1 | 2.8 |
| Provider Links | Vonage | MagicJack |
Conclusion
Both companies are well known brands and offer a decent service. Which one to go for really depends on your calling needs. If you are just looking for a very low cost and extremely basic phone service, magicJack may well be a great fit for you. Vonage may be a good fit if you need more advanced features or plan to do a lot of International calling.
In addition, take a look at some of the other providers you see on our website too. Most of these providers have been around for many years and offer a service that tends to be only a little more expensive than magicJack, yet have feature sets that are as good as, if not better, than Vonage. When it comes to International calling, often these providers offer up to 60 minutes of International calls for free each month and then extremely low rates after this limit is reached.
Other Providers to Compare
Here are some other popular providers worth comparing to Vonage and MagicJack.
Provider*
Highlights
Startup
Reviews
More Info

Special: Unlimited Calling for $6.21/Mo
Keep Your Number or Get New One
45+ Features Included
Money Back Guarantee

30-day Money Back


Read Reviews

Save 53%+ on Your Phone Bill
Over 40 Included Features
Easy Setup & Free Adapter to Use
No Contract or Cancellation Fee

30-day Money Back


Read Reviews

Special: $75 per year!
Free hardware & activation
Money back guarantee
30+ features

15-day Money Back


Read Reviews
Finally, our home phone pricing tool and user reviews may help narrow down your selection based on price and ratings.