Your phone rings and instinctively you look at the screen or display to see whoís calling you. But, can you be sure that what you see is really what you get? With caller ID spoofing, the number shown on your phone may not in fact be the number from which someone is calling you.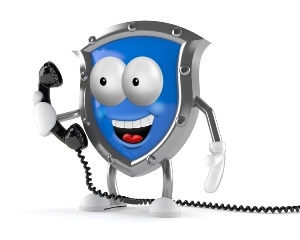 What Exactly Is Caller ID Spoofing?
Simply put, caller ID spoofing is a method by which people can choose the phone number that that is displayed on your phone as the Caller ID number - and this number does not have to match the number from which the phone call is coming from. The advent of VoIP solutions has made this possible with extreme ease.
The displayed number does not even need to be geographically close to the location of the calling number. A custom name can also be chosen to be displayed, so instead of "Scam artist" it may show as "IRS".
Whatís the Point?
Many business applications of VoIP services make good use of caller ID spoofing. Imagine starting your own small business. Using your existing cell phone could help you save money and avoid having to carry around two phones. However, you may not want your personal number displayed to everyone. Caller ID spoofing lets you set up a business number with an associated business name to display when making outbound calls from your personal cell phone.
The Downside
Unfortunately, in addition to many reputable uses of caller ID spoofing that exist, there are a countless number of ways in which people have utilized it for deceptive purposes. Phone scams are alive and well today and this technology is an integral part of making that possible.
How can you protect yourself and guard against being the victim of a caller ID spoofing scam? Let these 10 tips be your guide.
10 Tips to on how to Stop Phone Spoofing
Donít Answer
If you donít recognize a number, let the call go to voicemail. In most cases, scammers wonít leave messages or, if they do, you will have time to suss them out before falling prey to their deceipt.
Unmask the Bandit
Services like Trapcall.com let you accurately display the incoming caller ID on your mobile phone for any restricted or blocked number. With this in place, you can help yourself to identify a scam before you have the opportunity to get taken by it.
Prevent Future Calls
When you have identified a particular number as a telemarketer or potential scammer, use your phone service's ability to block the number. Just login to your portal and enter the number that you wish to block. This will instantly stop any further calls from the number from getting through to you. Call block is a great feature that is included for free with almost every phone service.
Use a Secure Service
All phone services are not created equal. Some do a better job of proactively protecting you from robo calls. An example is the free Nomorobo service. Itís whole focus is blocking unwanted and deceptive calls.
Put Apps to Work for You
Several apps have been developed that allow you to scan for details on a particular phone number. You can find out the true identity of a caller within moments. Truecaller, PrivacyStar and the Whitepages Caller ID app are just some of the programs available with this capability.
Use the Power of Google
If you havenít installed a spam-identifying app, you can quickly perform a Google search on a specific phone number or even name if one appears in the caller ID. If you are the target of a fraudulent call, you're likely not alone. A search can return forum pages or other complaint notations confirming your suspicions.
Hang Up
If you do choose to answer a call and suspect a hoax in progress, simply end the call - immediately.
Ask for their Information
If you are not completely sure if a call is valid or not, ask the caller for their name and a valid call-back number in case you get disconnected. A true scam artist will most definitely not want to give you this information.
Be Careful What You Say
Again, when you are still in the midst of trying to determine whether or not a call is a scam or legitimate, be careful about what information you share with the caller. Under no circumstances should you give out any financial information over the phone. A good rule of thumb is to only trust such information via phone when you have initiated the call.
There have been many recent tax phone scams where people call you masquerading as the IRS and demand money to be sent or you will receive a hefty fine.
Know How to Tell
When you are talking to a caller, how can you effectively decide if they are trustworthy or not? A good clue that a call is a scam is when the caller tries to push you to do something, offer information or make a decision right away. Another tip can be when the caller makes statements intended to scare you in some way. Creating a sense of urgency or fear are two tactics commonly used by scammers.
Many of us may think that we are immune to phone scams but the fact is that anyone can be fooled by these. The people that run such programs have learned unique ways to be effective at taking advantage of others. Make it your job to stay one step ahead of them.
Another very important tip - perhaps the most important tip - is to report any and all suspicious phone activity to the Federal Communications Commission (FCC). Their website gives details about how and what you can report with an easy link to file a complaint online. Doing this not only helps you but can help others as well.
How Common Is It Really?
According to data from the Consumer Sentinel Network, scammers pose a big problem to U.S. consumers. In 2014, the CSN received over 2.5 million reports of suspected fraudulent activities. The categories with the greatest number of complaints were related to identity theft, debt collection and imposter scams. Others involved telemarketing and mobile services, banking and lending, sweepstakes, at-home shopping and more.
Donít let your guard down. These hackers are out there but fortunately for you, there are ways to stay safe and avoid becoming a victim. Put them into action now before you encounter a serious problem.