MagicJack has become a household name for its low cost VoIP phone service. Introduced in 2007 it has been very successful with a press release back in 2016 stating over 100,000 subscribers. For those that might not be familiar with magicJack it is a device that plugs into a USB port on your computer allowing you to connect your home phone for making and receiving VoIP calls (you can also use your computer directly). There has been a few device iterations over time with magicJack, then magicJack Plus, then magicJack Express, then magicJackGo, and now the USB device is called magicJackHome. The original device had to be plugged into your computer to work, but since then newer versions have allowed it to be connected directly to your Internet modem/router, making it more versatile.

With magicJack you purchase the USB device for a fixed fee and that includes one year of unlimited calling in the USA (excluding Alaska) and Canada (other than the Yukon and Northwest Territories). Each subsequent year you renew your service terms for a fee.
In this article we will look at some of the strengths and weaknesses of the magicJack product and service, and also introduce some alternatives and how they compare.
What Makes MagicJack a Popular Phone Service Option?
The main reason for its popularity is its low cost of service. As we mentioned above, you intially buy the USB device for typically around $49.99 plus taxes, fees and shipping. The example below shows the cost if you lived in Washington state (taxes will vary dependant on location).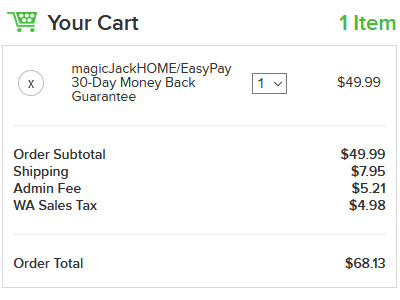 The cost includes twelve (12) months of phone service (unlimited calling in the USA and Canada), free calling between other magicJack users anywhere in the world, plus caller ID, voicemail, call forwarding, and call waiting features. You can port your existing phone number but be aware there is a one time $19.95 fee for doing so.
After your first year of service is up you have some options to renew, an additional year for $39, an additional 3 years for $99, or for an additional 5 years for $120. This makes it a very low cost service at between $2 per month (for the 5 year plan) to $3.25 per month (for the annual plan), plus taxes and fees.
Continuing with the low cost theme, they provide International calling at very competitive rates. You have to be a subscriber to their service and you have to buy pre-paid credits in $10, $20, or $40 increments. Be aware though that these pre-paid minutes expire after 6 months.
Also included is a basic service for their Smartphone calling App that they call magicApp. This App can be downloaded for free from the Google Play store or Apple iTunes store. This is a more recent addition but is another important factor in magicJack's popularity as more and more people rely on their Smartphones for communications.
What Are Some Common Complaints From Users of MagicJack?
By far the number one complaint is based around poor customer service. Historically they did not provide a customer service phone number for people having issues to call. Subscribers had to rely on help documentation on their website. To be fair, it is hard to see how magicJack even make any money with such a low cost service and it is no surprise that they cannot cover the costs of a full customer service team without passing some of the cost onto the customer. In recent years they have started to offer an additional Concierge service at $14.99 per year. With this additional subscription you have access to a customer support rep on the phone. The service covers one device, so if you have multiple you will need to sign up for each one at $14.99 per device. There is also no indication where this support team is located, whether inside the USA or Internationally.
The next most common complaint is service issues, including hardware failures, bad audio quality, and intermittent service.
Set up can be an issue for some people that struggle with technical products like this. Having no customer service to talk to can exasperate this situation for some that don't have the patience for online and self troubleshooting.
We have over 160 user submitted reviews for magicJack that you can also read through when you have time. You can see a summary of the review ratings in this article below.
MagicJack Competitors for Basic Home Phone Service
MagicJack is a very low cost phone service and has a limited feature set included (such as voicemail and caller ID). It's main competitor in the very low cost and hardware focused market is Ooma's basic phone service.
Ooma Basic Service
With Ooma, like magicJack, you buy one of their devices, for example, the Telo device, and then you get basic phone service for free after that. The Telo device typically sells for $99.99 but you can get it for $79.99 during specials. This equates to $6.67 per month (plus taxes and fees) for your first year. Then after that it is effectively free, except they do require you to pay taxes and fees each month. The below image provides an example of the monthly fees for someone in Washington state.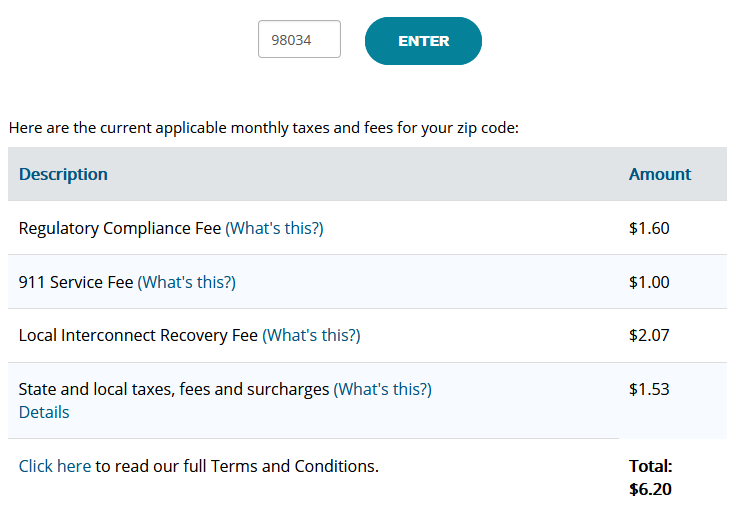 Like the magicJack service the included features are basic compared to typical VoIP service providers in the market today. Ooma, like magicJack, serves a purpose for those that want just basic low cost phone service for their homes or as a second line. Ooma do provide an add-on premium service for $9.99 per month, plus taxes and fees. This extends the features available, as well as adding Canadian calling, Puerto Rico calling, and Mexico calling.
MagicJack Alternatives to Consider
There is no shortage of VoIP service providers for home phone services these days. This market exploded with high speed Internet availability in homes and while some have fallen by the way side over time there are still a good selection of options available. Below we introduce five providers that we recommend and think will stand the test of time.
VoiPLy
VoiPLy was founded in 2012 and provides low cost phone services to both business and home. Their lowest current advertised rate is for $7.16 per month with their annual pre-pay option, plus taxes and fees. This is lower than the Ooma monthly rate when comparing the first year costs and lower than the premium service. It is also only a few dollars more per month than the magicJackHome plus Concierge service.
This service includes unlimited calling for the USA, Canada and to over 50 countries, as well as 20+ features. You get a free (lease) ATA and there is also no number porting fee or set up fees. They have a free mobile calling App that you can use with their service and they also provide NomoRobo for blocking spam calls.
Customer support is included also with 24/7 coverage and is entirely based in the USA. VoiPLy currently has a 5-star rating from visitors of WhichVoIP. They provide a 30-day money back guarantee making it risk free to try their service.
1-VoIP
1-VoIP has been providing high quality affordable phone service to both business and homes since 2005. In that time they have established a reputation for their reliability and customer satisfaction. Their lowest advertised rate for their home phone service is $8.97 per month, based on an annual pre-pay plan, plus taxes and fees.
They have a 40+ feature rich service with a few nice-to-haves like voicemail-to-email, virtual fax, fax to email and Nomorobo spam call blocking included free. They provide access to customer service 24/7 and they are USA based. You can read over 250 1-VoIP user submitted reviews and see why they get a 5-star rating also.
VoIPo
VoIPo was founded in 2006 and is one of the longest standing VoIP home phone service providers in the USA. They have a very competitive two year special deal for $149 plus taxes and fees. This equates to only $6.21 per month for unlimited calling to the USA and Canada. It also includes 60 minutes of International calling minutes per month.
Service includes over 40+ features, such as caller ID, call forwarding, call block, voicemail, three way calling, do not disturb and more. They also have very low International calling rates if you are looking to stay connected with family oversees. A 30-day money back guarantee helps provide peace of mind if you decide to test this service out.
Axvoice
Axvoice is another low cost and feature rich home phone service provider. Their lowest advertised plan is the annual pre-pay plan for $75 per year, which equates to $6.25 per month plus taxes and fees. This is another service that is cheaper than Ooma when compared to the first year of service and only a few dollars more per month over magicJack.
The unlimited plan offers 30+ features included, such as call forwarding, simultaneous ring, voicemail, do not disturb, and online management. A 15-day money back guarantee provides peace of mind and a risk free experience if you decide to try them out.
Callcentric
Callcentric was founded in 2001 and is one of the industries best kept secret. They provide multiple plans to offer something for everyone, with plans starting at $0 per month where you just pay for your minute usage, to unlimited world calling plans and everything in between.
If you anticipate a really low number of phone calls then this could be a great option for you to consider. Porting your existing phone number is free and they also have their own mobile calling App as well as supporting multiple third party mobile calling App's which you can download on to your Smartphone from the relevant App stores. They also support various hardware options (ATA's and IP phones).
How Do MagicJack Reviews Compare to Alternatives
So we have provided some great alternatives to magickJackHome service and we have seen that they are not really that much more expensive on a monthly basis (less than a Starbuck's coffee!). Now let's see how the top 3 alternatives above fair when we compare user submitted ratings for each of them:
| Description | magicJack | VoiPLy | 1VoIP | VoIPo |
| --- | --- | --- | --- | --- |
| Total Ratings | 174 | 85 | 230 | 77 |
| Features | 2.9 | 4.8 | 4.8 | 4.2 |
| Reliability | 2.7 | 4.8 | 4.8 | 3.7 |
| Sound Quality | 3.1 | 4.8 | 4.8 | 4 |
| Customer Service | 2 | 4.8 | 4.9 | 3.8 |
| Value for Money | 3.1 | 4.9 | 4.8 | 4.1 |
| Recommended | 39% | 96% | 98% | 70% |
| Average Rating | 2.8 | 4.8 | 4.8 | 4 |
| Provider Links | magicJack | VoiPLy | 1VoIP | VoIPo |
For more in-depth data you can check out our provider ratings comparison tool.
MagicJack Alternatives Compared
The below table provides a quick glance comparison of the magicJack alternatives we discussed above:
Provider*
Highlights
Startup
Reviews
More Info

Special: $8.95/mo ($7.16/mo Prepay)
No Contracts/Setup Fees, USA Support
Order Online, Get a Free Adapter
Unlimited Calling US, CAN, 50+ countries

30-day Money Back


Read Reviews

Save 53%+ on Your Phone Bill
Over 40 Included Features
Easy Setup & Free Adapter to Use
No Contract or Cancellation Fee

30-day Money Back


Read Reviews

Save on hardware & low monthly rates!
No internet required
Free nationwide calling
Easy setup and no contracts

30-day Money Back


Read Reviews

Special: $75 per year!
Free hardware & activation
Money back guarantee
30+ features

15-day Money Back


Read Reviews

Special: $149 for 2 Years service
Free 2nd line + International minutes
Free setup. No contract
45+ features. US-based support

30-day Money Back


Read Reviews
Final Thoughts
In this article we introduced the magicJackHome phone service solution and discussed its popularity due to its very low cost of service. However, even though the cost is very attractive some of the main complaints revolve around poor customer service and reliability issues. Their newer Concierge service offering goes some way to addressing some of the major concerns by users but at an additional cost.
MagicJack is an option worth considering if you are tech savvy and happy to troubleshoot any issues yourself, or as a second line for low cost International calling. We discussed six (6) alternatives that are big competitors to magicJackHome. When you consider paying an extra few dollars per month you can find plenty of magicJack alternatives that may well be better suited to some peoples needs. For that reason we always recommend doing comparisons before making your final decision on who to sign up with.
If you have any questions on this article or want to add your comments on your experiences with magicJack please use the form below to submit them.