Ooma versus MagicJack is a popular search query that we see on our website these days. Most people have heard of MagicJack and Ooma, due to commercials on TV and radio and also because these products tend to show up in retail stores across the U.S and Canada. So which one should you go for? Let's take a look at both providers and compare them.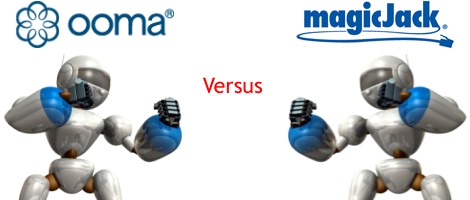 MagicJack
MagicJack has come on a great deal since the early days where you had to use a computer to make and receive calls. Now you can connect the MagicJack Plus (the next generation MagicJack) to a power outlet and hook up your phone and Internet connection and make calls. No computer is required, thankfully.
You have to pay around $50 for the MagicJack Plus adapter (referred to as an Analog Telephone Adapter, or ATA, by other VoIP companies). You then pay around $30 each year (plus taxes) for unlimited calls inside the USA and Canada, at this time of writing. This is a pretty decent deal, however here are a few things to consider. The feature set is extremely basic, you get a phone number, voicemail, caller ID, call forwarding and call waiting. They also have an App for Android and iOS devices so you can take your service on the road with you, though again it is quite basic.
That is pretty much it in a nutshell, so very limited features but at a great price. This price can be reduced further by signing up for a 5 year plan for around $100, which is a great deal, but it does mean you are locked in for a long period of time. For a more complete snapshot, read our WhichVoIP.com editor review for MagicJack.
Ooma
Ooma on the other hand has a slightly different model. You pay a handsome fee for the ATA (known as the Ooma Telo), currently retailing for around $150, but then all of your phone calls are free after that for all calls inside the USA, forever! However, you still have to pay taxes which can run as high as $4 per month.
Ooma offers many Add-ons and this is where the price can get quite high but at least there are options, unlike MagicJack. For example, you can pay for the premier service which gets you features closer to what you see from the VoIP providers in our comparison table on the right hand side. However this costs $9.99 per month so significantly more than most of the other providers you see in our comparison tables.
It also offers various WiFi adapters and Telo phone handsets so you can have true wireless connection to your Telo device. A Bluetooth adapter is also available for sale to enable you to use your cell phone for calls inside your home, again a neat feature. International minute bundles are also offered as Add-ons. So the additional Add-ons can get expensive but at least you have the option to scale later on, for example start with the basic service and then add additional packages and features later on.
For a more complete analysis, read our Ooma editor review.
How Do Ooma and MagicJack Reviews Compare?
We have been collecting user submitted reviews since 2005 and have thousands of reviews. So how do Ooma and MagicJack compare on the user review front?
MagicJack customer ratings have not been great. People seem to be happy with the price but not the service which seems to suffer from quality issues and poor customer service.
Ooma actually gets reasonable ratings by our visitors. The pricing is such that it really locks you in to Ooma for some time as you have to pay significant up-front costs but their quality seems to be reasonable and customer service department actually tries to help you.
The below table provides a comparison of the user ratings for each provider. You can also use our Ratings Comparison Tool to compare each provider in one chart. If you have any comments or questions feel free to use our comments form at the bottom of this page.
| Description | Ooma | MagicJack |
| --- | --- | --- |
| Total Ratings | 34 | 174 |
| Features | 4.3 | 2.9 |
| Reliability | 4.3 | 2.7 |
| Sound Quality | 4.3 | 3.1 |
| Customer Service | 3.9 | 2 |
| Value for Money | 4.4 | 3.1 |
| Recommended | 88% | 39% |
| Average Rating | 4.3 | 2.8 |
| Provider Links | Ooma | MagicJack |
Other Provider Options
Alternatively, take a look at some of the other providers you see on our website, for example the providers in the comparison table below.
If you are looking for a more feature rich plan, they actually compete very favorably against both Ooma and MagicJack and tend to give you the hardware for free. When we say feature rich by the way, we are referring to features such as sending voicemail to email, efax, configuring call hunting groups, setting up individual call forwarding rules based on calls that are important to you, 3-way conferencing, second lines and much more.
Provider*
Highlights
Startup
Reviews
More Info

Special: Unlimited Calling for $6.21/Mo
Keep Your Number or Get New One
45+ Features Included
Money Back Guarantee

30-day Money Back


Read Reviews

Save 53%+ on Your Phone Bill
Over 40 Included Features
Easy Setup & Free Adapter to Use
No Contract or Cancellation Fee

30-day Money Back


Read Reviews

Special: $75 per year!
Free hardware & activation
Money back guarantee
30+ features

15-day Money Back


Read Reviews

Save on hardware & low monthly rates!
No internet required
Free nationwide calling
Easy setup and no contracts

30-day Money Back


Read Reviews
Conclusions
Hopefully this has armed you with some additional information on Ooma and MagicJack.
In summary, MagicJack is a little cheaper than Ooma, up to about year 5 in actual fact but if you are somebody who thinks you may want some of the cool features that VoIP offers, either now or later, Ooma may be a better deal. Also, consider widening the net a little and do some research on other providers you see on our website, many of them have been offering low cost, feature rich services long before Ooma and MagicJack came on the scene.