It is always surprising to us how many questions we get on our site from people that are still using traditional landline phone service or are looking for different landline phone options in order to reduce their phone bills. After all, a landline bill is ridiculously high and the feature set is limited to say the least.
In this guide we will highlight the top 10 landline replacement options available to residential and business users. You may find that one of these alternatives better suits your needs and could greatly reduce your monthly phone bill.
Landline Replacement for Businesses
Landline Alternatives for your Home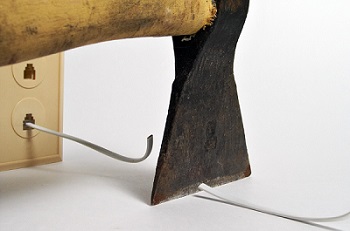 What is a Landline?
From a traditional sense a land line is a physical connection between two communication devices. This connection is typically analog in nature and is often referred to as a POTS (Plain Old Telephone Service) line. It connects your telephone to the PSTN (Public Switched Telephone Network).
The underlying technology has been used since the 19th century! A dedicated line is needed from your home or business all the way to the Central Office (CO) of the telecommunications provider. On the plus side, it works well and the line is powered so available during emergency conditions.
Landline Cost - Wait how Much?
The landline cost is perhaps the biggest negative side to this old technology. It is very expensive due to maintenance costs for the copper lines and taxation is high. In fact the cost of a landline can often be as high as $60 per month. Also the features are limited to a bare minimum such as caller ID, call waiting and a few others. For these reasons, it may be time to choose an alternative service and pocket the savings.
Landline Replacement for your Business
Let us look at the top 5 landline replacements for businesses.
1. Cell Phones
If you are a sole proprietor, you may be fine just using your cell phone for all of your business needs. After all, you likely have a cell phone anyway so why bother having an additional expense. The only down sides here are call quality when reception is poor and having to give your personal cell phone number out to business clients. Choose a reliable cell phone provider since this is for business use.
2. Find Me Follow Me
Find me/Follow me service is becoming very popular for small businesses and a great replacement for your land line number. It is one step up from just using cell phones since you can have a dedicated business local phone number or a toll-free number. This will either be forwarded directly to a number of your choosing or be answered by an Auto Attendant (AA) and then forward to phone numbers based on the selections made in the AA. If the service provider also offers an App, you can use this on a smartphone to make outgoing calls with your business caller ID.
3. Hosted Service (SOHO)
For the Small Office Home Office (SOHO) type service that is typically only 1 or 2 lines, you may be best with a SOHO VoIP plan. SOHO plans are very low cost since they are essentially the same as residential plans from a price and feature standpoint. The feature set is relatively small but significantly better than a landline service. All you need is an reliable Internet connection, since your calls are sent over the Internet rather than using POTS.
4. Hosted PBX (Full Featured)
If you need more than 1 phone line or are looking for a full featured phone service that offers auto attendants, ring groups, call recording, multi-way conferencing and more then take a look at a full hosted PBX service. This is VoIP based and a good Internet connection is of paramount importance. It is a very cost effective solution for businesses and the only up-front costs are buying some IP phones. Also note that some providers offer free IP phones, in which case there is no capital cost at all, just a Monthly Recurring Cost (MRC) for the service. For a hosted service, usually you pay a fixed amount per extension, per month and this offers unlimited calling.
5. IP PBX + SIP Trunk
For larger businesses looking to significantly reduce the cost of their phone bills, a full IP PBX solution with SIP trunks tends to be the best way to go. You can pay for PBX software but there are also many good open-source (free) solutions that are Asterisk or Freeswitch based. However, keep in mind that some expertise is required in order to install, configure and maintain the PBX for your business.
Landline Alternatives for your Home
Now let's take a look at the top 5 landline alternatives for residential users.
1. Call Park and Forward
If you currently have a landline number but receive very few calls you may find that a simple call parking or forwarding service is a better way to go. You can port your land line number over to the provider and then configure the service to park (play a message to callers) or forward to any number you wish. However, if you get a lot of calls to your landline number then this service can become expensive due to overages.
2. Cell Phones
Some people choose to park their landline number using the option above and simply play a message to callers stating that they should call their new phone number. This new number is often a cell phone number. If you want to keep your old landline number, this can be a very inexpensive way to do it, especially if you already have cell service. There are many cheap cell phone service providers if you are looking to do this on a budget.
Another lesser known option is to use Bluetooth DECT cordless phones at home. These act just like they would on your landline service but instead of connecting to your analog phone lines on the wall, they connect through Bluetooth to your cell phone. This means you can make and receive cell phone calls using cordless phones scattered around your home. You can stop your landline number and service and just rely on your cell phone. It is also a clever way to improve signal strength for your cell phone in your home for calls. Just leave your cell phone near the DECT base to maximize the Bluetooth signal strength and then the base will connect to the other handsets using its own wireless communication.
3. Google Voice
When it comes to low cost phone service for your home, it is tough to beat free! Google voice alongside an Obihai adapter is a great way to go for calls inside the US and Canada. The Obihai adapter is needed if you want to use your existing phone at home and it is inexpensive to buy. If you are happy using your smartphone or using Google Voice on your PC then it is completely free to use. However, there is a charge to port your land line number over to Google. An Internet service is a requirement since Google Voice uses VoIP. Also keep in mind that Google could stop this free service at anytime.
4. VoIP (Super Low Cost)
Similar to the Google Voice and Obihai service there are a few other providers that offer free service once you buy the hardware. These providers tend to be household names these days, namely Ooma and MagicJack. Both are good if cost is your primary concern but you usually get what you pay for so the feature set is limited and perhaps more importantly, so is support. If you do not already have Internet, you will need to get it for this service so keep that in mind when calculating your overall cost. Another option in the super low cost arena is Mobile VoIP (e.g. Skype). These are Apps that run on a smartphone and can be used for free when calling other users of the App. These companies typically charge monthly or "pay as you go" when calling PSTN or International phone numbers.
5. VoIP (Low cost + Features)
If you have a good Internet service already and want to replace your landline to reduce cost and gain extra features, a residential VoIP service should be considered. Prices start as low as $5/month for unlimited calling in the US/CAN. However, the real benefit lies in the feature set and the ability to make very low cost International calls. Providers often package together unlimited calling for multiple countries which can be a great option for some people. Useful features include voicemail to email, call blocking, call forwarding and mobility (using an App on your smartphone).
Final Thoughts
In this guide we presented ten of the best options for replacing your old landline phone service at home or your business. Choosing the best one really depends on your budget, your feature requirements and on the business side, how large your company is. Weigh up the pros and cons of each option and choose the one that best fits your needs.
If we have missed anything or if you wish to comment on this guide please use the form below.