The continual improvements in modern technology has helped increase the amount of business phone solutions available to today's business owner. Some examples include cell phones and Voice over IP (VoIP) solutions. The only downside to having more options is figuring out which is the best one that suits your needs. To help with this decision process we created the below infographic that outlines the main phone solutions for business use along with their benefits.
Selecting the Right Business Phone Solution
Pick out the features/benefits that are most important to you and see which phone solution would best suit the needs of your business. Alternatively, if you have a particular solution in mind you can quickly see the benefits of that choice against other available options.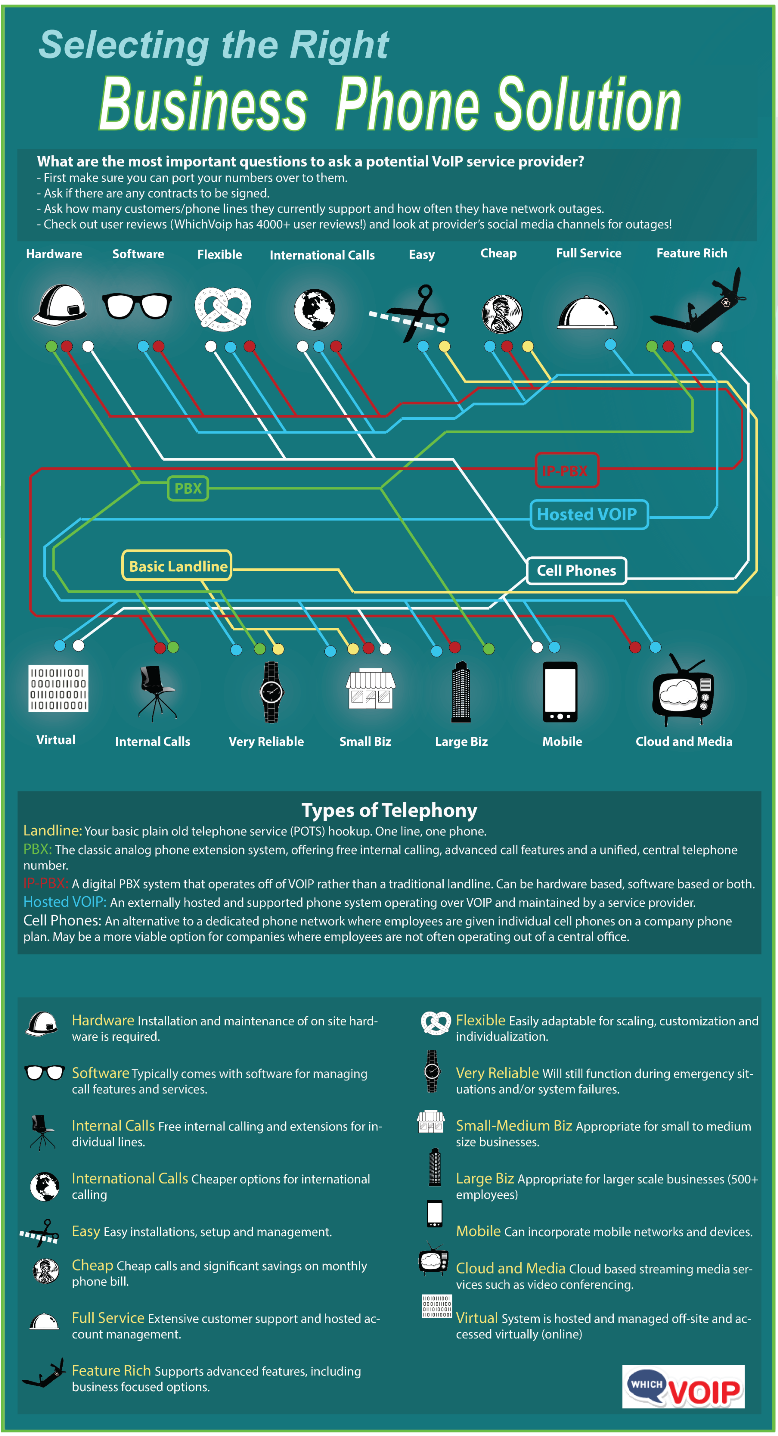 If you would like to place this infographic onto your website then simply copy/paste the code below into your relevant page.
Business Phone Solutions with Descriptions
Below you will find an explanation of each of the telephony types covered in this guide.
Landline: This is our basic Plain Old Telephone Service (POTS) hookup. With this service one line is required for each phone. Benefits of this service include high reliability, ease of use and set up and this option can be used by small businesses.
PBX: This is the classic analog phone extension, known as Private Branch eXchange (PBX), and offers free internal calling, some basic calling features and a unified, central telephone number. This option is considered reliable, but requires some hardware installed at your offices and hence some maintenance. This tends to be more of an option for larger businesses and less appropriate for the smaller business owner due to the technical knowledge required to set it up and maintain it.
IP-PBX: This is the PBX's hi-tech offspring. An IP-PBX is a digital PBX system that allows the use of Voice over IP (VoIP) for phone calls. For a more detailed look at this phone solution check out our IP-PBX section. This phone solution tends to be aimed at the medium or larger business due to the hardware set-up, maintenance and up front costs. This solution, via VoIP, provides cheap domestic and international calling rates, many features plus cloud and media type services.
Cell Phones: This is a modern day option and can be a valid alternative to a dedicated phone network where employee's are given individual cell phones on a company phone plan (shared minutes). A business where employee's are geographically spread and/or are on the move a lot may consider this phone solution. Being a "virtual" solution provides the benefit of flexibility and no maintenance. However, the cost associated with this solution needs to be considered carefully if the business is growing.
Hosted VoIP: Last, but not least, this is an externally hosted and supported phone solution that utilizes Voice over IP (VoIP) technology for phone calls. The word "hosted" means that the hardware required for the phone service and the management of the phone call routing is all done off-site, at the service providers location. The hosted part in itself provides many benefits, one of which is no hardware required to be maintained at your place of business. The VoIP part provides benefits such as advanced business calling features that can improve productivity, cheap domestic and international calling rates, flexibility, and ease of use.