This article provides an in-depth look at what an auto-attendant is, typical answering rules for configuration and scripts, a look at costs and a comparison of some popular providers and the types of audio file formats they support.
What is an Auto-Attendant
The auto-attendant feature is one of the most powerful and most widely used features in modern day business phone solutions. If we go back in time a few years, before VoIP became a game changing technology for businesses of all sizes, some examples of what typically happened when you picked up the phone to call a business are listed as follows:
Your call was quickly answered by a live receptionist and you were promptly put on hold while they dealt with other calls.
Your call rang and rang until it was picked up by an answering machine that had a generic message.
Your call rang and rang and was never answered.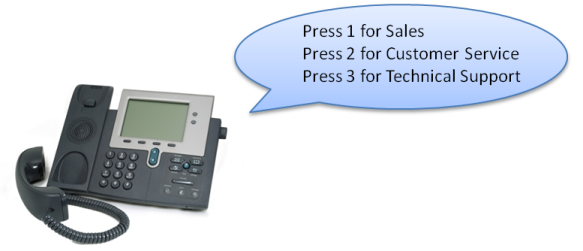 Well you get the picture. Admittedly there are those rare instances where your call is answered immediately and your call is directed to the correct department or person.
The auto-attendant feature has changed this forever as businesses that have activated an automated attendant, AA or virtual receptionist solution, now greet all callers to their business as follows:
All calls are automatically answered within one or two rings.
Professional sounding greeting immediately offers callers a selection of options to choose from.
Calls are immediately routed to the correct person or department that can assist the caller.
Callers are left with a positive impression of your business.
In addition to this, you no longer have to employ an actual person to answer all your incoming calls, as the auto-attendant has effectively replaced the role that your receptionist was performing. You have also reduced the likely hood of losing any business due to missed calls.
Before we go any further, please let us know if you have comments or questions on this topic and we will be happy to help with as prompt a response as possible. Just use our comments section to let us know how we can assist. We might even be able to help you with your configuration.
Typical Answering Rules for Auto-Attendant Configuration
First of all, we recommend that that you use your VoIP providers auto-attendant solution. This means that you are using one management portal for all your phone service feature configuration. Most portals are user friendly making setup straightforward. Here are some typical options that you can select from when configuring your attendant software:
Main greeting - This is what everyone hears when they call your company. You will need to record a greeting that gives callers options on what button to push such that their call is correctly transferred. Make sure you figure out your call flow before thinking about what this message will say as otherwise you will end up repeating the effort.
Try an extension first - If you want to give someone a chance to answer the call before the attendant software kicks in, make sure you select this option and then decide how long you want the answering service to wait before initiating the attendant.
Day, Night and Holiday settings - Most auto-attendants allow you to configure different scripts and welcome messages depending on the time of day and if the office is open or closed.
Key selection options:

Forward to an extension - If callers select this key, your system will automatically connect them to the extension or the hunt group that is assigned to this key.
Forward to an external phone number - If you want to give an option to callers to contact you on a private number, use this option to route the call.
Play a message - If you want to play a message such as giving directions or stating what your open hours are, then use this option.
Deposit Voicemail - Perhaps you want callers to have the option to leave a voicemail. If so, then this is the option to choose.
Play another script - This is a great option to help with more complex call routing. For example if your attendant states, "Press 3 for Customer Support" you can then play another script that gives callers options to press different buttons depending on what they are calling about.
Replay the current message - Give a caller the option to replay that message if they were not sure what selection to make.
Company directory - Allow callers to search for the person they are trying to contact via the company directory
Operator - Most attendant setups configure button 0 as the operator button that allows callers to skip the messages and be routed directly to a live operator.

Dial an Extension - Most auto-attendants allow callers to dial the extension of the party they are trying to reach at any time during the message.
Although an IVR (Interactive Voice Response) is often seen as being an integrated part of an auto-attendant, they are in fact different technologies that serve different purposes. With an IVR you must respond to the attendant questions using your voice instead of pushing buttons. Some systems do however allow both voice and button responses. For people with accents, an IVR can be a horrible and frustrating experience.
Auto-Attendant Script
The script for the auto-attendant should be kept short and concise and should be recorded by someone with a very clear voice that does not have a strong accent. Here are some examples of possible scripts:
Main greeting - Thank you for calling Company ABC. Please listen carefully as our menu options may have changed. You may dial an extension at any time.
Press 1 for Customer Service
Press 2 for Sales
Press 3 for the Company directory and to dial by name
Press 4 for directions
Press 5 for hours
Press 6 to leave a voicemail
Press 7 to repeat this message
Press 0 to speak with an operator
Now let's assume that you have called this number looking for customer service and have pressed button 1 on your phone such that you are directed to the customer service department. You are then greeted with a second message which is in fact a second script.
Customer service greeting - Thank for you contacting Company ABC customer service. Please select from the following menu options:
Press 1 for help accessing your online account
Press 2 for all other issues
The purpose of offering more choices here is to allow you to direct the inquiry to the correct person or department that can help the caller. After all it is incredibly frustrating for a caller to be transferred from person to person in an attempt to get any issue resolved.
How Much Does an Auto-Attendant Cost?
Although this feature is typically available for free with most business VoIP services, there are some providers that charge in the region of $25 per month. Some providers also include a certain amount of transcription services to help you get your messages recorded and installed in the configuration. As mentioned though, the actual configuration of the auto-attendant is normally straightforward. There are however some things to watch out for:
Be sure to take some time to think about what your messages will say and how you want to route the callers internally. This part can be time consuming but it is worth the effort as a good initial flow should stand the test of time. A great way to go about this is to create a simple flow chart of how you want each call to be directed within your company.
Try and find an employee, friend or family member that has a great recording voice and have them record your scripts for you. Going back and forth with a company that offers this service can be time consuming and perhaps even expensive.
Make sure you record in a supported audio format and test that the portal can upload your test message. Some portals require specific audio formats to allow uploading, so be careful what software you use for this. Most VoIP providers allow you to call your system and record a message, which can then be used as a script.
Test, test and test again. Make sure you check all the options after the attendant is activated and ensure your call is routed where you expect it to be routed. This will help avoid a bad user experience.
VoIP Provider Audio File Formats and Auto-Attendant Configuration
Although in theory, the audio format of your audio files should not cause you any issues, there is still a good chance you will run into some problems. Make sure to use provider supplied tools to create your audio files as that should ensure the correct format, assuming these tools work as expected. Choosing the correct format is especially important if you decide to use a 3rd party to record your scripts.
Here is a short list of some of the audio formats that some popular VoIP providers support. This table also directs you to the page on the provider site that contains details on how to configure an auto-attendant.
VoIP Provider
WAV
16-bit
8K
Mono
WAV
8-bit
8K
Mono
MP3
PCMU
AU
VOX
More
Details