Enterprise voice communications require a great deal of thought when considering upgrading, much more than smaller businesses. In most cases a system will already be in place, so any upgrade has to be thought through carefully with respect to minimizing affects on productivity and service availability. Not to mention the cost of any upgrade and how and when does the proposed return on investment come into play? What is the intended timeframe to implement and truly adopt effectively?
With phone systems, these questions exist as pertinent factors when either upgrading to a new VoIP system or when switching providers. In this article we address some of the main reasons why switching to a VoIP based system for your enterprise communication should be seriously considered, along with a comparison of potential service providers.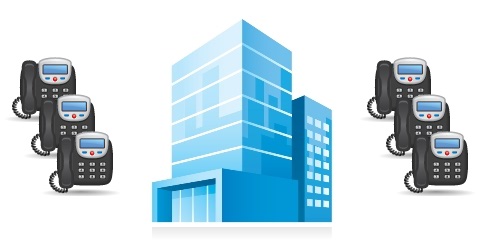 What is Enterprise Voice?
Enterprise voice is simply the ability for employees to call each other internally within the company or to make external calls to other businesses or personel. In the past this was most often achieved by having a PBX (Private Branch eXchange) located within your company premises. This solution is referred to as an "on-premise" system and allows internal extensions to connect to each other and provides connection to the outside world, or the PSTN (Public Switched Telephone Network).
Options were limited and some of the problems associated with an on-premise PBX system included the high up front capital cost, the required maintenance and administration, and the fact that eventually it will need replacing or fixing as it aged. With the advancements in networks and VoIP (Voice over IP) over recent years there is now a new kid on the block that is becoming more and more popular - Enterprise VoIP. This solution alleviates many, if not all, of the problems that have historically plagued on-premise PBX systems.
Enterprise VoIP in the Cloud
Let's take a look at some of the reasons why a hosted VoIP solution is becoming the standard building block for enterprise communications.
An enterprise VoIP solution hosted in the cloud provides all the functionality of an on-premise PBX but without the PBX being on-premise, without the incredibly expensive hardware, and the additional costs of someone maintaining it and administering it when any changes are required.
Other communication techniques prove useful for certain business models, falling under the category of UC (Unified Communications). Many companies find technology beyond voice calling valuable to business communication efforts. Though many of these features cost extra, improved productivity makes the extra expenditure a good value.
As texting and instant messaging prove useful for personal communication, quick business chats demonstrate usefulness in many environments. Often, business chat applications feature a presence awareness mechanism, showing other users whether the individual is available for chat. Communicating in such manner often proves productive as it allows users to quickly ask and answer questions (unlike email) as well as stave off unwanted contact when engaged in an important project.
Features such as video calling prove useful and cost effective as inexpensive virtual meetings afford businesses an opportunity to handle discussions quickly without time consuming, costly travel. Screen sharing too proves valuable as this grants users a visual aid, helpful when explaining a subject or training other associates.
Outside of UC applications, CRM (customer resource management), accounting, contact centers, and video conferencing application integration proves beneficial for unifying communication efforts and creating what is becoming known as "collaboration". Departments such as sales and support often observe increased productivity with such implementation as this consolidates information into a central location and centralized tool.
Last but not least, an enterprise VoIP communication solution is customizable, scalable, flexible and mobile. All the terms associated with modern day successful companies.
Enterprise Voice Features
Aside from basic one-on-one calling, most services package with additional features to supplement calling capabilities for business communication. Depending on the company or the software used for an internal system, additional costs or configurations come into play yet many include basic options at no charge or with little extra configuration. Typically, items included with a VoIP service are:
Auto-attendant:
an instance in the system that usually plays a message preceding a voicemail or menu.
IVR:
a menu requiring the end user to enter information based on instruction provided during a recording.
Find me/Follow me:
a mechanism that rings different extensions based on configuration to find a mobile user or someone who works from various locations.
Voicemail:
a storage space to leave a message – most VoIP systems include options to forward the message to email, try another extension and sometimes transcribe these messages.
Call recording:
some systems will automatically record calls based on the setup while others allow the user to trigger when a call recording begins and ends. Often, heavy recording costs more because of required storage space.
Conferencing:
depending on the power of the system, multiple users may join a single call session.
Outside of the common features listed above, more advanced features are possible for specific needs. For example, in call center environments, effective call routing is must to ensure calls are handled as efficiently as possible. Other useful features relate to management and metrics such as the ability to take over a call with call barge or listen to a call with call whisper and reporting mechanisms to track associate performance.
Top Service Provider Choices
Provider*
Highlights
Startup
Reviews
More Info

Top Rated Customer Service
Unlimited Calls, Easy to Use
35+ Features, No Contracts
Dedicated Support Person

Free Trial


Read Reviews

Includes Phones on Select Plans
Outstanding Reliability
Incredible Features

Cancel Anytime


Read Reviews

Free Phones with sign-up
No Contract, No Commitment
USA Based Customer Support
Plans from $14.99/mo

Free Trial


Read Reviews
Conclusion
Enterprise VoIP may seem intimidating at first but the benefits are substantial. As with any decision, it is important to parse all elements of a service from the feature set to the final cost. Check out some of the providers listed here and see how they can improve communication in your business.