Chances are good these days that you will have heard about VoIP, which enables phone calls across the Internet.
One of the largest and most popular providers of VoIP service is Skype, which is now owned by Microsoft. It is most well-known for its video phone service, primarily for free PC to PC type calls. Most of us have used its service at some point and it is great for making free audio or video calls to other users, especially if they are in another country.
In the last few years it has also been pushing into other areas, in particular the mobile VoIP space, which provides free International calls to other Skype users using your smart phone. It also has been growing in popularity for regular phone calls to landline service and can now provide voicemail and a dedicated phone number with caller ID.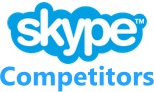 Skype Concerns?
As popular as its service is, there are a few items that may be of concern to you before you download the software:
Pricing : If you need to make calls to a non-Skype user, be prepared to pay for this and it can be expensive when compared to other providers.
Customer Service : It does not offer any customer support outside of automated tutorials and standard FAQs. If support is required on phone service issues, smaller Skype competitors may be able to better serve a customer's needs by offering face to face (or ear to ear) contact.
Features : If you are looking for advanced features such as simultaneous ringing, voicemail to email and the likes you will be disappointed. Also if you need outgoing caller ID and an actual phone number, you need to pay extra for this service and it is quite expensive.
We also recommend that you read our Skype reviews to see what our users think of this service.
Skype Alternatives
Despite its popularity and large user base, you may be surprised to know that there are actually some serious Skype competitors. In this article we will look at some alternatives to Skype. To do this we need to break it up into three smaller sections, because the competitor is very much dependant upon the type of service you are looking for.
The sections we will focus on are as follows:
Make free audio/video calls to other App users : The ability to send and receive audio and video between other App users, utilizing your PC, tablet or smart phone.
Make low cost calls from your home phone to others inside the US/CAN : Use a regular phone at home and make low cost calls to anyone in the US and Canada, regardless of the provider they use.
Make cheap International phone calls : Low cost calls to anyone in another country. You can be calling a landline number, a VoIP number or a cell phone, it does not matter.
1. Free Audio/Video Calls Between Users
For this scenario you want to enjoy FREE video calls with friends and family in the US/CAN or indeed anywhere in the world. Both parties must download a softphone or app to their PC, tablet or smart phone. This is perhaps one of the most popular services that Skype users enjoy. Let's look at some competitors to Skype:
Apple Facetime : Providing you and the other party in the call both have Apple devices and Internet access, Facetime works really well. In fact, it is so good, it may even be worthwhile buying a small iTouch device that is WiFi ready and sending it to your family member or friend. All calls are free, the video and audio are crisp and the Apple devices make it easy to use.
Google Hangouts : All you need is a Google account, and let's face it nearly everyone has one, and you can enjoy video hangouts with friends and family at any time. At the click of a button you can start video conversations with your connections, from your PC or smart phone.
LINE : Over 200 million users use the LINE app for smart phones to enjoy video and texting with other LINE users. It is very popular in Asia.
WeChat : This Chinese based App for smart phones is enjoyed by over 300 million users and enables one-to-one video chats with other users.
2. Low Cost Phone Calls from Home to Anyone in US/CAN
This section is for those you want to be able to use a regular phone at home and call anyone in the US and Canada for low rates. The person you are calling does NOT need to have the same service. Let's look at some competitors:
VoIPo : This Skype competitor offers unlimited calling in the US and Canada for as low as $6.21 per month. Over 40 features for free and 60 minutes of International calls for free each month. Visit our VoIPo review to read more about this service.
Ooma : Unlimited calling for US and Canada for a price of around $149 MSRP. Yes that is right, one payment for the hardware and then enjoy free calls forever other than a few dollars each month for regulatory fees and taxes. Visit our Ooma review to read more about this service.
Magic Jack : For only $49.99 you can buy the Magic Jack Plus device and then pay just $29.95 per YEAR for unlimited calls in the US and Canada from your home. See our editor review for Magic Jack for an in-depth look at this option.
3. Make Cheap International Phone Calls
This scenario is for people that need to make low cost International calls each month. Here are a couple of companies to consider:
Rebtel : This is a pure play Mobile VoIP service and apps are available for iOS, Android and Windows smart phones. International rates are very low (e.g. India is 0.82c/min). Visit our Rebtel review page to learn more.
VoIPo : VoIPo provides unlimited calls USA/CAN for $6.21/month including 60 minutes of International calling. Low cost rates for International calling beyond 60 minutes. For more information see our VoIPo review.
Phone Power : Provides unlimited calling inside the US and Canada for as low as $8.33 per month. It also includes 60 minutes of International calls each month for free and beyond this, the overage rates are very low (e.g. less than 1 cent per minute for calls to the UK). You can call over 55+ countries. There is also an app for iPhone devices so you can essentially take your home phone service on the road and also make International calls. For more information see our Phone Power review.
Skype VoIP Competitors
There are plenty of VoIP competitors to the Skype solution, and more appear every month. The following table provides a comparison of our top 5 recommended Skype competitors for home phone service.
Provider*
Highlights
Startup
Reviews
More Info

Save 53%+ on Your Phone Bill
Over 40 Included Features
Easy Setup & Free Adapter to Use
No Contract or Cancellation Fee

30-day Money Back


Read Reviews

Special: $8.95/mo ($7.16/mo Prepay)
No Contracts/Setup Fees, USA Support
Order Online, Get a Free Adapter
Unlimited Calling US, CAN, 50+ countries

30-day Money Back


Read Reviews

Save on hardware & low monthly rates!
No internet required
Free nationwide calling
Easy setup and no contracts

30-day Money Back


Read Reviews

Special: $75 per year!
Free hardware & activation
Money back guarantee
30+ features

15-day Money Back


Read Reviews

Special: $149 for 2 Years service
Free 2nd line + International minutes
Free setup. No contract
45+ features. US-based support

30-day Money Back


Read Reviews
Conclusion
Skype is a great service and has a huge user base but it is important to know what your requirements are and whether it is a good fit to meet those needs. Hopefully this article has given you some ideas for alternatives to Skype, based on the type of calling requirements that you have.