Ooma Review by WhichVoIP.com
This section provides an overall summary of our Ooma review. Scroll down to read the complete review.
The Good
The Ooma Telo is a great low cost service for basic calling and voicemail, with a variety of ways to access the service. Installation and configuration is straightforward and the voice clarity is very good, with little to no lag. Ooma customer service is responsive and knowledgeable. If you need additional features or International bundles, there are many upgrade options for you to choose from.
The Bad
This is not a total unified communication (UC) solution. Though you can setup voicemail transcription, there is no SMS, voice conferencing or video calling features. The Ooma app for smartphones has a one-time fee of $9.99, which is a slight annoyance, and only gives you 250 minutes of calling. Also to get a feature set similar to the providers you see on this site, you need the premier service, which is expensive at $9.99/month. Finally, although the plan is advertised as unlimited minutes, there is actually a fair usage policy which indicates the maximum limit is 5,000 minutes.
The Bottom Line
Cost: One time purchase fee of $149.99 suggested retail price (or cheaper) is all you pay for core features plus a few dollars a month for taxes.
Premier Plan: An additional $9.99/month to get an extra 25+ features such as voicemail to email, call forwarding, three way calling etc. Quite expensive if you need those features.
Add-Ons: The extras, such as wireless adapters and International minute bundles, can be pricey and add up fast!
Overall Thoughts
The Ooma service is actually a very good option for those who want a basic home phone service at a low cost. If you need more advanced features such as voicemail to email, call forwarding and the likes, there may be better options out there as the price jumps considerably. The customer support side seems to be knowledgeable and responsive and user reviews are very positive overall. Remember to activate your service before connecting the device to your home network!
Our Ratings
| | | | |
| --- | --- | --- | --- |
| OVERALL RATING | (4.0) | Ease of Order | |
| Delivery | | Installation | |
| Voice Quality | | Service Reliability | |
| Service Features | | Customer Service | |
| Value for Money | | Mobile App | |
Introduction - What is Ooma?
First things first, what is Ooma? To put it simply, Ooma is a VoIP company that routes your phone calls over the Internet instead of the Public Switched Telephone Network (PSTN). This alone can save you a small fortune in your phone bills. In order to do this you purchase a device, known as the Telo, which takes your voice and converts it to a digital signal and sends it to the Ooma data center using the Internet. For this reason, having an Internet service is a requirement for customers.
Ordering the Telo
If you decide to purchase Ooma, of any variation, whether for home or a Small to Medium sized Business (SMB), you will find that it is very easy to obtain. The option to purchase either one of their products is available through its website too. There are many other retailers who also sell the Telo which can be of benefit should you have a preferred retailer, business credit line or a gift card with another establishment. Often, many retailers offer it at a lower price or extend promotions such as a mail in rebate.
The devices are not available at most brick and mortar locations so ordering the device from an online service is necessary in most cases. We decided to purchase the device through OfficeMax as they seemed to offer the best price along with free and fast shipping. The good news is that device arrived in roughly 72 hours which is a great turn-around time for shipping.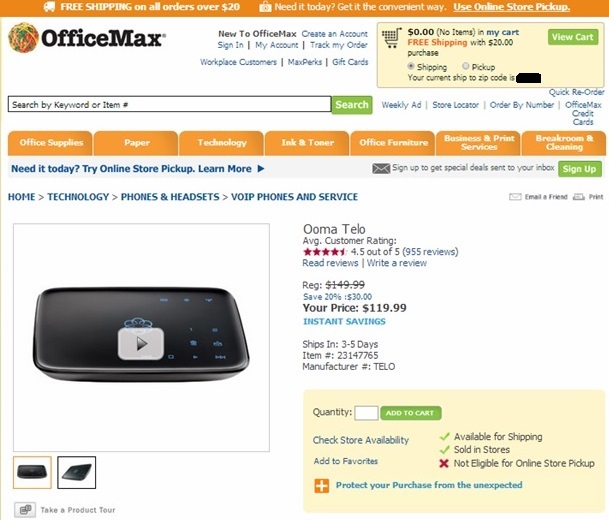 The price seems to vary between retailers. The average retail price is $149.99 and is likely the price you will pay if you opt to purchase directly from the company. Better deals can be uncovered with a little bit of snooping as you can see above. The screenshot above was taken after we paid the full retail price from OfficeMax. Keep that in mind if you decide to go with this service for your home or business after reading the rest of the review.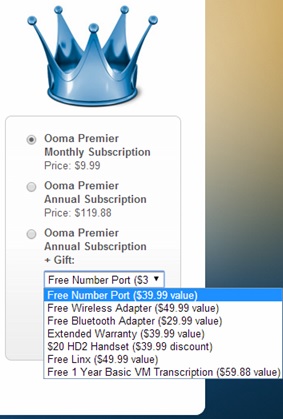 For the price you pay for the service, you gain the ability to use the core calling features indefinitely. You also receive a 60 day trial to Ooma Premier that gives you access to 25 great features - this is where the service truly shines. After the trial, you can pay $9.99 for the service on a monthly basis. With every year worth of subscription fees, you also have the option to select one of the free gifts you see above or purchase their HD2 Handset at a 67% discount. Keep in mind that the price for Premier is relatively high compared to some other providers you see on our site. If you do not need the additional features, the basic service price is tough to beat.

The only fee for US and Canadian service you will encounter is the one certainty to which we are all bound: taxes. Yes, even though it is a VoIP product, fees must still be paid to government entities to keep the industry from collapsing on itself. Fortunately, the fees amount to pocket change as you can see in the above graphic.
One final note for those in the US and Canada. For the basic plan, unlimited calling only applies to calls inside your country (i.e. if you live in the US, calls are free and unlimited inside the US and likewise for those in Canada). Calls from the US to Canada or from Canada to the US are 1.4c/minute. The premier plan removes the 1.4c/minute fee. In other words, those in the US can call Canada for free and vice versa.
How to set up Ooma
Setting up the Ooma Telo is a simple process. The system ships with a large poster-type document showing you exactly how to connect and configure the system. The most important part to keep in mind is that the service must be activated before the system is plugged in to your network. Otherwise, the Telo will need to be rebooted - a minor inconvenience that requires unplugging the device for 30 seconds, much like power cycling a router.
Activation
In order to register your device, you must visit ooma.com/activate and follow the steps to activate your service. From this point, you are guided through a step by step process to enter the required information. If you are replacing a damaged or defective device from an existing service, you will be prompted to call customer service at this point so they can restore your existing settings to the new device.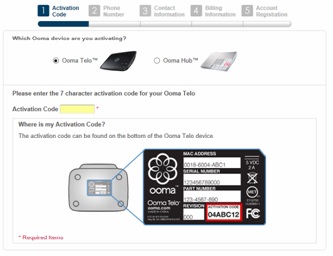 At this point, only two devices are offered - the Telo is the home device and the Hub is for the business service. Your device will have an activation code on the bottom of the unit and you will enter this into the form. After entering the required information, you will have to complete an additional 4 steps to finish setting up the device.
Phone number : This step is fairly self-explanatory. Enter the desired area code for your service and you will be presented with hundreds of numbers to select for your new service. If you want to port an existing number, choose a number for the time being and you will have the option to port a number in after you complete the initial activation process.
Contact Information : Who are you? Ooma wants to know! Provide all your contact information here, such as your name, address, email and mobile phone number. Here you can opt-out of receiving promotional emails from the company or leave it activated and hope for nice promotions, which will likely make its way to your inbox at some point.
Billing Information : Enter your preferred method of payment here. This is where the taxes and fees will be charged and any other addition you make to your service. At this point, you can add money into your service for prepaid options that may be applied to international calling fees which are very competitive, actually among the lowest in the industry.
Account Registration : This is the final step before you actually connect and configure the device to your liking. Provide a password for your account, accept the terms and agreements (e.g. keep the Premier service to get the additional features) then move on to the physical connection.
Connecting the Device
The physical portion of setting up Ooma is relatively simple. All that is required after activation is physically connecting an analog phone to the phone port on the device then plugging the device into a router (or direct to your internet modem). The Telo has a port built into the device that allows you to connect a switch behind the device, meaning it can sit between the switch connecting your physical devices and your gateway. This can help with Quality of Service (QoS), depending on your network, but it is still probably best to configure such settings on one device (i.e. your home gateway.)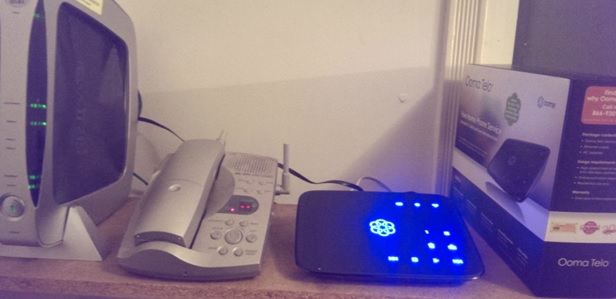 TFor this review, it was installed in a home environment where it is the only device physically connected to the network. After the phone was connected, an empty port was selected to connect the device. Upon establishing a connection with the internet, the device will begin to update and configure based on the settings entered. The system will initially flash red until it finishes booting and updating. The lights change to blue when it is ready for use.
Configuration
Perhaps one of the best parts about this service is the variety of ways you can configure the device. You can program many features by pressing the Play icon (like on a DVD remote) and using the connected phone to navigate through the menus. Initially, you must set a PIN to access your voicemail and record a greeting, should you choose not to use the generic greeting. By delving into the advanced options, you can configure all the settings related to the core services. However, it is simpler to use the online dashboard to set up the device and tweak the service features.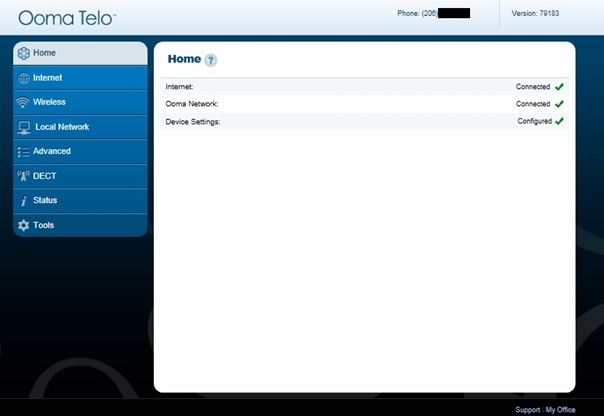 If you would like to use the Telo device to control network flow, assign a static address to the device or perform other more advanced functions, you will need to connect a computer to the network port and navigate to setup.ooma.com for intranet access via a web browser. If you have purchased the wireless adapter for the device, you may access the console from a wireless connection.
Setting the Features
By going to my.ooma.com on the local intranet, you can setup the features for the system. The first time you access the system, it will walk through most of the settings on a step by step basis allowing you to configure the most pertinent options.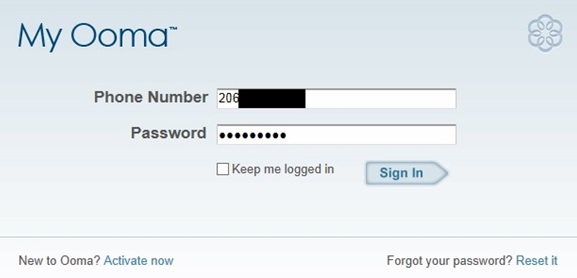 After signing in to the above console using the phone number and password you selected during registration, a walkthrough is provided to assist with configuration. Any option you choose during setup can be changed at a later time from within the web console or via the Ooma app. The initial setup involves:
Voicemail Notifications : Select an email to send voicemail notifications to. Voicemails will be sent as MP3 attachments to this address.
911 Notifications : If 911 is called from your service, you can select to receive an email or text notification. We selected text but use discretion to choose the most accessible option for your situation.
Call Forwarding and Multi-Ring (Premier) : Here you can select whether you want your cell phone to ring simultaneously, directly forward calls to you cell number or forward to cell only in the event your service is offline. Part of the premier plan (free trial)
Privacy Preferences (Premier) : This allows you to select the level at which incoming calls are filtered. At the highest setting it will block: Community and Personal Blacklists, Telemarketers and Known Spammers, Blacklisted Callers to Voicemail, All Anonymous Calls.
Add a Second Number (Premier) : You can select an additional number for your service that can be used simultaneously with your existing line. You can select a different area code from your main line. This is part of the premier plan (free trial).
The Ooma Dashboard
By logging into your dashboard at ooma.com, referred to as My Ooma, you can manipulate many additional features in addition to modifying the options you selected during the initial setup. As you can see from the dashboard depicted below, you can view and listen to voicemails, see call logs as well as import or view contacts. Contacts can be imported from Outlook 2007 and later, Google, Facebook, LinkedIn and .vcf formatted contact files.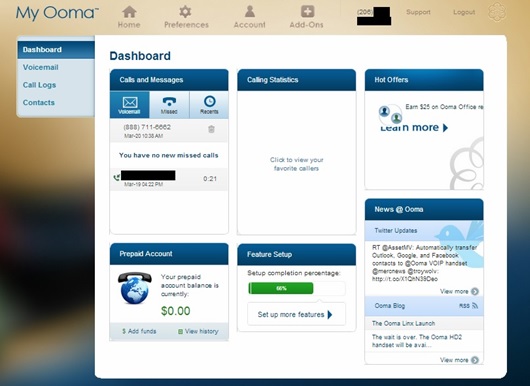 You can further configure additional options by accessing the Preferences menu. Here you can make changes to the options you selected during initial setup as well as make additional tweaks to these settings. Some additional settings not found in the initial setup may be configured here including:
Google Voice Extension (GVE) : If you use Google Voice, you can create a number that links directly to this account. If you are not a user already, the website has a Google Voice FAQ page which explains Google Voice and how their service integrates with Ooma, in plain English.
System Preferences : Here you can modify how the dashboard behaves upon login, namely which page you visit after login. It also blends with the Ooma fax service, which is explained in their fax FAQ page.
Add-Ons
The great thing about the Telo and the Hub are all the add-on features you can use to supplement the service. Under the Add-Ons section you will find a variety of additional products you can purchase to enhance the overall service. The additional products and services you can select are as follows:
Ooma Premier ($9.99 a month) : This is essential for all the goodies that make it a great service. This allows the instant second line feature and enhanced voicemail features.
Prepaid Calling (from $10 to $100) : Here you can add credit to your account. This ties in with international calling so the fees incurred are deducted from this account rather than appended to your monthly bill.
HD2 Handset ($59.99) : The HD2 Handset integrates with the service by providing a few different features. Namely, pictures that are associated with social media will appear in the color screen during a call and you can also navigate through contact lists with this device whereas a normal phone cannot perform these functions.
Linx ($49.99) : By installing this device, you can add a phone to virtually any room in a house or small office. It is DECT based, so it wirelessly connects a corded device to the Telo by using the same technology as a wireless handset. This will not work with business service which utilizes the Hub.
Wireless Adapter ($49.99) : If the device cannot sit near the router or gateway, this device gives the Telo wireless network capabilities by plugging into the onboard USB port.
Warranty Extension ($39.99 or $79.98) : Say you have children or pets in the house, you never know when some valuable item could meet its demise. The warranty will cover the product if damaged for up to 2 years, if the more expensive option is selected.
International Bundles ($4.99, $9.99 and $14.99) : In addition to the prepaid calling option, those who frequently call internationally can purchase packages to call other countries. Below is a screenshot from this section that shows what countries are included in the package plan. Pricing starts at $4.99 for 500 minutes and also includes an option for 1000 minutes at $9.99 and unlimited calling at $14.99.

Voice-to-Text ($4.99 and $9.99) : Purchasing this service will enable the service to transcribe voicemails to text. Two levels exist for this service - the Basic Transcription at $4.99 and Premium Transcription at $9.99, which offers much higher accuracy. Unfortunately, these prices are assessed monthly which seems quite pricey as this is included with similar services or paid on a yearly basis.
Bluetooth Adapter ($29.99) : Installing the Bluetooth Adapter allows your device to pair with other Bluetooth devices. You can connect your cell phone or use a Bluetooth headset as if it were another phone connected to the device. If you are in an area where handsets are regularly victim to interference, Bluetooth could be the best solution.
Ooma App ($9.99) : The Ooma app for mobile devices allows full access to all core features but does not have the ability to access voicemail. It is available on Android and iOS for $9.99, which is one drawback about the application. You can use the app to make calls to other Ooma subscribers for free or call US and Canadian numbers but with a 250 minute limit. Anything over this amount, you pay about 1.6c a minute. Aside from having access to your Ooma contact list, the application can pull contacts from your phone contact list which is the only nice feature about using the application.

Mobile Bundle ($4.99) : By purchasing this add-on for the mobile application, you upgrade your minute allotment from 250 to 1000. It is an inexpensive way to access more minutes if using the app but the money would be better spent upgrading the calling plan from your cell phone.
Number Port ($39.99) : Here is where you can port an existing number to your service. Simply plug your number into the form to get the process started. It will take approximately one month to port in the US and up to a month and half in Canada. If you decided to port your number remember that your existing service must remain active until the port is complete.
Ooma Problems
If you are experiencing Ooma problems here are a few items to help your troubleshooting:
Problem #1: No dial tone. Verify that your Internet is working.
Problem #2: One way audio. This may be a firewall related issue on your router. This article on router setup for VoIP may help.
Problem #3: Poor call quality. Run our VoIP test to verify your Internet is good enough for VoIP phone calls.
Problem #4: Ooma fax problems. Faxing can be problematic over VoIP. Verify your set up as per the quick start guide. Try disabling error correction mode. Reduce the baud rate to maximize the chance of successful transmissions. Focus on a test page to begin with rather than high resolution images and the likes.
Final Thoughts
Ooma is a very decent service for those looking for a basic, low cost home phone service, with good voice clarity. The customer support team seems to have knowledgeable representatives standing behind the service, and are very responsive.
If you need more features than the basic plan, the Premier service is also a good solution, although there are lower cost options in the marketplace with comparable or more advanced features. There are many add-ons that can be purchased, from wireless adapters through to International bundles. These costs can add-up fast but likely meet the needs of most people.
The only real disappointment is the mobile application, which is very basic and only provides 250 minutes for calls.
Finally, don't forget to activate your service before connecting the device to your network. This piece of advice will save you some hassle.
We hope you found these Ooma reviews useful. If you have any comments or questions please use the Q and A section above.