Nextiva is a well known and established provider of VoIP phone services to the small to medium business (SMB) market as well as in recent years to the enterprise market. Founded in 2006 and headquarted in Scottsdale, Arizona, they have grown to over 1,000 employees, servicing over 150,000 subscribers. Their service offering has adapted over the years from being a purely business VoIP phone system offering (phone service, Internet Fax, SIP trunk services etc.) to being a fully Unified Communications service that includes phone service, sales and service CRM (Customer Relationship Management platform), team collaboration (video conferencing and screen sharing services), business analytics, surveys, and live chat software.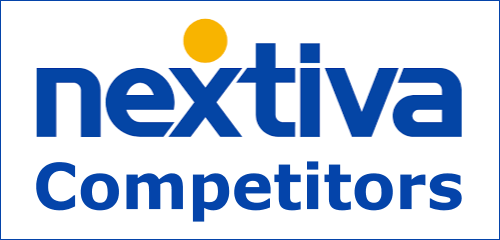 Nextiva sounds great right? So we should just choose them? Well we always recommend comparing alternatives to make sure you are making the right decision for your specific needs. Every business is a little different and there is no one size fits all solution. Just like when you shop on Amazon it always makes sense to compare some options and not always choose the first option that is shown.
In this article we will look at some of the strengths and weaknesses of Nextiva's service, and also introduce some alternatives and competitors of Nextiva and take a look at how they compare.
What Makes Nextiva a Popular Phone Service Option?
Nextiva have done an amazing job at growing their business since their inception. Part of their success has come from how well they have executed their marketing plan, including areas like their website, content creation, search engine optimization and other such similar marketing techniques over the years. If you search for business VoIP in Google you will likley see Nextiva in the top few organic listings and we can assure you that is no easy task. WhichVoIP has been around since before Nextiva was founded. In that time we have witnessed their growth. In fact WhichVoIP used to partner with Nextiva and advertise their services for many years. We like to think we helped in their growth in their early days, and helped them get to where they are today.
Having search engine presence is not enough on its own. They provide a robust solution and have adapted to the market by innovating and improving their product offering to keep up with market trends. They also provide a clear focus on customer support and generally have a good online reputation when it comes to customer reviews. The combination of these things help to make Nextiva a popular choice.
What About Nextiva Pricing?
One of the main driving factors for the growth and popularity of VoIP phone solutions comes down to price, and more importantly what you get for your money. VoIP took off as its cheaper than traditional phone services and provides a wealth of features included. In the beginning people were happy to take a risk on VoIP and deal with teething issues to save what is typically over a 50% reduction in their phone bills. VoIP solutions have improved by a huge amount over the last 10 years and expectations have also increased dramatically.
Like many VoIP providers Nextiva pricing is based on a per user per month basis. The actual cost per user is based on two main factors, the plan you select and the number of users in total. Nextiva currently has three (3) different main plans available (Essential, Professional and Enterprise) and four (4) main pricing tiers (based on 1 to 4 users, 5 to 19 users, 20 to 99 users and 100+ users).
The Essential plan appears to be aimed at the small business that really only needs dial tone capabilities without all the bells and whistles. It includes unlimited calling within the USA and Canada, as well as Internet faxing and 1,000 toll free minutes included. Pricing starts at $34.95 per user per month for a 1 to 4 person sized business. Pricing drops all the way down to $21.95 per month for 100+ user deployments.
The Professional plan adds SMS, unlimited video calling, screen sharing, team messaging, call recording, voice analytics, and some CRM/3rd party software integration capabilities. Pricing starts from $37.95 per user per month for the 1 to 4 business users, dropping to $24.95 for 100+ user systems.
The Enterprise plan is their kitchen sink plan that includes all of their features and offerings, including 10,000 toll free minutes, unlimited participants for their audio conference call feature, Amazom Chime, and voicemail transcription. Pricing starts at $44.95 per user per month for a 1 to 4 user system, and drops down to $31.95 at the 100+ tier.
The pricing information above is all based on month to month service and does not includes taxes and fees. Pricing reduces by $2 per user per month if you sign a 36 month agreement and another $2 per user per month if you prepay on a 36 month agreement. Refer to our VoIP phone service pricing, taxes and fees guide for a more detailed explanation on how VoIP pricing works and all the regulatory fees and taxes you can expect.
What Are Some Common Complaints From Users of Nextiva?
The Better Business Bureau currently shows 131 complaints for Nextiva, which sounds high but is not overly excessive based on the number of subscribers they have nationally. When you read through the complaints there does seem to be a trend based around Nextiva's auto-renew policy on their 36 month agreement, and specifically regarding contract renewal without any notice, as well as their 36 month agreement in general. Small businesses that have suffered hard times, reduced employee counts, or worst case have had to close, have expressed issues of not being able to get out of the long term agreement without paying it off or a hefty cancellation fee.
On WhichVoIP the over 200 user submitted Nextiva reviews are generally positive with an overall average rating of 4.4 out of 5. The last few years we have seen quite a few negative reviews related to a cancellation issue, a technical issue, and customer service issues.
Nextiva Competitors for Business Phone Service
As we discussed above Nextiva has three main plans ranging from basic phone services to a fully Unified Communications solution. Not every busines needs a fully Unified Communication solution, and may just want good old fashioned dial tone service but with cool features! This section provides a couple of great Nextiva alternatives worth considering in this category.
Cabertel
Cabertel, founded in 2015 in Washington, focus on providing affordable, reliable and high quality phone service to the small business sector. Great customer service is a key goal for Cabertel and you definitely get that impression when you read the Cabertel user submitted reviews. They have an average rating of 4.9 out of 5, which is excellent.
They have one simple plan that includes unlimited calling to the USA and Canada. Pricing is per user per month and varies depending on the number of users. For the single business person it is $24.99 per month. If you have between 2 and 9 users of your phone system then pricing drops to $22.99 per user per month. For the 10+ sized businesses the pricing drops to $19.99 per user per month. All pricing does not include taxes and fees. The plan is month to month so there is minimum commitment or risk.
Various Yealink IP phones are supported from cordless to high end executive options and all are available through Cabertel at very competitive prices. They also have some accessories available for purchase like bluetooth and WiFi dongles, and headsets. Overall they are a great option if you need a solid phone service with great customer service and at an affordable price.
Soundcurve
Soundcurve, founded in 2009 in California, offer excellent no contract, no hassle VoIP phone service for small businesses. Like Cabertel they offer affordable business phone service with a major focus on outstanding customer service. You can check out the Soundcurve user submitted reviews to see why they have an average rating of 4.9 out of 5.
They have four different plans called Startup, Basic, Professional, and Executive. The Startup plan starts at $14.99 per month per user and provides a very basic plan for those that are just starting and want to keep their expenses to a minimum. The Basic plan, starting at $17.99 per month per user, includes unlimited calling as well as a Yealink T21PE2 phone per user. The Professional plan, starting at $24.99 per user per month, includes a Yealink T40 phone plus some additional features like voicemail to text transcription. The Executive plan starts at $27.99 per user per month and includes CRM integration, faxing, text messaging/SMS and call recording.
If you want a different phone to the ones included in their plans they also have various other Yealink IP phones supported as well as a few accessories. Overall you know that with Soundcurve you will get a reliable solution with great customer service.
Nextiva Alternatives for Unified Communication Solutions
Here are some well established and industry respected Nextiva alternatives in the Unified Communications category of services. These are services that include additional team collaboration features such as video conferencing and messaging. These types of services tend to be more targeted at the enterprise business sector.
GoToConnect
GoToConnect is powered by what was Jive Communications. Jive was founded in 2006 and in 2018 was acquired by LogMeIn and the GoToConnect brand was created in 2020 to go with their existing GoToMeeting and other GoTo brands.
The acquisition by LogMeIn helped propel the Jive phone solution to become an established Unified Communications solution and competitor. They provide voice, chat, text and video meetings across multiple device platforms making it a compelling all in one solution allowing you to run your business from anywhere. GoToConnect has one plan that combines all their features so any business size can utilize it. Pricing starts at $29.95 per user per month making it a cheaper alternative to Nextiva. Pricing drops to $19.95 per user per month for 50+ user deployments.
GoToConnect/Jive have an average rating of 4.6 out of 5 on WhichVoIP. You can read through the GoToConnect user submitted reviews and see what their customers are saying. Overall we think that GoToConnect is an excellent choice and a very compelling competitor to Nextiva that is definitely worth considering.
8x8
8x8 was founded back in 1987 and entered the VoIP market in the early 2000's. They are an established leader in the VoIP industry, often referenced by Gartner as a Unified Communications leader in its Magic Quadrant. They have a good online review reputation and have an average rating of 4.6 out of 5 on WhichVoIP. We recommend reading 8x8 customer submitted reviews to help you understand the pros and cons of their service.
You have a lot of plan options to choose from starting with their Express plan that starts at only $12 per user per month. There are limitations on this plan like no phone support but it can be a good way to test their services. They have an X series of plans with the X2 plan starting at $25 per user per month. The X2 plan includes unlimited calling (plus international calling to 14 countries), SMS, fax, team chat (with file sharing), video conferencing (including screen sharing), analytics, and third party integrations. If you need call center type features then the X4 plan is worth looking at but at an increased cost of $45 per user per month.
8x8 offer and support a lot of IP phones, including various models from manufacturers like Cisco, Poly, and Yealink. They also provide three different ways to utilize desk phones from them. You can buy the phone outright with a one time payment, you can use their financing plan and pay for the phones over a period of 24 to 60 months, or you can utilize their Device-as-a-Service (DaaS) option, also know as their Flex plan, whereby you basically rent the phones.
Overall, 8x8 is a direct competitor to Nextiva and can be a cheaper option while providing similar functionality. We would recommend considering them when researching your options and getting quotes.
Ooma Office
Ooma is a well known household name in the world of VoIP but they also provide phone services and Unified Communication solutions to businesses. They focus their solutions on the small business market and the enterprise market. On the small business side they offer two plans, the Ooma Office plan and the Ooma Office Pro plan.
The Ooma Enterprise plan is our recommendation as an alternative to Nextiva. Pricing is $34.99 per user per month and includes phone service, IM with presence and video chat, video conferencing with chat, integrations and APIs. Ooma has a very good online reputation with PC Mag readers voting Ooma business service number one for seven years in a row. At WhichVoIP we currently do not have a good sample size of reviews, although currently they have a 5 out of 5 rating. Check out our Ooma Office review page to learn more about our view of this service.
They do have a selection of IP phones and accessories, including Mitel, Polycom, Yealink and their own Ooma IP desk phones. Overall Ooma Office provides an intriguing solution from a giant in the industry.
How Do Nextiva Reviews Compare to Their Competitors
Now that we have provided some great alternatives to Nextiva let's now take a look at comparing user submitted reviews for each of them.
| Description | Nextiva | GoToConnect | 8x8 | Ooma |
| --- | --- | --- | --- | --- |
| Total Ratings | 216 | 131 | 128 | 33 |
| Features | 4.5 | 4.6 | 4.5 | 4.9 |
| Reliability | 4.4 | 4.5 | 4.4 | 4.9 |
| Sound Quality | 4.6 | 4.6 | 4.5 | 4.9 |
| Customer Service | 4.4 | 4.5 | 4.5 | 4.8 |
| Value for Money | 4.4 | 4.4 | 4.5 | 5 |
| Recommended | 84% | 88% | 91% | 100% |
| Average Rating | 4.4 | 4.5 | 4.5 | 4.9 |
| Provider Links | Nextiva | GoToConnect | 8x8 | Ooma |
For more in-depth data you can check out our provider ratings comparison tool.
Nextiva Alternatives Compared
The below table provides a quick glance comparison of some of the Nextiva alternatives we discussed above:
Provider*
Highlights
Startup
Reviews
More Info

Top Rated Customer Service
Unlimited Calls, Easy to Use
35+ Features, No Contracts
Dedicated Support Person

Free Trial


Read Reviews

Includes Phones on Select Plans
Outstanding Reliability
Incredible Features

Cancel Anytime


Read Reviews

Free Phones with sign-up
No Contract, No Commitment
USA Based Customer Support
Plans from $14.99/mo

Free Trial


Read Reviews
Final Thoughts
In this article we have introduced Nextiva along with details of their Unified Communications solution to businesses across North America. We have provided recommendations on alternatives in the basic phone service category as well as in the Unified Communications category.
We hope this article helps you do your research on Nextiva competitors and ultimately helps you to make the correct choice for your specific business needs. There is no one size fits all solution so we always recommend doing your research before making your selection.
If you have any questions on this article or want to add your comments on your experiences with Nextiva please use the form below to submit them.