Mitel versus Shoretel is a common comparison made by business owners, IT managers/directors and CIOís when trying to make a final decision on which phone solution to select. In this article we will take a look at some of the key differences between these services and also take a look at some of the phone models.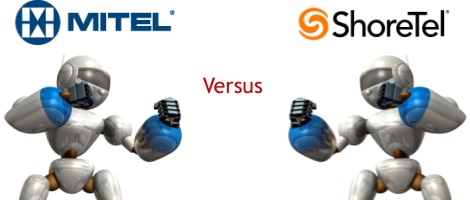 In recent years, cloud computing has changed the way many businesses operate, particularly when it comes to VoIP and Unified Communications (UC) solutions. Cloud-based, or hosted solutions, offer several advantages when compared with traditional on-site deployment:
Enhanced accessibility keeps your staff mobile and organized.
Greater network redundancy means improved reliability.
Managed systems reduce IT resource costs and ensure uniformity.
The growing list of hosted UC solutions includes packages from many recognized VoIP leaders, including Mitel (MiCloud Business) and ShoreTel (Connect CLOUD). Each of these systems offers a wide array of features and integrated applications designed to streamline both internal and external communications, though ultimately only one will prove to be the best option for your organization.
Mitel MiCloud Business
Advertising a seamless experience and the option to connect from any Internet-enabled device, MiCloud Business is one of the more popular UC solutions currently available. Highlights include a clean, simple customer control interface, redundant data facilities plus optional Salesforce integration.
For end users, MiCloud Business offers single-screen management of voice communications, e-mail and instant messaging, ensuring productivity on any device. A host of features are included out of the box, including call accounting and recording, video collaboration and more.
Benefits:
Utilize Mitel phones, PC-based softphones or communicate via supported mobile devices.
Auto Attendant provides added safeguard during periods of disruption, with option to continue receiving calls via Mobile Twinning.
Local phone numbers, unlimited local and long-distance calling available in MiCloud Business Advanced.
Drawbacks:
Multiple product architecture is suited to small- and medium-sized businesses, but not as frequently favored by larger enterprises.
No standard pricing available; must make direct contact for individual sales quotes.
Phones do not support industry standard SIP protocol.
ShoreTel Connect Cloud
ShoreTelís cloud-based UC solution is much like MiCloud Business in several ways: both are hosted and maintained remotely, both offer redundant data center performance to minimize downtime and both offer an assortment of standard features. ShoreTel also offers Customer Relationship Management (CRM) integration for a number of applications, including Salesforce, Microsoft Dynamics, ACT! and NetSuite.
Connect CLOUD offers many features for mobile workers as well, including remote connectivity, easy conference joining, online messaging and video calling. ShoreTel products are noted for their strong scalability and ability to support large numbers of users; the company also advertises a lower total cost of ownership (TCO) when compared against competing products.
Benefits:
Popular choice of medium-sized businesses and large enterprises thanks to scalability of single-platform architecture.
ShoreTel is recognized by clients for offering quality customer support with noted ease of accessibility.
Fully integrates with a large number of CRM programs, Applicant Tracking Systems (ATS) and Enterprise Resource Planning (ERP) applications.
Drawbacks:
Smaller overall market share and brand awareness when compared against key competitors, particularly outside North America.
ShoreTel phone sets are not rated as highly versus comparable products with regard to overall quality.
Product pricing is only available on request from a sales representative.
Mitel and ShoreTel IP Phone Comparison
Of course, the cornerstone of any quality VoIP system has long been IP phones themselves. As Mitel and ShoreTel offer very similar cloud-based UC services, it becomes necessary to more closely examine their respective hardware offerings. Six phones are compared as follows:
ShoreTel IP655, IP485g and IP420
MiVoice 5360, 5340 and 5304
Note that while the ShoreTel phones support the standard SIP protocol, the Mitel phones only support the proprietary MiNet protocol. This in effect means that if you decide to switch providers then your Mitel phones will not be supported, while there is a good chance your ShoreTel phones will still work with most other providers.
ShoreTel IP655 vs Mitel 5360 IP Phones
The ShoreTel IP655 was measured against the MiVoice 5360 to compare executive-level solutions offered by each telecom provider. While most side-by-side features are similar, Mitel features greater display resolution with a smaller overall footprint. The Mitel phone only supports 2 lines whereas the ShoreTel IP655 can support up 12 lines: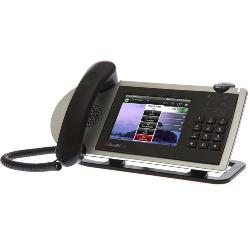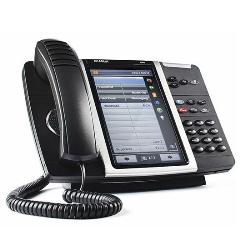 Feature
ShoreTel IP655
MiVoice 5360
Display
640x480, backlit, VGA color, touchscreen 5.7"
800x480, backlit, color, touchscreen 7"
Lines
12
2
Programmable/feature keys
5 feature keys, 100 speed dial entries
48 self-labeling keys
Speakerphone
Full duplex, beam-forming array w/optional mic extension
Full duplex operation
Headset compatible
RJ-22 w/ LED indicator
Requires DECT Module
Dimensions
12.7" x 6.5" x 6.5"
(32.0 x 17.0 x 16.7 cm)
10.1" x 7.5" x 7.1"
(25.6 x 19.0 x 18.0 cm)
Weight
4.0 lbs. (1.60 kg)
2.55 lbs. (1.16 kg)
Codecs supported
BV-16, BV-32, G.711 uLaw, G.722, G.729a
G.711, G.722.1, G.729a
Power
802.3af Power over Ethernet (adapter optional)
802.3af PoE
ShoreTel IP485g vs Mitel 5340 IP Phones
Next, ShoreTelís IP485g and Mitelís MiVoice 5340 are compared. Both are mid-level, high-usage phones designed for sales and support professionals. While the MiVoice hardware again offers greater display size, it comes with a much lower resolution and is not color. The Mitel 5340 phone is again outdone when it comes to the number of lines supported in comparison to the ShoreTel IP485g.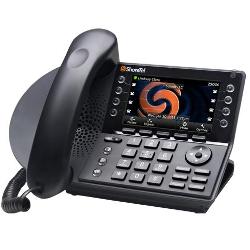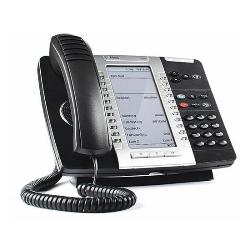 Feature
ShoreTel IP485g
MiVoice 5340
Display
480x272, backlit, color
Large, 160x320, backlit
Lines
8
2
Programmable/feature keys
6 feature keys, 5 soft keys, 100 speed dial entries
48 self-labeling keys
Expansion module support
Speakerphone
Full duplex w/ LED indicator
Full duplex operation
Headset compatible
RJ-22 w/ LED indicator
Requires DECT Module
Dimensions
9.6" x 5.3" x 4.8"
(24.4 x 13.5 x 12.2 cm)
9.2" x 7.5" x 7.1"
(23.5 cm x 19.0 cm x 18.0 cm)
Weight
1.66 lbs. (0.75 kg)
2.2 lbs. (1.01 kg)
Codecs supported
BV-16, BV-32, G.711 uLaw, G.722, G.729a
G.711, G.722.1, G.729a
Power
802.3af PoE
802.3af PoE
ShoreTel IP420 vs Mitel 5304 IP Phones
Finally, two base models are compared: Mitelís MiVoice 5304 versus ShoreTelís IP420 phone. Both are two-line devices recommended for use in retail settings, guest rooms or deployed for remote workers. Note that only ShoreTel offers speakerphone and headset functionality at this level: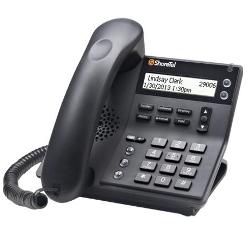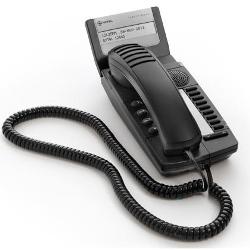 Feature
ShoreTel IP420
MiVoice 5304
Display
130x28, backlit
Two-line display, backlit
Lines
2
2
Programmable/feature keys
6 feature keys
7 programmable keys
Speakerphone
Half-duplex w/ LED indicator
None
Headset compatible
RJ-22 w/ LED indicator
Not specified
Dimensions
6.6" x 5.3" x 4.8"
(16.7 x 13.5 x 12.2 cm))
10.5" x 4" x 3.5"
(26.7 x 10.2 x 8.9 cm)
Weight
1.60 lbs. (0.73 kg)
1.35 lbs. (0.61 kg)
Codecs supported
G711 uLaw/aLaw, G722, G723, G726, G729a, ILBC, Linear 16bit
G.711, G.729a
Power
802.3af Power over Ethernet (adapter optional)
IEEE 802.3af over LAN, switch, mid-span hub or 48V Ethernet
User Feedback Comparsion
Another aspect to consider when comparing providers against each other are user submitted ratings. We have thousands of user submitted ratings for hundreds of providers. Below is a side-by-side comparison of the ratings submitted for Mitel and Shoretel.
| Description | Mitel | Shoretel |
| --- | --- | --- |
| Total Ratings | 7 | 2 |
| Features | 3.1 | 4 |
| Reliability | 2.9 | 4.5 |
| Sound Quality | 3.3 | 4 |
| Customer Service | 2.9 | 5 |
| Value for Money | 2.7 | 4 |
| Recommended | 43% | 100% |
| Average Rating | 3 | 4.3 |
| Provider Links | Mitel | Shoretel |
Conclusion
While both Mitel and ShoreTel offer many of the same features in their cloud VoIP solutions, there are a few distinguishing factors to be considered. Mitel is frequently recognized for its ease of use, outstanding network reliability and high-quality phone hardware. They serve a greater number of customers overall and as of 2015, reported a staff size and revenue about four times greater than ShoreTel.
ShoreTel is regarded for their responsive support, full-featured IP phones and exceptional scalability. Perhaps most importantly, they advertise the lowest TCO, a claim backed by an independent Nemertes Research study published in March 2015. ShoreTel was found to offer one of the lowest implementation costs as well as a lowest-overall five-year cost of operation: $566 expected; Mitel clocked in at $817 in the same study, or a difference of about $42 annually.
Ultimately, the UC system you choose will boil down to your organizationís specific needs and priorities. For detailed pricing of these services, please contact their respective providers for more information.
More Provider Comparisons
Here are some other popular providers worth comparing to Mitel and Shoretel.
Provider*
Highlights
Startup
Reviews
More Info

Top Rated Customer Service
Unlimited Calls, Easy to Use
35+ Features, No Contracts
Dedicated Support Person

Free Trial


Read Reviews

Includes Phones on Select Plans
Outstanding Reliability
Incredible Features

Cancel Anytime


Read Reviews

Free Phones with sign-up
No Contract, No Commitment
USA Based Customer Support
Plans from $14.99/mo

Free Trial


Read Reviews