Have you had enough of Telemarketers and their Robocalls? In 2019 Americans received 58.5 billion robocalls, according to YouMail. This is an increase of 22% from 2018 - over 100 billion calls in 2 years!
In this guide we provide some ways to counteract these rogue calls using standard features available in VoIP along with some third party services such as Nomorobo and YouMail that can make it easier to flag and terminate robocalls.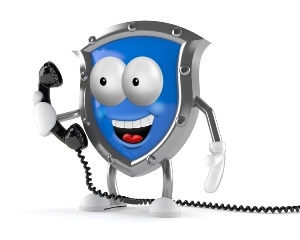 What are Robocalls?
Robocalls are calls that come in from recorded messages rather than a live person. Most of them are trying to sell you something and these are actually illegal according to the FTC. Other robocalls may be legal if they are for informational purposes, such as appointment reminders and political calls.
Who is Behind the Robocalls?
Telemarketers and scammers tend to be the ones that are behind all of the Robocalls. There is a lot of money to be made from this, maybe only a very small percentage will actually result in a scam or a sale but when we are talking about almost 60 billion robocalls per year, that ends up a lot of money to the scammers and telemarketers.
New technologies have made it very easy for scammers and telemarketers to set up robocall schemes. Open-source (free) software can be installed on an old computer to broadcast recorded messages to thousands of phone numbers 24/7. To make matters worse, they can easily spoof caller ID name and numbers to make it look like the call is from an authentic source and/or from a local phone number.
How to Stop Robocalls
There are a number of features in VoIP that can be used to reduce the burden of robocalls and these are detailed below. We will then look at third party services that can be used to stop the majority of the rogue calls getting through to your phone. Some of these services are actually built-in to certain VoIP providers service and are free of charge.
VoIP Features to Stop Robocalls
Caller ID
All VoIP providers offer Caller ID these days. If you do not recognize the caller ID name or number from the incoming call, do not answer it and let it go to voicemail. This tends to work well for residential service but not so much for business customers, after all you don't want to miss a call from a potential new customer.
Call Blocking
When you receive a call that turns out to be a robocall, go into your VoIP provider's portal and mark that call as spam or block the call (depending on the providers terminology). Future calls that have that caller ID will no longer get through to you. The only issue here is that the scammers and telemarketers tend to be one step ahead in that they are constantly changing their caller ID name and number.
Auto Attendant
If your provider offers Auto Attendants as a service feature it may be worth trying it as it can greatly reduce the volume of these robocalls that reach your phone. The auto attendant is used to direct calls to specific departments or personnel but the caller has to enter a number to reach the desired person or department, for example press 3 to talk to Joe. Most robocalls do not have speech recognition so they cannot decipher the message played. By having an auto attendant exit to voicemail or hanging up on the call when a valid number is not entered, you can greatly reduce the burden and volume of such calls. Just keep in mind that this tends to be a business grade feature so if you have residential service this option may not be available to you.
Services to Stop Robocalls
There are a number of third party services that can be used to stop robocalls. Some of these may actually be included in your VoIP provider's service for free as they are getting very popular so it is worth asking them about it.
Before highlighting some of the services used for blocking robocalls, let's first mention how they do this.
VoIP technology has a feature called simultaneous ring. Most VoIP providers offer this feature and it is a requirement for robocall blocking services such as Nomorobo. Essentially the way this works is that every incoming call will go through the simultaneous ring feature, as shown in Figure 1 below. In addition to ringing your phone it will also ring the robocall blocker service. The robocall blocking service acts very quickly on this call and looks up its extensive database to determine if the caller is on its blacklist. It does this within 1 ring of the phone. If the number is deemed to be bad then the call is handled by the blocking service and your phone will stop ringing. If not then your phone will continue to ring. For this to work always let your phone ring for at least one ring (approximately 5 seconds) before answering a call so the blocking service has time to process.

Now let's look at some options for robocall blocking services. For VoIP and landline services Nomorobo is really the only one to consider below, but we have detailed some others that may be useful for cell phone service.
Nomorobo
For VoIP providers Nomorobo seems to be the most popular service they use for stopping robocalls and Telemarketers. Providers such as 1VoIP, VoIPo, Ooma Premier and Vonage all use Nomorobo and have included this service free of charge to their customers. Currently they have over 3.5 million users and is used by many VoIP and landline providers. To date they have stopped over 1.6 billion robocalls. The Nomorobo database of blacklisted numbers currently has over 2.5 million entries and growing by the day. There is also an App available for cell phones but it is not free, at this time of writing it is $1.99/month through the Apple or Google App store.
YouMail
YouMail is used by over 10 million users but it is primarily a cell phone call blocking App rather than for landlines. They offer additional features such as smart voicemail (visual voicemail, voicemail to email etc), reverse phone number look-ups and options to change the message the Telemarketer will hear when the call has been blocked. The basic service for personal use is free, basic business service starts at $10.99/month.
RoboKiller
Robokiller is also only available for cell phones. It is similar to YouMail but has no free option. There is a 7-day free trial but the cost is $19.99 per year. They do have some neat features though, for example SMS spam protection, spam call recording and audio finger-printing for each call to determine repeat callers through audio recognition.
Hiya
Hiya is used by over 100 million users across 196 countries but is for cell phones only. There is a free version and a premium version for $2.99/month which gives you enhanced caller ID and authentication.
What is the FCC doing about Robocalls?
The FCC is actively working on ways to stop robocalls, including the following:
Aggressive Call blocking rules. Providers can be more aggressive at blocking calls and avoid getting into trouble regarding FCC call completion policies.
Improved Caller ID authentication. A STIR/SHAKEN protocol is being developed to combat illegal call spoofing.
Call reduction for reassigned numbers. A number reassignment database will be used to highlight change of ownership for phone numbers. This will be used by businesses to ensure they are aware of number reassignments thus reducing unwanted calls, in theory!
Increased fines. The FCC is taking this seriously and improved call tracing technology is being used to identify the true source of spoofed calls. Those responsible are getting fined millions of dollars.
Conclusions
In this guide you learnt about Robocalls and Telemarketers and the problems we all face dealing with these rogue calls. We also outlined some VoIP features that can be used to counteract robocalls along with some services that can prevent robocalls for VoIP, landline and cell phones. Finally, we discussed some items that the FCC is looking at to stop robocalls.
If you have any questions or comments please use the form below.