The Obihai OBi200 is an Analog Telephone Adapter (ATA) for VoIP use. It includes one (1) phone port and supports up to four (4) SIP accounts (VoIP services), as well as their OBiTALK service (Obihai to Obihai calling). Fax over IP support is provided with the T.38 fax standard. A USB port is included that allows connection of other available Obihai adapters (for example, the OBiWiFi wireless adapter).
Use the tabs below to navigate to various information options.
Take me straight to the 2 User submitted reviews >>
Obihai OBi200 Review by WhichVoIP
The below provides a summary of our comprehensive review followed by a more detailed look at setup and use.
Our Ratings for the OBi200
| | | | |
| --- | --- | --- | --- |
| OVERALL RATING | (4.0) | | |
| Performance | | Installation | |
| Voice Quality | | Durability | |
| Features | | Ease of Use | |
The Good
This device is relatively inexpensive and includes a lot of modifiable settings and features. Once registered all OBi-to-OBi calling is free (on the OBiTALK network).
Google Voice users can utilize this device to allow the use of an analog telephone for making and receiving phone calls. This is probably the number one reason why people purchase this ATA as it is the ONLY stand-alone device that currently supports this feature. Combining your Google Voice phone number with this device provides "free" home phone service for USA/Canada calling (after purchase of the device). International calling is also available with rates starting at 1c/minute. NOTE: Google Voice does not support 911 calling, but for a small annual fee ($15) you can set that service up through Anveo.
The OBi200 can be used as a BYOD (Bring Your Own Device) with many other VoIP service providers (current list as of published date: Anveo, Broadvox, Callcentric, Callwithus, Engin, freephoneline, Inphonex, Ippi, Localphone, Onesuite, Phone Power, RealCalls, Ringcentral, Telecube, Vestalink, Vitelity, VoIP.ms, and VoIPo). This is powerful in that if you change service providers you can continue using this device with your new service, no changing out ATA's. Also, some of these providers offer great deals. Anveo, Phone Power and Vestalink are commmon choices among OBi200 owners.
You can setup a SIP trunking service (up to four accounts) and simply pay for minutes used, based on the destination dialed. This is another great feature as you are basically paying wholesale per minute rates for your phone calls.
Optional add-ons include a WiFi adapter for wireless setups, and a Bluetooth adapter for pairing your cell phone with your home phone. These are great feature that makes this device stand apart from other ATA's on the market.
The Bad
The OBi-to-OBi calling is a neat idea but not particularly useful unless your friends and family have one also. You will need to utilize a Google Voice number, or sign up with a SIP trunking provider, or sign up with a VoIP service provider to utilize calling to any phone number.
Documentation, support and customer service have room for improvement. There is no phone number to call so users rely on their support forum or their website ticketing system to escalate support needs.
Configuring the device can be frustrating. If you are looking for a turnkey VoIP phone service this may not be the best choice for you.
There is only one (1) USB port on the device, which means you cannot take advantage of both the OBiWiFi and OBiBT add-ons at the same time.
Industry Awards
Voxilla Consumer VoIP Product of the Year Award for OBi110 (2011).
The WhichVoIP Best in Class Award (2015).
The Bottom Line
Overall Thoughts
The OBi200 is a decent product, although it may be deemed overly complex for the problem it solves for the less tech savvy among us. If you enjoy tinkering with such devices, this neat product provides cheap calling capabilities. Those that dont and who just "want to plug it in and for it to work" may want to find a more turnkey solution.
Currently, this is the ONLY device on the market that can integrate with Google Voice services which makes it a very popular choice. The combination of this device and a Google Voice phone number provides the capability to have free home phone service (after the cost of buying this device), using your existing analog telephone.
There is an add-on option for WiFi capabilities. I dont know of any other ATA currently on the market that provides that functionality. The Bluetooth add-on capability is also a neat feature, although some home phone systems include that technology (so you can pair your cell phone with your home phone).
The OBi200 allows users to select a SIP trunking service provider to make calls anywhere in the world. Not only that but it has the capability for up to four (4) accounts to be setup. A great idea as this brings the power of multiple SIP providers to your home phone (at a low cost per minute). This does require more setup though (specifically an account with a service provider).
This device is also compatible with a dozen or so VoIP service providers (such as Phone Power and VoIPo). If you sign up for one provider and are not happy, then switch to another with no need to change out the ATA.
About Obihai
Obihai is headquartered in California and describes itself as an Internet-based communication solutions company, serving both the consumer and business markets. Entering the market in 2010 with the OBi110, they have continued to grow their portfolio of VoIP products, with various product choices for both consumers and businesses.
Obtaining an Obihai Product
The first step is acquiring the product itself. We selected an OBi200 as this is the ideal product for a person seeking a simple device for the home or Small Office / Home Office (SOHO) business. It allows up to four SIP registrations (so supports up to four VoIP services), allows free Obi-to-Obi calls and connects a single analog phone.
The company does not sell products directly so we chose to purchase the device from Amazon. It cost less than $50 and it arrived in just a few days.
Overview of the OBi200
The OBi200 in its simplest form is an Analog Telephone Adapter (ATA). The device connects between your existing analog telephone and your Internet connection (Cable, DSL, T1 etc) to provide Voice over IP (VoIP) phone service capabilities. Figure 1 below shows a typical setup.

Figure 1: OBi200 General Setup
The device is very simple from a physical standpoint, with a small footprint (2.7 inch square and 1.2 inches high). As mentioned above it basically functions as an ATA so you are limited to using an analog phone rather than an IP phone. If you have an IP phone then you should consider one of the business class OBiTALK VoIP adapter devices, essentially full-fledged IP PBX systems, or just go directly to a VoIP service provider that supports your phone manufacturer (i.e. you dont need an ATA device).
The OBi200 device only has four (4) physical connections (as seen in figure 2), one of which is dedicated to the power supply. The USB port on the back can be used for a variety of purposes though it mostly serves to connect the OBiWiFi - a small device enabling wireless network connectivity (approximately $20 to buy). The other two connections are for a phone and the Internet.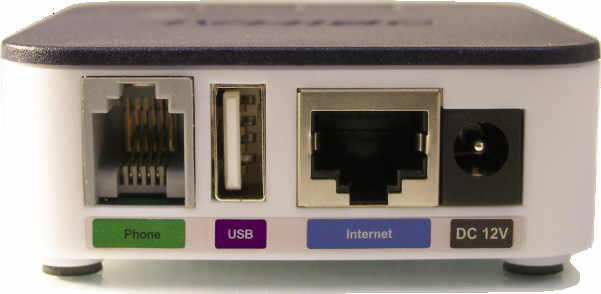 Figure 2: OBi200 Connections
The physical connection process is very straight forward. The actual device configuration process should be simple but for me, it turned into a longer project than anticipated because of poor documentation. If you own one of these devices or like to play around with highly customizable devices for fun, hopefully, the following guide should help you. If this does not describe you then you might want to check out the 1-VoIP, ITP, or VoIPo reviews, among others for a simpler turnkey solution.
Configuring the OBi200
Contained in the package are all the necessary components to connect the device to a network. Also included are a set of simplified instructions but, quite frankly, they did little to help with the configuration process for a third party SIP provider.
To make calls to anyone other than another OBi user, it is necessary to utilize a Google Voice account, configure a SIP Trunk via a third party service provider, or sign up with a hosted VoIP service provider such as 1-VoIP.
For this review we decided to go through the setup for utilizing a third party SIP trunking service provider. The configuration process seemed more complex than it should have been so benefit from my experience by following the next several steps.
Internet Connection Setup
The first step is to configure your modem/router or gateway firewall to open the ports used by Obihai. Login to your router device via a web browser and open the ports as shown in figure 3 below.
TIP: All gateways and routers are a little different, so if you do not have your instruction manual handy that came with the device, enter the model and words "default login" into a Google/Bing search. One of the top few results should give you the IP address and login credentials. Enter this IP address into your favorite browser and login to your router using the credentials found in your search. Once logged in, find an area showing all the connected devices for the network and look for the OBi200 (if the name does not show up, the MAC address found on the bottom of the device will). This will also give you the IP address for your OBi200 that you will use to access and manage it in the following steps.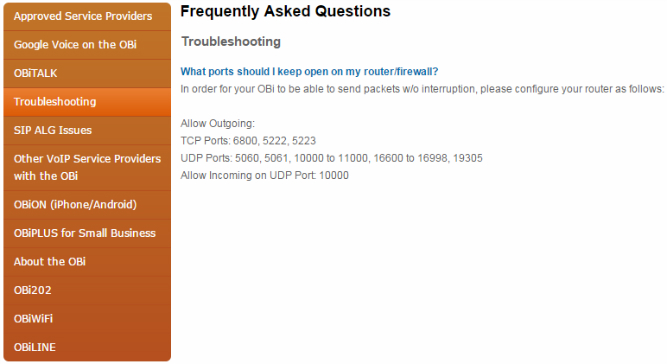 Figure 3: Certain Ports Must be Open
Typically, such settings are found under some kind of advanced area of a device configuration menu. Depending on your Internet Service Provider (ISP) and modem/router device, you may find that opening a single port is not supported but rather a range is required. If you need to set a range (like I did) then select each one to be one higher (e.g. for TCP port 6800, the firewall is configured to open the port range 6800 to 6801). See figure 4 below for examples of port settings for your modem/router device.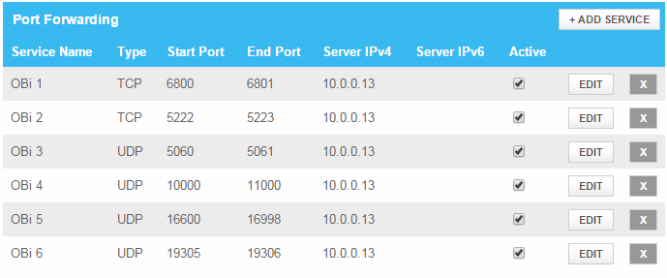 Figure 4: Modem/Router Open Port Example
Initial Network Setup of the OBi200
The next step should be to configure network settings for the OBi200. Though the provided documentation makes no mention of this step, this stifled my setup for some time causing me to spend a lengthy time digging through forums and other online resources, resulting in a one star reduction of my rating.
Login to the OBi200 via a web browser using the device's IP address for your local network (found above when setting up your modem/router). Enter the default user name and password (both are admin) and here you will find the meat of the configuration options. On the left side menu, expand the System Management tab and click on the link for WAN Settings.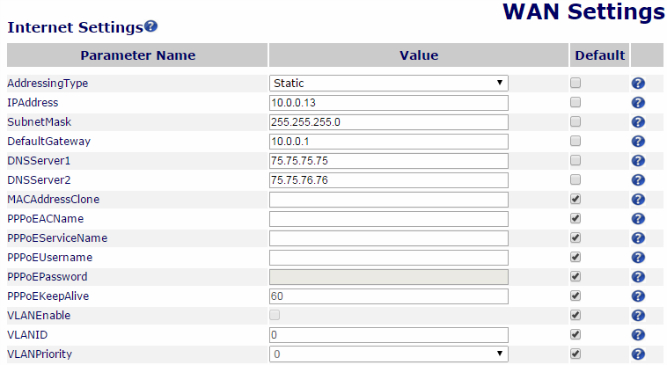 Figure 5: WAN Settings
Enter the appropriate settings that match your network as seen in figure 5. Make sure to set AddressingType to "Static". Enter information about your local network in the fields as seen above.
NOTE1: On a Windows PC system you can use the "cmd" window to type ipconfig /all to find your local network information. If you use a MAC PC system (or UNIX-like systems), the easiest way to find your local network information is by navigating to System Preferences (on your MAC PC) and clicking on the Network item under the "Internet & Wireless" region.
NOTE2: To configure a field anywhere in the OBi200 device, uncheck the box under the Default column. Make sure to select Submit at the bottom of the page and follow the prompts such as when the device requests a reboot.
NOTE3: Keep the browser window connected to the OBi200 device open as you will need this later in the setup.
Configuring a SIP Trunking Provider
We have used SIP trunking providers such as Callcentric, VoIP Innovations, and Flowroute for previous IP-PBX review projects (all are good options in my opinion) and I decided to use Flowroute for this review. If you are considering using Callcentric they have a good guide for configuring the OBi202 device in their support section on their website. The process is very similar to the following components of this review with some tweaks applied for Flowroute.
Flowroute does not require a lengthy sign-up process or a chat with a customer service representative. Go to the Flowroute website and click on the Sign Up button in the top right corner of the home page. Based on the current site layout, you will input fields as seen below in figure 6.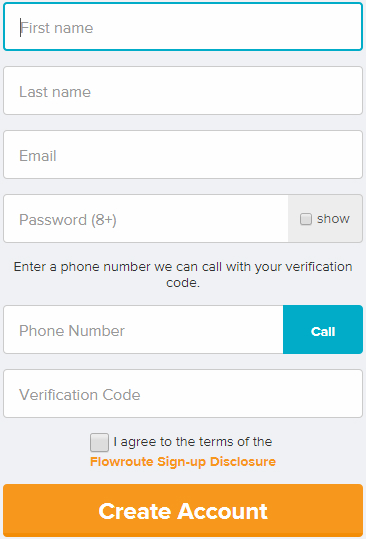 Figure 6: Flowroute Signup
After inputting your information and phone number, hit Call (blue button) and you will be connected with an automated system that reads a short verification code. Input the verification code into the proper field, read the disclosure, acknowledge that you have done so then click Create Account. You will have immediate access to your account and a $0.25 credit granting a little over twenty five (25) minutes of free calling to the US and Canada.
The main page gives you clear-cut instructions for complete registration and provides links to access credentials needed for the OBi200. You can find the items needed for Obihai products or other IP PBX systems under the Interconnection option in the top menu.
Applying Settings to the OBi200
Go back to the browser that is connected to the OBi200 device on your network and visit the ITSP Profile settings found by expanding the Service Providers menu option. Ideally, select the A variant and input the following settings as shown in figure 7.

Figure 7: ITSP Settings
The most import fields in this section are ProxyServer and RegistrarServer. The UserAgentDomain field can be left at default as it will essentially fill in the same information as shown above.
The next step is to go to SP1 Service found by expanding the Voice Services menu. After clicking on the link, scroll down to the SIP Credentials area and input the following items as (somewhat) shown in figure 8 below. The AuthUserName and AuthPassword fields are the ones required. All can be found on the Interconnection page when logged into your Flowroute account.

Figure 8: Applying SIP Credentials
After applying your settings, your device registration with Flowroute is complete. Navigate to System Status found by expanding Status on the side menu. If successful, you will see a confirmation status under the SP1 Service Status under the sub item "Status" beginning with "Registered" followed by Flowroute server IP address as seen in figure 9 below. Note that I completed the OBiTALK registration as shown in the screenshot. You can navigate back to this area when the next step is complete.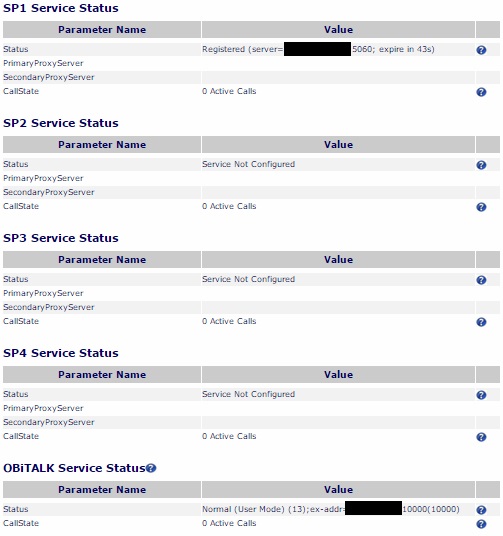 Figure 9: Post Registration
Registering the OBi200
Based on the documentation received in the OBi200 box and on the website, this is supposed to be the first step in the whole process. I decided to configure the SIP stuff first as I dont know anyone that uses the Obihai products, so would not benefit from the OBi-to-OBi free calling. Nonetheless, this is how you register your device to the server.
Go to the OBiTALK website and select the Register option at the top of the main page. This will prompt the creation of a custom account or you have the option to sign in using your Google account. I used Google and that is the recommended choice by Obihai.
After registration is complete, you will find a link under OBi Dashboard on the left side of the screen reading Add Device. Clicking on the link provides a diagram to connect the device and provides the option to register Google Voice, which I did not do at this time. Click the Next button and you will be taken to the next screen to actually register your device with Obihai as seen in figure 10 below.

Figure 10: Register Your OBi200
Dial the **X XXXX number displayed from the phone connected to your OBi200. You will hear a message stating the number has been sent to the server. It should register making it possible to call OBi devices including the OBi softphone included with your device. The ObiON app is available for both iPhone and Android at no additional cost.
Final Thoughts
The device has an incredible amount of configuration options, comparable to most PBX software, and is low cost. Combining this device with Google Voice allows you to use your existing home telephone for receiving and making calls. It also includes free calling on the OBiTALK network (OBi-to-OBi calling) and capability for up to four (4) SIP services.
Configuring the device requires a bit of effort, with some potential "gotchas" hiding in the dark. However, if you are somewhat tech savvy or enjoy tinkering then this should not be an issue compared with the benefits of this device. If the thought of tinkering makes you nervous then I'd recommend considering a more turnkey solution with a provider like ITP, VoIPo, Callcentric and Phone Power (see our comparison table above for more information on these options). This will be more costly in the long run but could save you setup hassles that you may not want to deal with.
Support is via knowledgebase (articles, how-to's etc.) on their website, a community forum and a ticketing system (via the website), but there is no phone support.
Overall, I am impressed with this small-sized device that packs a lot of punch at a reasonable cost (typically less than $50). I recommend it to those that have no concern with tinkering with devices to setup. In fact, based on this review WhichVoIP has proudly awarded the OBi200 it's "Best In Class" award for 2015.
Obihai do not sell this device directly, but you can purchase it through Amazon - typically at a discounted price compared with the MRSP.
Whatever you decide, navigate to our "User Q&A" tab near the top of this page to send us your comments or ask questions. If you decide to buy this and use it, please come back and share your experience using our review form.
Published: by WhichVoIP
---
All User Reviews
Obihai OBi200 reviews are listed in chronological order.
Waste of Time, Waste of Money, Wont Pass Touchtones
(
4

)
#2 : MAR 21st, 2019 : Tech Chief
Recommended: No
After several weeks of tinkering I have to move on and JUNK this unit. It will NOT pass any DTMF tones, such as when an office of rank or any syatem asks you to press 1 for something or 2, 3, etc. Just will NOT work. Sometimes after much tinkering it works, then stops.
Good for Google Voice
(
4

)
#1 : JAN 8th, 2016 : Tim
Recommended: Yes
Been using the Obi200 with Google voice for a while and it is really good. A little expensive but loads of features, in fact too many and way more than I need but worth the money.
VISITOR/PROVIDER FEEDBACK:
Garrison (March 4th 2016) : I don't need to add any SIP providers if I am using Google Voice correct?

WhichVoIP (March 4th 2016): That is correct. Please refer to this article.
Disclaimer: The opinions, views and ratings expressed in these reviews are those solely of the reviewer who submitted the review. WhichVoIP does not necessarily agree with any of the expressed opinions, view or ratings.