Overview
The rapid adoption of smartphones has created opportunities for companies to extend business communications to every employees mobile device. There are many benefits to adopting this strategy such as increased productivity, quicker responses to customers, no location dependence, or just cutting the cord entirely, and moving your entire voice communications network to the cloud. We are certain that this subject will raise a few questions for anyone considering this option for a business. Here are three important ones that we came up with, and will answer in this article:
Which provider offers the best mobile app with its business phone solution?
Who are the providers that offer a mobile service that does not require a desk phone in the office?
What are the BYOD (Bring Your Own Device) services or mobile apps that currently have the most features?
Most voice-over-IP phone service providers that offer a business solution for your office also offer a mobile app of some sort that extends the in-office phone capabilities to your smartphone. The features and functionality provided with these apps will vary from provider to provider so we have taken a look at some of the apps and BYOD services offered by some of the most popular business phone service providers.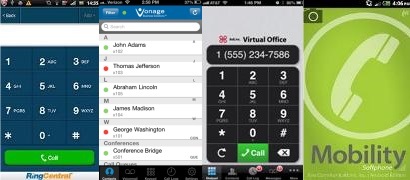 Provider Mobile Smartphone Apps and BYOD Services
Before we jump in and start looking at the actual apps that are on offer, let's look at some key reasons as to why this is important in the first place and what existing problems mobile apps are solving. Here are some that we came up with but if you can think of any more or any better reasons, please leave a comment and let us know your opinion. Please also let us know if you have a favorite app that you use with your business phone.
Employees need to be able to transparently access their business phone line from anywhere on a mobile device.
A business wants to be 100% mobile and use only smartphones for all types of business communications.
Reduce calling costs and take advantage of free calling by using WiFi or 3G/4G cellular data.
Now let's take a look at a few different service providers and see which ones check the most boxes.

Office Plan
Complete phone system solution that requires a desk phone to take full advantage of features. Mobile App is free and leverages your desktop extension.
Professional Plan
Solution for mobile workers. Does not require an in-office desk phone. The mobile app is used for managing communications via a smartphone to create a stand-alone BYOD solution.
Plans start at $9.99 for 300 local, long distance or toll free minutes per month. All inbound and outbound calls are counted or charged per minute. They work using either WiFi or the cellular data connection.
Mobile Apps
Available on iOS, Android and Blackberry devices. Both the office and professional products can be accessed from a mobile device (e.g. receive and make calls) using these downloadable apps. The business SMS feature on this app only works with the Office product.
Current Apple app store rating - (Requires iOS 6 or later - Compatible with iPhone, iPad and iPod touch devices)
Current Google play Android app store rating - (Requires Android 2.2 and up)
Current Blackberry World store rating -
The bottom line - Ringcentral is one of the few companies that is offering both an in-office hosted phone solution and a stand-alone BYOD solution for the mobile workforce. Companies going with the Office plan will enjoy unlimited calling which extends to smartphone devices via the app, while Professional subscribers will be limited to the number of mobile calling minutes included with the selected plan.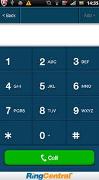 (Formerly Vocalocity)
Unlimited Extensions and Metered Extensions Plans
The unlimited plan offers unlimited calling minutes and is good for frequently used extensions whereas the metered plan charges a lower flat monthly fee but then costs 3c per minute for calling.
Virtual Extensions Plan
This is Vonage's business solution for the mobile workforce with employees being connected to the business communications system as a stand-alone service or a service that is tied to a desk phone. Although this product includes unlimited inbound calls, it does not enable any outbound calling, so is effectively a basic virtual extension as opposed to a BYOD solution.
Mobile Apps
Available for iPhone and Android devices. Works with both the unlimited and metered extensions products and allows for the management of virtual extensions. Allows you to manage your business extension from anywhere. Uses cellular minutes for outbound calling.
Current Apple app store rating - (Requires iOS 4 or later - Compatible with iPhone devices)
Current Google play Android app store rating - (Requires Android 2.2 and up)
The bottom line - Decent option to use to extend capabilities of desktop phone to your mobile device. No option to skip the desk phone and go fully mobile. Currently lacking in features when compared to alternatives.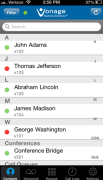 Virtual Office and Virtual Office Pro Plans
The Pro offering is the same product as the standard Virtual Office product but adds online meeting, call recording and Internet fax functionality. These are full phone system solutions and one of these required to use the 8x8 mobile app. A metered plan is also available along with a global plan that includes unlimited calling minutes to select international locations.
Virtual Extensions (feature only)
Standard industry solution for virtual extensions that provides DID extension with voicemail, auto-attendant and outbound call forwarding. Flat monthly fee plus 2.9c per minute.
Mobile Apps
Allows you to go mobile with your Virtual Office service (required).
Current Apple app store rating - (Requires iOS 4 or later - Compatible with iPhone, iPad and iPod touch devices)
Current Google play Android app store rating - (Requires Android 2.2 and up)
The bottom line - Feature rich apps that require a virtual office subscription.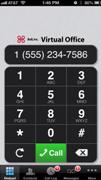 Hosted solutions for businesses
Jive offers customized hosted business phone solutions for enterprises, small business, education and government. There is no current product that offers a stand-alone BYOD mobile solution.
Mobile Apps
These are included as part of the Jive mobility solution and are used to mirror an existing device in the Jive system. The apps appear to be recently launched and have only a few reviews in the app stores so far.
Current Apple app store rating - (Requires iOS 5 or later - Compatible with iPhone, iPad and iPod touch devices)
Current Google play Android app store rating - (Requires Android 2.3.3 and up)
The bottom line - recently launched apps that have a good number of features that compare well with the competition. These apps are a complement to the regular Jive desktop phone service.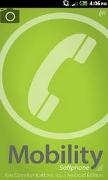 Additional Options worth checking out
Mitel
The unified communications product works with a mobile app that is available on iOS (current rating ), Android (current rating ) and Blackberry (current rating ) devices.
eVoice
A mobile app is available that works with either of the professional, small business or mobile workplace plans. This works on iOS (current rating ) and Android devices (current rating ) and is available in beta version from the Blackberry app store.
Grasshopper
Inbound calling solution for businesses that provides an automated attendant to route calls to different departments and employees. Only available on the iPhone at present (current rating ).
Pulling it all together and comparing Mobile Apps
As you can see, it can be confusing when you try to determine what each providers mobile solution offers and if it will address the needs of your business. To simplify this, we have pulled together all the relevant information into the following table:
Description
Provider 1
Provider 2
Provider 3
Provider 4
Logo
Visit Site
Free VoIP Calling Option
Extends in-office features to Smartphone
Stand-alone BYOD option
(no in-office plan required)
Professional Plan
From $9.99/mo for 300 minutes
App Price
Free
Free
Free
$20 for mobility
(one time fee)
iPhone
iPad
iPod Touch
App Store Rating
Number of Reviews
6,526
28
289
2
Last Updated
Dec 10th, 2013
Nov 9th, 2011
Oct 27th, 2013
Sep 27th, 2013
Android Phones
App Store Rating
(4.1)
(2.9)
(3.1)
(2.7)
Number of Reviews
1,780
57
327
6
Last Updated
Dec 11th, 2013
Oct 23rd, 2013
Nov 15th, 2013
Aug 20th, 2013
Blackberry
App Store Rating
Call Park / Pickup
Call Hold
Business SMS (texting)
Requires Office Plan
Conferencing Function
Call Recording
Requires Pro Plan
Call Transfer
Fax Function
Requires Pro Plan
VoIP quality indicator
Video calls
Company directory
Voicemail access
Change office phone settings
Call logs
Business line caller-ID
Note 1: WhichVoIP does not guarantee the accuracy of this information. Please visit providers website for feature confirmation.
Note 2: For more details on any of the above mentioned features, please visit our VoIP features page.
Conclusions
Our original three questions listed at the beginning of this article have been answered in detail. However, to summarize:
Best mobile app for business phone service: This one is too close to call as RingCentral, 8x8 and Jive all have feature rich apps that take advantage of VoIP calling when possible.
Which providers offer a service that does not require a desktop phone: Ringcentral is currently the only provider in our list that is offering a completely mobile solution with its professional plan.
BYOD services and mobile apps features: This has been covered in detail in the table above.
It is increasingly important that companies considering a new phone system take into account how any solution can be integrated with, and extended to mobile devices of all types. Additionally, a complete or partial BYOD solution is becoming more popular as businesses continue to take advantage of the cloud, while trying to reduce costs. The race to provide the best mobile solution is well on its way and there are already some clear front runners in what is expected to be a quickly evolving market.