A Brief History
Life is filled with decisions which we must face every day. Do we buy name brand cereal or try a generic brand? If you're living in the US, you may question whether you should purchase an American car or select a more reputable foreign vehicle. If you're a business owner or decision maker, which mobile platform should you choose?
Mobile consumers at large first faced the problem roughly five years ago when selecting a new phone, especially when signing a contract with a service provider. Most were still using flip phones. Yet, it wasn't too uncommon to see someone chatting away or sending an email from a BlackBerry, at least on occasion - perhaps you were an early adopter yourself! Further, the iPhone had just come into circulation. This device from Apple was like nothing ever seen before. It wasn't long before Apple briefly dominated the market with the first highly successful commercialized smartphone.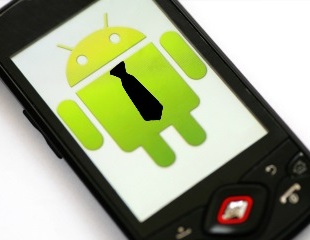 In the early days of the smartphone craze, choices for phones were limited (as were carriers) so a shift occurred in the market. In 2009 and prior, to have an iPhone also meant to have a contract with AT&T. Late 2008, the Android Operating System (OS) entered the market which had a minor impact at first, but would later prove to be a major contributor in shaping the future smartphone market.
The G1 from T-Mobile was the first Android based smartphone which brought attention to the platform. A year later, Motorola launched the highly successful Droid line which gave the brand immense momentum (paying license fees to George Lucas – and now Disney.) Also, this Verizon exclusive helped the provider keep a competitive edge in the evolving mobile market.
Appeal of the Early Android
The only way to use the iPhone, outside of AT&T, was to jailbreak the phone which sometimes allowed the phone to be used on other networks. Not all consumers are technologically savvy, in fact, it is overall quite the contrary. Generally, most just want something simple, meaning a gradual learning curve for a new product, whatever it may be. Most don't want an involved setup process or a lot of configuration to deal with – as such, a jailbreak is out of the question. When Android smartphones first became available, the features and price instantly allured consumers, including current iPhone and Blackberry users.
Though T-Mobile was the very first to have the Android platform, the first successful phone line was available through Verizon by the manufacturer Motorola. A powerful phone for its day indeed but perhaps the most successful factor behind the Droid launch resided in the fact that a brand new version of the OS, Android 2.0 (or Ιclair) brought the system to a whole new level of functionality. The fact the Droid also had a keyboard appealed to those who felt a need for tactile response – a big deal in the early days of the smartphone as some were turned away by the iPhone's purely touchscreen interface.
Each new update to the Android OS has improved the user experience. The interface becomes more intuitive and generally makes more efficient use of the hardware for most phone models running Android. Though each new version made an improvement (even with seemingly small updates) the next big win for Android was because of a particular phone. The HTC Evo featured revolutionary, powerful hardware – it was enough to make iPhone users drop their jaws.
Early Android Impact on Business and the Mobile Market
Before the Evo, Android and other mobile platforms were all shaping up to be great tools for business. Blackberry, for example, already had a head start with the BlackBerry Enterprise Server which integrated (and still does) with Windows, namely Microsoft Exchange Server and Active Directory. But the Evo brought new features that spearheaded a movement that resulted in an overall more powerful mobile market.
At this point, virtually every phone came equipped with a camera but multiple cameras was not commonplace. Other companies, like Nokia, observed moderate success with external camera accessories and early front facing cameras. However, image resolutions were poor and 3G data network speeds are not ideal for video calling. The Evo provided a fantastic front camera coupled with a beautiful front display which supercharged existing Video and VoIP applications, setting a trend for future generations of smartphones.
Of course, all these features would have fallen into the novelty category if it were not for the 4G capability. The Evo proved that a data network (the Sprint network, at this time) was powerful enough to provide low latency, high quality data connection, ideal for streaming video and using VoIP. The Evo became a catalyst for mobile service providers to improve infrastructure for 4G so consumers all over the world could enjoy high speeds. This had a trickling effect adding to the success of other devices from laptops to tablets that have the ability to use a data network.
The Current Market
Android may have been late arriving to the party, but this hasn't stopped the platform from becoming the most popular mobile operating system in the world. As 2013 comes to a close, Android accounts for 80% of the worldwide mobile market, toppling all other platforms. Although less popular platforms like iOS and Windows may still generate more revenue, Android has created an entire ecosystem of computing.
Because Google's Android operating system is open source and free to license, it creates a revenue stream unlike that of other mobile manufacturers. Although Google does make some money from first party devices like Chromebook and Google Nexus, it does not rely on any flagship product to generate money. Google is largely driven by funding from online advertising and also by selling products like applications and music from Google Play. This churns production for new products and services which adds to the power of the brand.
At the end of the day, the consumer benefits from Google's sprawling set of services. Google may not make money from every service or product offered however, certain services offered as part of the core Android system (and some simply from Google) make the brand incredibly powerful. Since the Google Empire has spread into various markets of the technology realm, Google offers users the highest variety of web based tools of any manufacturer.
Android for Business Use
When it comes to business and technology, certain manufacturers come to mind. Microsoft has created the most widely used business enterprise suite software suite – that is, Microsoft Office – and their server platforms are present in nearly every business computing environment. IBM, HP and Dell command the hardware market. Cisco is the indisputable leader for networking hardware systems.
Though Google's products are mostly intangible, Google is now just as much of a competitor as any long established computing titan. Android, along with the power of Google (and other 3rd party manufacturers), is highly available to startups and established businesses alike. Android is a driving force behind the progressive business movement of this age because of Google's offerings. The platform, along with Google's products, provides a comprehensive set of tools to satisfy most business computing needs. We will take a look at why Android, integrated with Google services, is a serious competitor for the mobile business market.
While all Android devices have certain perks, not all are created equally. The device manufacturer and service provider both bind software to the system – some of which is helpful though most is falls into the bloatware category. For the following points, I will be referencing a HTC One running on the Verizon network.
Security
Data security is one of the most prevalent concerns for most businesses. An obligation exists to keep both employees and customers safe – this means preventing physical harm as well as ensuring the integrity of information entrusted to the company. For a while, it was thought that mobile devices could be used as an access point to break a company infrastructure. Truly, any networked device can be dangerous. Fortunately, various parties have confronted this problem from various angles making the platform as secure as any workstation can be.
Without a very special skill set, breaching a phone that is configured correctly will prove very difficult, if not impossible. For the most part, data breaches aren't a result of a brute attack – many labeled or self-proclaiming hackers simply know a few tricks you do not.
By allowing only necessary connections, you reduce the numbers of entrances someone could exploit to breach a device. This kind of thinking is applied to other business devices and should also be applied to configuring a mobile device as well. For example: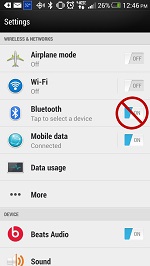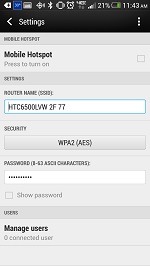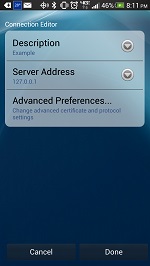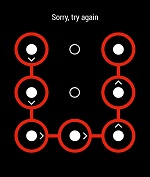 No Bluetooth, unless you are driving – Though it's fairly unlikely your Droid will connect to some device nearby and dump the contents of its storage, it can happen. A friend told me that one time years back, a man climbed two patios and entered his third floor balcony door. It's why I lock upstairs windows these days – just in case!
Secure mobile hotspot - No Wi-Fi and you need good old tactile response from a keyboard to email your boss or heat up a discussion board? Good thing most Android phones have a hotspot. It's usually a feature from the service provider so you may find it integrated into settings or as a stand-alone application. Just make sure you use a secure password to connect otherwise you could find yourself sharing the internet connection with a stranger nearby.
VPN to the server - For larger businesses, server resources could be needed after hours, on occasion. If an associate who needs to update a spreadsheet became tied up with another project or a game of Facebook Scrabble, the deadline could be missed. As a decision maker, consider that people who produce and do so outside of a strict time management schedule often perform very well. In a circular way, everyone benefits as the productivity improves (and Scrabble players don't lose momentum). Connecting to sensitive files should be done via a VPN or other secure connection. The HTC One has a built in VPN but other clients can used as well. The Cisco AnyConnect application can be configured to securely connect to a remote server configured for VPN access. Some remote monitoring and management platforms (RMM) like Managed Workplace from AVG can be used in conjunction with a VPN to not only monitor a server but the device as well.
Physical security - It's never a good feeling to lose a phone. Those who have done so in the past know that it can make you feel lost yourself. Fortunately, updated versions of Android can be used with Android Device Manager which can be used to locate your phone with Google Maps, erase your data or just call it (like when you lose it in the couch.) You may also consider searching Google Play for an app like Find My Phone to locate a missing device. Other tools are built into Android devices and applications available from Google Play that should also be used to enhance physical security of the smartphone. One critical security feature to implement is a screen lock. You can use a swiping pattern, PIN or possibly some kind of biometric authentication like facial recognition to prevent a snoop from browsing through your information or a thief from stealing information.
Bring Your Own Device (BYOD)
To more traditional businesses, Bring Your Own Device (BYOD) initially must have sounded to a business executive much like the word revolution sounded to a totalitarian ruler. Initially, such a thing was difficult to implement on a large scale. Smaller companies have been using this tactic for a long time but it was not possible for this practice to truly provide peace of mind.
Some sources will say that iOS is the dominant player in the mobile market for business based on large yet isolated study. However, large studies like the recent study from IDC show both Android and Windows Mobile on the rise. Small businesses all over the globe are implementing mobile as a tool whether only for the ability to take calls when out of the office or possibly to use mission critical applications.
It doesn't cross the mind of every consumer, but simple applications can assist with certain processes. For example, the built in note application is very useful when in a meeting where a lot of material is covered. In a single note, over an hour of audio can be recorded plus you can add pictures and text which I have found to help jog my memory when reviewing the information at a later time.
A video camera can be used for business purposes – it is possible to use it to record and retain (or share) information besides uploading cute videos to Facebook of your dog's excitement before meal time. Say a traveling employee has an accident. It is very useful to record such occasions for legal and insurance purposes. If you're training to apply a new skill, record the instructor (if you're allowed) to use as a reference for later.
Google
Perhaps one of the most powerful features of Android is the ability to integrate with Google. This may not be a major win for established companies that are already using other software suites but this can be a major benefit for a startup or mid-sized business that needs to collaborate without spending a large sum of money.
Google has developed a large number of applications, most of which are free to use. Google Drive is an excellent way to share files with other people using Google. A limited amount of free storage (15 GB) is available which allows files you create through the web interface to be securely stored online. Further, by authorizing others by associating their Gmail account with certain data, you can collaborate securely and even make updates to files in real time!
Microsoft files are accepted to be the standard format for business documents. Fortunately, Google caters to Microsoft dependents by allowing users to download copies of Google files in their respective formats. You can also upload entire folders to Google Drive. It makes it very easy to consolidate and centralize information from workstations or your Android with a secure uploading feature. For example, if a file requires a quick brief before a meeting, a file shared with Google Drive can be viewed on your Android device.
Mobile VoIP
For businesses, mobile VoIP service is changing the way businesses communicate, particularly for remote workers. Use your smartphone as an extension to your business line and have access to all of the productivity enhancing features that VoIP offers such as conferencing, call transfer, call recording, fax and much more. To understand all of the benefits and to see which of the major VoIP providers have apps for Android, read our article on why mobile calling apps are essential for every business.
Summary
We all live in a mobile world and Android provides many benefits for business use in addition to home use. Businesses can achieve increased security and enhanced productivity by offering these devices to its employees.
Android is a true testament to how a company like Google can organically grow and impact various markets. The platform's power will become more apparent as time progresses which will further drive the use of Google's services amongst businesses. With the current state of the market, it wouldn't be surprising to see Android remain the most dominant platform for many years to come.