One of the big advantages that VoIP phone service has to offer businesses over regular phone service is the abundance of enhanced and useful features associated with this technology. This guide will take you through the most common business VoIP features, providing an explanation of each one. VoIP is the swiss army knife for your business phone system.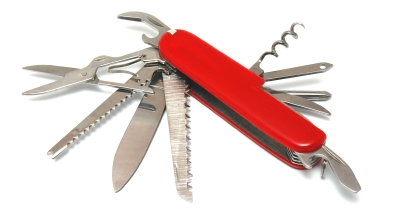 If you need to do a side by side comparison of different business providers features, use our feature comparison tool.
Visit our residential service features guide if your interest is in a home phone service.
Click on any feature below to go directly to the description for that feature or simply scroll down to browse.
Additional Features not listed
If you are looking for information on a feature that is not listed on this page, please use the form at the bottom of this page to leave a comment and we will get it added as quickly as possible.
Basic Features
---
Local Numbers
Local phone numbers available in all area codes.
---
Toll Free Numbers
With this feature anyone in the US can call your number for no charge. Providers typically offer a fixed rate option which can result in massive savings compared to the typical pay per minute plans.
---
Virtual Numbers
Add extra phone numbers to the same phone line. For example, you can have a California number, Colorado number, and Florida number all ring on the same line.
---
Unlimited Calling
Unlimited local and long distance calling on any extension. Again huge savings can be made with this as it avoids the costly limited calling plans.
---
Local Number Portability
Number portability is the ability to keep your current phone number and bring it to your new phone service provider. If a phone company offers number portability it means you can bring your current phone number to them rather than losing your number when you switch phone service providers.
---
Online Account Management
Manage your account on the Internet. Add features to your account or find out when your next payment is due.
---
411 Directory Assistance
Call directory assistance in your area to obtain phone numbers or other information for local businesses, such as restaurants.
---
911 Emergency Service
Your VoIP provider directs calls to local Public Safety Answering Point (PSAP) based on the area code for your system.
---
Fax Service
The ability to send analog faxes over your VoIP phone line or have an additional VoIP phone line added for this purpose. Another option to consider is what is commonly known as 'e-fax'. This is a feature that allows the user to receive faxes as email attachments. Some providers support the 'e-fax' feature.
---
7-digit Dialing for Local Numbers
Avoid having to enter the local area code every time you a make a local call.
---
Call Blocking
When you don't want to receive calls from a specific number, add it to your call blocking list, which blocks calls from numbers on the list.
---
E911 Service
E911 stands for Enhanced 911. When 911 is dialed the call is routed to emergency personnel at Public Safety Answering Points (PSAP) and the location of the caller (address) is transferred to them. The service works like a regular 911 call would, except that the address transferred is the address on file for that number. However, if you move or take your VoIP device when you travel, you must remember to update your location with this service.
---
Calling Features
---
Caller ID
Know who is calling before you even answer the phone. All you need is a Caller ID enabled touch tone device, and the name and number of who is calling will be displayed in the Caller ID box.
---
Call Forwarding
Automatically forward incoming calls to another number or straight to voicemail.
---
Call Hold
Put a call on hold while you answer another call.
---
Call Transfer
Transfer calls you have already answered to another phone of your choosing.
---
Call Conference
Talk with two parties at the same time. Call the first party, hit the appropriate button, dial the second party and hit the button again. Then talk as normal.
---
Call Waiting
If you are on the phone and another call comes in, call waiting will alert you with a special tone. You would then have the choice of answering or letting the call go to voice mail.
---
Do Not Disturb
Forward calls to your voice mail. This option allows you to send incoming calls to your voice mail without your phone ringing.
---
Call Logs
Detailed call records by extension or account.
---
Last Number Re-dial
Call the last number that you dialed, generally with the push of a button.
---
Call Blast
Have incoming calls ring multiple phone numbers or extensions at the same time.
---
Sequential Ring
Have multiple phone numbers ring in a specified sequence when receiving incoming calls.
---
Voicemail Features
---
Password Protection
Prevent unauthorized access.
---
Voicemail Greeting Options
Customized personal greeting. Unavailable / Busy / Employee's Name.
---
Voicemail to Email
Receive voicemails as email attachments.
---
Check Voicemail through Web Interface
Good for remote access. Login in to a web portal to check your messages.
---
Multiple Mail Folders
Organize and save old emails.
---
Group Messaging
Send a voicemail to a group of people.
---
Visual Waiting Indicator
Light on the phone which tells you that you have received a voicemail message.
---
Single Unified Inbox Access
Manage your voice, fax, and email messages from a single inbox.
---
Trusted Access
Define trusted numbers that allow you to access voicemail immediately, without having to enter a code.
---
Multi Format Support
Supports all message types including voice, fax and email.
---
Auto-Attendant Features
For a more detailed explanation of what this feature is, how it is configured and what types of scripts are required, please visit our Auto-Attendant section.
---
Day and Night Mode
Make your greeting dependant on the time of day or day of the week.
---
Dial by name Directory
Dial a first or last name to reach the extension of the person you are looking for.
---
Virtual Departments
Also called ring groups. Setup a call group based on the department e.g. You have reached the marketing department, etc.
---
Multiple Auto Attendants
If you have more than one public phone number, this feature enables you to set up different messages for each number.
---
Import Greetings
Enables existing or new customized greetings to be uploaded into the auto-attendant system.
---
Dial by Extensions
Dial an extension to reach the person you are looking for.
---
Holiday Schedule
Import your annual holiday schedule and customize the greeting accordingly.
---
Advanced Features
---
Cell Phone Integration
Ties cell phones to the business telephone system. Use the pbx system functions on your cell-phone.
---
Soft Phone Support
Supports a soft-phone on your PC.
---
Call Groups
Calls can be forwarded to multiple extensions that ring simultaneously.
---
Follow Me
Calls can be forwarded to multiple numbers that will ring in a designated sequence.
---
Customize Music on Hold
Easily change the music that is played to your callers when they are placed on hold. Useful to provide corporate messaging and sales information.
---
Conference Bridge
Set up conference calls using a pre-assigned call-in number. Also known as meet-me conferencing.
---
Intercom
Target phone auto-answers on mute and broadcasts through the speakerphone.
---
Branch Office Support
Typically results in free office to office calling via VoIP. Forward calls to any extension in any office.
---
Call Center Support
Ability to add call-center features to a VoIP service. Call queues, automatic call distribution and CRM integration are some of the features to look out for.
---
Call Monitoring
This feature provides the ability for a manager or trainer to listen in to calls between an employee and a customer. It can also include the ability for the party listening in to talk directly with the employee and/or to enter the conversation with the employee and the customer (similar to 3-way calling).
---
Multiple Call Trees
Create unique greetings, inbound numbers, and menu options that route to a shared pool of users.
---
Outlook Integration
Make and receive calls from your outlook in-box.
---
Call Recording
Record calls based on set parameters (for example, certain extensions/groups) or on-demand with keypad entries for starting/stopping the recording. One of these options or both may be offered by a service provider. Read our call recording article for more detailed information on this feature.
---