Distinctive ringtones can be a very effective feature for businesses since it allows you to distinguish incoming phone calls. In this article we will provide examples on how this feature can be used and provide audio samples of the 8 Bellcore ringtones, which are the most standard tones used for distinctive ringing.
What is a Distinctive Ringtone and Why do I Need it?
Having a distinctive ring simply means when you have an incoming call it can have a different ringtone based on who is calling. Some use case examples are detailed below:
Internal Calls and External Calls - Having different ringtones for internal and external calls can be very useful for businesses. It can help prioritize your time if you have a large volume of calls and ensure you don't miss calls from your boss!
Ring Groups - Ring groups are very useful for businesses, for example you may have different ring groups for the sales team, the customer service team and the support team. This could all be fed from an auto attendant where the caller presses 1, 2 or 3 that equates to each group. Within each ring group a certain number of extensions will be tied to it and ring accordingly. Some smaller businesses may have the same people answering all of the calls but give the appearance of a larger organization. Being able to distinguish calls as they come in can be very useful for call flow prioritization and to know if the call is for you or not when you're making a coffee! Separating each ring group by its own distinctive ringtone can be a great feature for businesses.
Favorites - If an incoming call is from a caller ID that is stored in your local favorites directory it could be given a different ringtone. This could be used to ensure you always answer calls from your most important clients.
Different Phone Numbers - If your business has multiple phone numbers it may be useful to have distinct tones for each phone number that is called. You may have a phone number for sales and a different number for support, as an example. It can also be useful for marketing purposes when you purchase a phone number for advertising purposes and give it a distinct tone.
Bellcore Distinctive Ringtone (1-8) Audio Samples
The standard ringtones used by most IP phones and VoIP companies are known as Bellcore tones. There are 8 standardized tones, known as Bellcore-DR1 through Bellcore-DR8. Below you will find audio samples of each one.
Custom Ringtones
Some IP phone manufacturers, such as Yealink, also allow you to upload custom ringtones (see Figure 1). If you have created your own tone or have purchased a license for a custom tone you can upload it to the phone and use it for certain scenarios instead of Bellcore.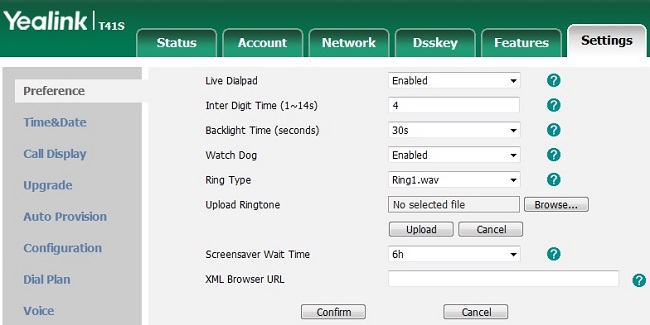 Next Steps
Distinctive ringtones rely on both your phone service provider and phone manufacturer.
On the IP phone side, most manufacturers support ringtones to some extent. Yealink has good support for Bellcore and custom ringtones. You can configure these in the portal for the Yealink phone using a Web browser but the easiest way is to do it direct from the phone menu. Simply navigate to Menu > Settings > Basic Settings > Sound > Ring Tones > Common to select the default ringtone for the phone. Note this is just setting the standard ringtone for the phone.
For more advanced settings you will need help from your phone service provider as distinctive ringtones are typically sent by the phone service provider using the Alert-Info header that is sent as part of the call INVITE. The phone will inspect this header to determine which ring tone it should use for ringing the phone during that call. This is where the power is as it means the service provider can send distinctive ringtones to the phone based on the incoming call type.
Conclusions
Hopefully this article has shown you the value of distinctive ringtones and using the Bellcore audio samples provided above, you can design a ringtone strategy that works for your business.