Overview
Flowroute is a Seattle based company and is proving to be a popular service for wholesale VoIP, offering highly competitive rates for local, long distance and international minutes to businesses, home users and VoIP hobbyists. One of the key advantages for its service is the underlying platform which has been optimized to reduce audio latency, a key differentiator for VoIP where audio quality tends to be highly reliant on low jitter and latencies.
Flowroute supports inbound and outbound calling and USA and Canada DIDs can be purchased as single numbers or volume pricing is available for DID blocks. A single DID is as low as $1.25/month with a $1 setup fee. A block of 20 DIDs can be purchased for $14.95/month with a $19.95 setup fee, at this time of writing. Toll free DIDs are also available for businesses at $1.25/month with a $1 setup and a cost of $0.0195/minute.
Inbound rates are $0.012/min for a standard pay as you go type plan but an unlimited incoming plan can be purchased for $6.25/month. Outgoing calls vary depending on the country but for US calls (and most of Canada), the outgoing rate is currently $0.0098/min.
Flowroute will port your number over for a small fee of $7.50 per number.
Flowroute Test

(Outbound)

One thing we love to do at WhichVoIP.com is test VoIP companies service for our readers. Usually we test residential and business hosted providers which tend to be a little easier to set-up because the provider usually delivers the phones pre-configured. Testing Flowroute means we need to roll up our sleeves and provision the equipment ourselves, since this is a wholesale service. For this test we are using an off-the-shelf phone from Cisco, the SPA 303G 3-line IP phone. We chose this phone because it is a very popular model, low cost and most providers support it, as you can see from our IP Phone Price section. We purchased this phone from Amazon for $77 with free shipping - a great price for this popular phone.

The first thing to do was to sign up for Flowroute service, which is a very easy process. Simply provide your personal details, or business details if this is for business use. Once signed up, you will see that Flowroute gives you $0.25 credit to test their service out - we always like this kind of gesture and it shows they have confidence in their platform.
Flowroute SIP Credentials
Once logged in, the most important page is the SIP credentials page as this is the information you require to provision your IP phone or Analog Telephone Adapter (ATA). This information can be viewed by clicking on the Interconnection tab on the Flowroute site once logged in. The credentials for our account are highlighted below in Figure 1 with our account number and password blacked out for security reasons.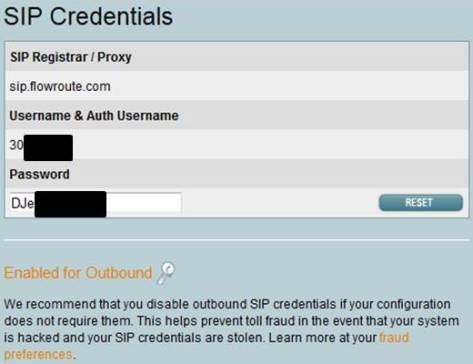 Figure 1: Flowroute SIP Credentials
Provisioning the Cisco SPA 303
The Flowroute account is setup and ready to use, the easy part is done. Now it is time to provision our Cisco SPA 303G IP phone so it can communicate with our Flowroute SIP account. There are only a few steps to this but it is easy to go wrong as these phones are powerful and have many configuration settings. Note that we are focusing on outbound calling for this test case, but Flowroute does support DIDs so incoming calls to an actual phone number can be supported relatively easily.
Step 1: Power up the SPA 303 and find its IP Address
We connected the SPA 303 as per the users guide that came with the phone. This involved connecting the handset, plugging in power and connecting the phone to our network using an Ethernet cable. After a short delay the device initialized. Pressing the setup button, we selected the Network entry which was number 9 for this version of firmware. We wanted the phone to use DHCP (Dynamic Host Configuration Protocol) so it received an IP address from our router. DHCP was enabled and an IP address was provided by the router automatically, in our case this was 10.0.0.24, a private IP address since it resided on our private network. It is important to note down this IP address as it is needed to provision the IP phone using a web browser. A snapshot of the SPA 303G Network entry is shown below in Figure 2.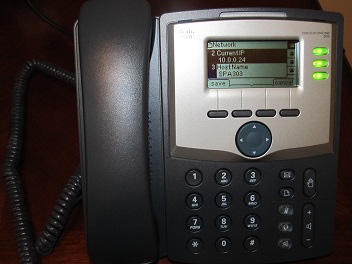 Figure 2: SPA 303G Phone (DHCP)
Step 2: Configure the SPA 303 with a Web Browser
Using the IP address provided by our router and noted in Step 1 above, we opened up a web browser and entered:
http://10.0.0.24/admin/advanced
This brought up the SPA303 configuration utility. First we clicked on the System tab and verifed the DHCP setting and changed the hostname to SPA303 - this is not really necessary but shown for completeness below in Figure 3. Also note below that this is in advanced admin mode. This is required because otherwise we would not have access to all the parameters we need.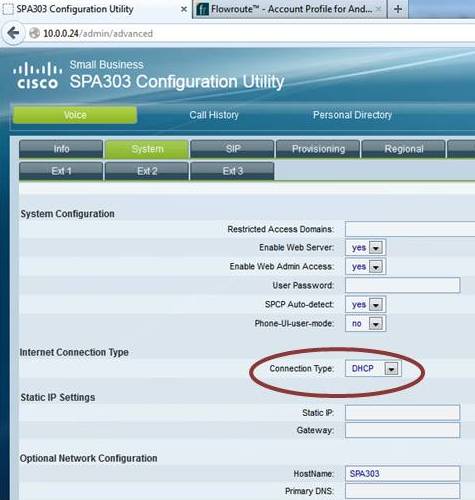 Figure 3: SPA 303 Configuration Utility
The SPA 303 has 3 lines but for this test we only require one line. We selected Ext2 and Ext3 tabs and made Line enable = NO. The line being used was Ext1 and it is this tab where our Flowroute SIP credentials need to be entered. Specifically the line had to be enabled (it was by default), the proxy (or host name) had to be set to sip.flowroute.com and the subscriber information was entered as per the credentials on the Flowroute login. This is shown below in Figure 4 but with the user id and password blacked out for privacy reasons. One little gotcha was the "User ID" and "Use Auth ID" fields on the right hand side. Make sure you set the "User ID" to the same number as the "Auth ID" and select YES for the "Use Auth ID" field as this was not enabled by default. Also note that the codec settings worked as per the default settings for the SPA 303.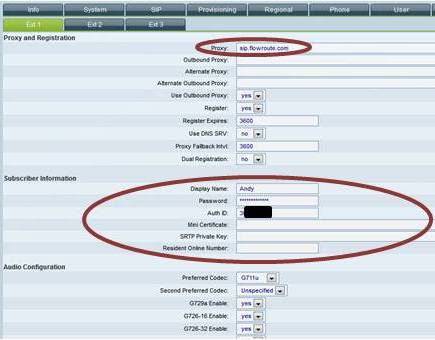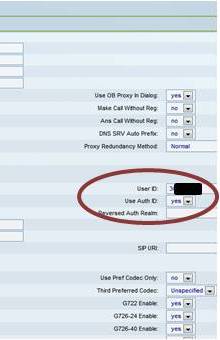 Figure 4: SPA 303 Ext1 Settings
IMPORTANT NOTE: Remember to click on "Submit All Changes" at the bottom of the page. This registers all of the information and resets the SPA 303. Once it initialized, a connection was made to Flowroute and the lights came on the phone indicating it was registered. Registration was verified in two places. First, the Info tab in the configuration utility highlighted that the phone was registered and second the Flowroute portal Interconnection tab showed the active SIP registration. Snapshots for both of these are shown below in Figures 5 and 6 with IP address information removed for security reasons: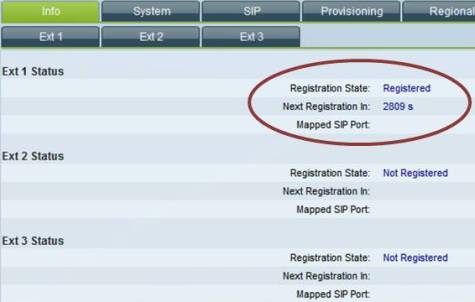 Figure 5: SPA 303 Info Status (Registered)

Figure 6: Flowroute Active Registration
Step 3: Make a Test Call
Flowroute and the SPA303 configuration page both indicated that a good connection was in place, it was time to make a call. The format for USA and Canada calls must be 11-digits so we had to remember the '+1' prefix. We ran our WhichVoIP.com test call and recorded the audio coming through the SPA 303 speaker. The audio quality was very good and attached below. Keep in mind that this is through the IP phone speaker.
[Play the WhichVoIP Test message for Flowroute]
Flowroute Conclusions
Our test on the Flowroute trunking service went very well and without any major problems. Creating an account is simple and can be done by hobbyists or business users. New users get a $0.25 credit to test the quality before having to add funds and it all happens in real time so no waiting for approval. Setting up the Cisco SPA 303 for Flowroute was relatively straightforward and the audio quality was very decent.
One question that may arise after reading this article is why do all businesses not go down this path and use a wholesale service such as Flowroute. Well, keep in mind that because this is wholesale no calling features are provided and this is one of the main reasons why many businesses use a service such as hosted PBX. Hosted providers usually charge a monthly fee which includes all of your minutes and the ability to login to a secure portal in the cloud to handle your phone settings. The value add is that they offer a vast amount of features which are usually standard with your monthly plan, such as call forwarding, auto attendants, voicemail to email, call logs, hunt groups and much more. If you choose to go down the wholesale path, and need some of these productivity enhancing features, then you are responsible for setting up your phone system using a piece of equipment such as an IP PBX (e.g. Asterisk), which is not for the faint hearted.
Finally, take a look at our review section for Flowroute user reviews and see what others are saying or post a review of your experiences. If you have questions on this test or need more information feel free to contact us using our comment form below.