IP PBX Phone Systems
What is an IP enabled PBX?
A Private Branch Exchange or PBX is the brains behind a telephony network, and typically exists in a wiring closet somewhere in the building that a business is located in. In older buildings these are often dedicated rooms with hundreds of small wires connected to a massive piece of telecom equipment. The telecom equipment is connected to the Public Switched Telephone Network and results in people in the business being able to make and receive calls.
Now let's jump into the 21st century. With access to the internet having now become business critical for most companies, a new wiring closet is now necessary that houses all the networking equipment. Most newer buildings will have a wiring closet on every floor and in every building at the same location. This is primarily necessary to allow local area network (LAN) connectivity to desktop computers. So a networking wiring closet contains many switches and routers. Most larger companies will have a network architecture that contains an access, distribution and core layer which is effectively a hierarchy of equipment that facilitates fast network access and redundancy. There is indeed a lot of equipment to manage but having high speed internet access everywhere in a building creates a massive opportunity for every business, as they can now deploy an IP PBX system instead of keeping a non-IP enabled PBX.
Why IP?
As mentioned, the older systems that connect directly to the PSTN are incredibly complicated so there needs to be a good reason to even consider making this switch. Before we list the justification and benefits, let's summarize the differences in a very simple manner:
Non-IP enabled PBX
Telephony system located on-site in dedicated wiring closet
Connects directly to the PSTN
Connects to Analog phones via RJ-11 wiring throughout a building
Effectively works on separate network from internet network
No web based interface for configuration
Require specialized support and service
Quite often need to employ a telecoms engineer
IP enabled PBX
Telephony system located on-site in networking equipment closet
Connects via Ethernet to Internet Access Router
Connects to IP Phones via network
Any pre-existing telecom wires can be removed
Web based interface for configuration
Can be managed by the network IT group
These are some of the main differences and some of these can of course be considered benefits. However, this alone may not be enough to convince businesses to make the effort to swap out an old PBX and make the up-front investment in a new PBX.
Benefits of an IP PBX
Here are some additional benefits that are driving businesses to prioritize making this change.
Despite some up-front costs, the long term cost savings are significant
Improved productivity through leveraging advanced features
Ease of use - adds, moves and changes
IP enabled PBX Solution
The figure below outlines a typical Business solution (courtesy of 3CX).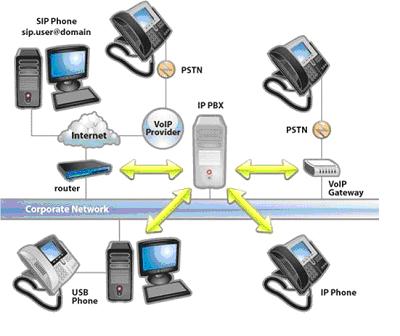 For smaller businesses it is often more cost effective, and of course manageable, to look at a hosted PBX solution. With a hosted solution all the capital equipment is stored remotely at your service providers premises. For more information on a this type of solution consult our hosted PBX section.
An example of an internet enabled PBX is a Cisco call manager. The actual call manager is a a simple 1RU or 2RU server that is loaded with either Windows or Linux operating systems. The Cisco call control software is then added to the server and ingrates with the operating system to provide call control and other functionality such as voicemail management. The call manager is basically a GUI where network administrators can go in and configure new phones, features and point to other network devices such as internet gateways.
A downside with this type of call control system is that a certain level of expertise is required to configure and manage it and a network admin is typically required. So there are incremental costs for training and potentially adding headcount if the existing network administrator does not have enough bandwidth or knowledge. Alternatively, evaluating Cloud PBX solutions can save money and increase productivity for many companies.
Another form of IP-PBX is a software switch, such as Asterisk. This is a free, open-source, software application that runs on Linux and can handle all of your telephony needs. WhichVoIP has a decent guide on how to setup an Asterisk PBX.
In summary, an IP PBX is an excellent solution for almost any business with over 50 people using the phone system. However, if your old PBX is still in good condition and you want to take advantage of VoIP cost savings you can likely connect your old system to the internet by using a SIP trunking solution. Some hardware modifications may be required dependant on existing system make and model.
Provider
$/month
Provider Highlights
FREE Setup
Minutes *
User Reviews
Details
from
$19.99

40+ Built-in Features
In-house Customer and Tech Support
Reliability of the Vonage Cloud

Unlimited
(4.3)
108 Reviews
from
$19.99

Trusted by 300,000+ businesses
Unlimited Voice, Fax, Text, Conferencing
Risk Free - 30-Days Free Trial!

Unlimited
(4.3)
167 Reviews
from
$19.99

#1 VoIP Provider by Frost & Sullivan
Includes online softphone & mobile app

Unlimited
(4.1)
74 Reviews
from
$19.95

Amazing service
A top rated provider
#1 in customer satisfaction

Unlimited
(4.5)
182 Reviews
from
$17.95

High performance SIP trunks you control
Scales on demand
Award-winning live phone support

Unlimited
(4.9)
26 Reviews
* Most providers include an upper limit on minutes for their unlimited plans as part of a reasonable usage policy in their T&Cs.

Author: Tony Campbell