Frontier FiOS vs Comcast Xfinity Internet is a frequent comparison made by people shopping for the best Internet service for either their home or business. Now more than ever, Internet connectivity is considered to be an essential service. For many people, it ranks right alongside standard utilities, as necessary to daily living as water, electricity or weekly trash pickup.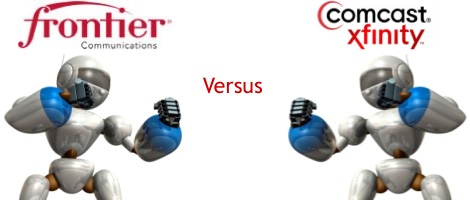 Many customers are limited by service availability in their areas, making choices academic when it comes to accessing the Internet. More options are becoming available every day, thus underscoring the importance of comparing costs and services directly.
Comcast and Frontier represent two of the most popular high-speed Internet providers operating in the U.S. today. Where Comcast has continued to rely on its extensive cable network to provide connectivity, Frontier has become an early supporter of fiber optic technology for Internet service with it's Frontier FiOS service. Learn more about the differences between these two delivery methods and decide which one is ultimately best for your home or business needs.
Cable and Fiber Optic: Whatís the Difference?
As the name suggests, cable Internet service runs through the same infrastructure thatís used for transmission of cable television programs. While itís certainly a startling leap over the dial-up modem connections of old, cable still suffers from certain hindrances. For example, although TV programming does not interfere with its Internet capabilities, cable Internet remains subject to the pitfalls of peak-usage periods. Thatís because in most areas, connections are shared between multiple customers, which serves to impact individual upload and download speeds when there is more traffic.
Fiber optic technology sidesteps this drawback by making use of dedicated lines for each location. This means not only greater speed and stability, but also improved security against network intrusion attempts by hackers. Moreover, the fine glass strands which make up fiber optic cables do not rely on electricity, so thereís no interference from high-voltage sources such as power linesónot to mention a lesser risk of fire. Conversely, cable connections are known to be susceptible to electrical issues and other service-related outages. These are factors worth considering, depending on the dynamics of your area.
In spite of the numerous advantages, itís still worth noting that the installation process for fiber optic Internet is, in most cases, considerably more time-consuming when compared to cable. Itís also not nearly as widely distributed currently, which means services wonít necessarily be available in all areas.
FiOS vs Comcast Xfinity Speeds and Pricing Comparison
Comcast and Frontier each offer a number of packages which include high-speed Internet service. Itís important to note that, as with virtually any such service plan, initial discounted pricing is offered for specified durations before increasing to higher standard rates. Keep this in mind when comparing plans in order to determine your true expected costs over time.
Comcast Internet for the Home
At present, Comcast offers three Internet-only packages. All prices listed below presume a 12-month commitment upfront; add $10 per service plan if opting for no-term agreement when signing up.
Performance Starter: Advertises download speeds of up to 10Mbps, suitable for basic streaming needs, browsing the web, email, etc. Recommended by Comcast for simultaneous use by 1-2 users. Cost: $29.99/month for the first 12 months.
Performance 25: Downstream speeds up to 25Mbps, recommended for downloading and streaming music and TV shows, high-resolution photos, etc. Ample support for 2-4 concurrent users with nationwide hotspot access included. Cost: $39.99/month for first 12 months.
Extreme 250: Advertised downloading speeds up to 250Mbps, sufficient for high-activity use on 8+ devices at once. Hotspot access is included. Cost: $69.99/month for first 12 months.
Additionally, Comcast provides a host of Internet + TV packages for customers seeking more all-inclusive solutions. Package rates start about $20 higher for basic 10-channel offerings over the first 12 months, but do not otherwise impact Internet service.
Frontier FiOS
As a newer service offering, Frontier FiOS advertises availability primarily in the Pacific Northwest as of May 2016. As such, the company currently provides just a single Internet-only service plan on their website:
Simply FiOS Broadband 30/30: Download and upload up to 30Mbps, suitable for streaming and downloading of high-res video, audio, photographs, etc. Wireless router included. Cost: $34.99/month with two-year price guarantee.
Simply FiOS Broadband 50/50: Similar to the 30/30 plan but with upload and download speeds of up to 50Mbps for a price starting at $64.99 per month.
The same 30Mbps Internet service is offered alongside 220 television channels with the FiOS Broadband 30/30 + Prime HD package ($74.99/month for 12 months with two-year agreement). Finally, 50Mbps upload and download speeds are possible with the FiOS Broadband + Prime HD + Digital Phone Unlimited bundle, which starts at $99.99/month for the first year when committing to a two-year contract.
Alternatives to FiOS
If FiOS is not available in your area, or you simply don't want a fiber based Internet service, Frontier also offers a regular DSL based Internet solution. This works by simply connecting a DSL modem to your regular analog phone line (copper wires) and you will then have access to the Internet.
Note that pricing and speeds will be different from the FiOS service. The lowest cost introductory plan is $34.99 with speeds advertised as being up to 6Mbps.
If you are looking for some other providers to compare these services to, you can compare most services in our broadband Internet provider review section.
FiOS Availability and Verizon
While Frontier has historically offered FiOS service in the North West of the USA, it has recently started offering this service in select cities in California, Florida and Texas.
If you are located in the North East, there is a good chance you can use the Verizon FiOS service as it is offered in some select cities in New York, Pennsylvania, Massachusetts, Washington DC, Maryland, Rhode island and Virginia.
The Verdict
While similar at heart, itís difficult to accurately weigh services which are not truly comparable in all regards. Comcast Internet offers a much larger service map compared with Frontier FiOS at the moment, although feedback suggests that greater availability will lead to more balance between the two customer bases.
Frontierís fiber optic offerings certainly offer more bang for the buck when stacking up speed against speed, although power users may be put off by the lack of options when choosing not to invest in TV or telephone bundles. Once again, the expected time and cost of installation is also worth factoring in if youíre not looking for the absolute greatest amount of bandwidth around the clock.
A brief breakdown of the pros and cons for each provider to summarize:
Note that when Internet companies refer to speed they are typically saying that these speeds are "up to" and "best case".
Comcast Internet Pro's and Con's
Widespread availability in most regions.
Multiple Internet-only service plans to choose from.
Choose from Internet, TV and/or phone service bundles.
Speed may be impacted by other nearby customers.
Can be affected by heavy storms or electrical interference.
Lesser overall performance potential versus fiber optic.
Upload and Download speeds are different.
Please also find out what existing customers are saying about this service by checking out our Comcast Xfinity review section.
Frontier FiOS Pro's and Con's
Higher base upload and download speeds.
Improved network security and stability.
Service unaffected by other users in your area.
Not available in many areas at present.
Installation can be more difficult compared with cable.
Limited service plan options overall.
It is also worth reading up on reviews of Frontier FiOS prior to making a purchase decision.
Finally, please bear in mind that the information described in this article is as advertised by Comcast and Frontier respectively; before making any type of commitment, always read the fine print. Inquire with your sales representative to ensure that your expectations will be met with regard to pricing and performance in your specific area.