Switch Communications Review by WhichVoIP.com
Many times, business ventures will lead into unexpected territories. Sometimes this means utter disaster but in other situations, a great product is derived from a tangent based on an original business trajectory. In the case of Switch.co, what initially began as a series of mobile applications from the business accelerator Firespotter, eventually evolved into VoIP and ultimately, the Switch Communications platform.
The Good
The Switch service is a classic BYOD (Bring Your Own Device) VoIP service and no hardware is required. Simply download the Switch app to your smartphone or use the softphone for your PC or laptop, enter your login information and you are good to go.
All of the basics you would expect from a modern hosted phone system are included. The service comes with features such as auto attendants, programmable IVR menus, a company directory, call forwarding and other common VoIP system features. Unlike some systems, no additional charges incur for basic features or more advanced features. Anyone can use the video calling features, visual voicemail, instant messaging, among other features without paying extra.
The most attractive portion of the platform lies in the power of additional applications that integrate into the system. Most Google Apps may be accessed directly from the system such as Gmail, Google Drive, Google Calendar and so on. For companies using Google for cloud services, this greatly improves collaboration with scheduling and files available directly from the phone client. Further, those using Office 365 may integrate these services directly into the system for unified access of resources and data.
Pricing is a very straightforward, per user model. No matter how few (or many) seats you have, the cost is just $15 per month per extension. Users can register additional devices at no additional costs so associates on the go can easily transfer a call between physical devices to a mobile device when a call requires more time and the individual needs to move to a new location. The company does not require contracts so service can be canceled at any time with no additional fees.
Each user can make unlimited domestic calls and texts which is impressive, though a little surprising considering the price point. There are of course reasonable use policies in place with respect to unlimited calls, which tends to be standard practice these days. No details are given in the terms and conditions as to how many minutes is considered reasonable.
Setup is all handled by Switch so anyone with basic computer skills can take full advantage of the system. The provider can assist assembling phone menus and other features.
Although the main focus is BYOD, the system can also work with some IP phones and any touchtone analog phone. However, in the case of an analog phone, one small piece of equipment is required to complete the connection. The company furnishes Obihai devices (Obi300 adaptor) for $49 to connect an analog phone but they also provide a fully integrated OBi IP phone (1032) for $189.
Customer service is very accessible – a great peace of mind, should something go wrong at any point in time. We spoke with customer service to ensure facts found on the website are accurate. The associate assisting us was a very friendly individual who quickly and effectively answered all our questions. There is also a decent knowledgebase support section on the Switch website, covering a lot of FAQs, guides and articles on the service. A phone number and email address is provided for additional support, though no service hours are stated. I like that Switch.co has a status dashboard on its main website so you can see at a glance real-time operational status and any past incidents with the system. You can also subscribe to receive status updates.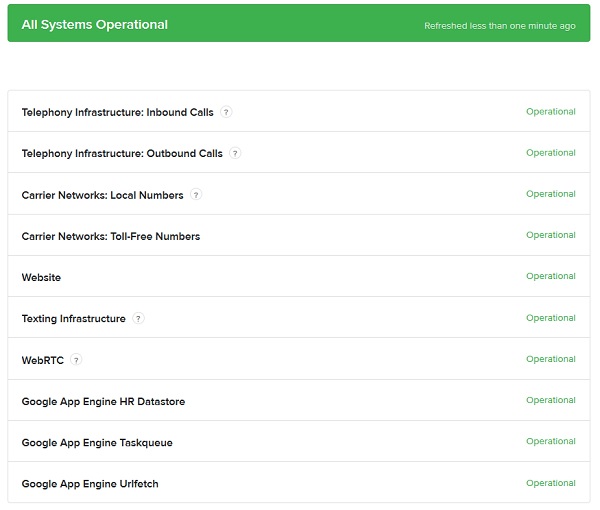 The Bad
Perhaps the biggest fault with the service is the lack of physical phone options currently available. In order to get the most of a physical phone, you are required to purchase an Obihai IP phone (1032) from Switch at $189, which is more expensive than many IP phones on the market. It features a full color display and complete integration with the Switch phone system. Most providers in this space offer Polycom, Cisco and Yealink phones to customers, so it is a little surprising that Switch chose Obihai for this.
Connecting any analog phone is possible however, this feature is becoming more of a novelty than a true value. In order to do so, the OBihai adapter for Switch (Obi300) is required at a price point of $49, again a relatively expensive option. This cannot completely integrate any analog phone into the system, it simply allows a user to make and receive calls. Thankfully, the company does not push the OBi adapter. Frankly, a customer may be better off spending money towards a good headset and utilizing the Google Chrome Extension. In the case of the latter, the application will open with Chrome and provides an added bonus allowing uses to start calls directly from the web by pointing and clicking.
The switch app is not currently available for Windows or Blackberry based phones. Current BYOD support is for MAC, PC, Android and iPhone only.
The Bottom Line
Complete set of basic VoIP features and a few advanced features, at a flat $15 a month per user with unlimited domestic calls and texts.
Simple setup only requires end user to install software on their phone or PC/laptop, and input credentials to begin taking advantage of the system.
If you require an actual desk phone, you will need a specific IP phone from Switch.co at a price point of $189. Alternatively, the OBi adapter for Switch will accommodate analog phones for $49.
Cloud based applications from Google as well as Office 365 both integrate into the Switch service.
A softphone is available for Chrome that works on most operating systems. The Switch App is available for both iPhone and Android phones.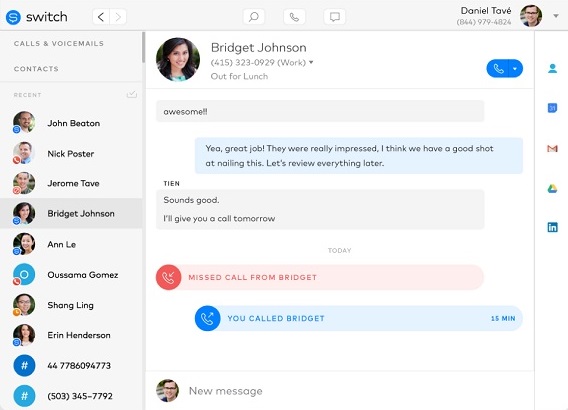 Overall Thoughts
It is rare to see a company offer a complete communication solution for such a low fee. A $15 per user fee is quite remarkable, most companies will not offer service for such a low price unless the customer is purchasing hundreds of extensions. Hopefully this pricing model is sustainable.
Being able to move freely by shifting calls between mobile, desktop and physical devices is not exactly novel but still a very useful feature to promote as this is the norm these days for many professionals in various industries. Having access to other resources with the integration of either Google or Office 365 makes the service almost too good to be true.
Whether on a budget or just looking for a great hosted phone system, it would be well worth the time to investigate Switch and see if it fits your business needs.