InTalk Review by WhichVoIP
From its launch in 2004, inTALK has been focused on providing a business-grade broadband phone service (VoIP) to the small office, home office (SOHO) market at the low cost residential service price point. Powered by the award winning Nextiva, users get to take adavantage of their big brother's technology, communication platform and great customer service.
The table below provides a high level summary of our review of InTalk VoIP phone service. Scroll down to read the full review of our test drive, including ordering, installation, and how the service stood up to our testing.
The Good
The inTalk phone service was very easy to set up and we were making phone calls in no time. This service is primarily aimed at the small business owner (typically small office / home office type businesses) and is priced appropriately. Owned and operated by Nextiva means the backing of a large, well established and award winning service provider.
The Bad
Not a great deal to focus on here. The price point could be more aggressive when compared to residential services that provide great deals for the first year or two. The feature set is solid but does not include the plethora that some other providers boast. Quality did degrade slightly when we tested under heavy Internet usage but we did not tinker with QoS as it may be out of the comfort zone for many users.
The Bottom Line
Service Cost: Annual plan is $195 for 1 year service (equates to $16.25/mo). Monthly plan is $19.95/mo.
What's Included: Unlimited minutes (in/out), free setup, plus 17 calling features and E911 service.
Extra fees apply for international calling.
Overall Thoughts
Overall, inTALK's phone service passed our review as a very solid and dependable VoIP service. We would recommend this service to a SOHO (small office / home office) type business as a good choice. The following provides a quick glance summary of our ratings for inTALK, and the overall rating of 4.4 out of 5.
Our Ratings for the inTalk Phone Service
| | | | |
| --- | --- | --- | --- |
| OVERALL RATING | (4.4) | Ease of Order | |
| Delivery | | Installation | |
| Voice Quality | | Service Reliability | |
| Service Features | | Customer Service | |
| Value for Money | | Web Portal | |
Introduction
The inTalk phone service has consistently had one of the highest user ratings on WhichVoIP. We decided to take their service for a test drive, read on for our findings.
Ease of Order:
We decided to order through the whichvoip.com website to check out the $195/year and free activation deal. The process was remarkably easy, straight forward and only took minutes.
We rated this with a 5 out of 5, but hey, ordering should be the easy part right!
Delivery:
Next up was delivery. After ordering on line we waited in excited anticipation like a child in a candy store (OK, we are geeks!). The good thing was that we did not have to wait for long......a total of 3 days from ordering to when we received the phone adaptor via UPS. We even had a tracking number for UPS so we could check on the UPS website where our new ATA was spending the night.
We rated this with a 5 out of 5 also, pretty straight forward and quick delivery.
What's in the package:
OK, now we received the box lets take a look at it. The box was an approx 10" x 10" x 6.5" (W x D x H) in dimensions. The below picture shows the received box (wow, look at that... a brown box!!). Inside the nice brown box there was a Linksys PAP2T VoIP ATA box, an approximate 9.5" x 6" x 2.25" (W x D x H) in dimensions, padded with peanuts.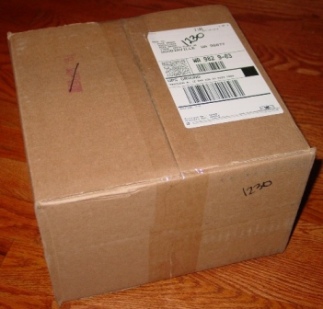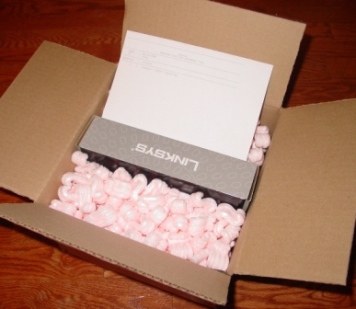 The below pictures show the Linksys box and then the contents. The contents included an ATA (the phone adaptor), power adaptor for the ATA, and Ethernet cable (to connect between your broadband modem and the ATA modem) and a quick installation guide.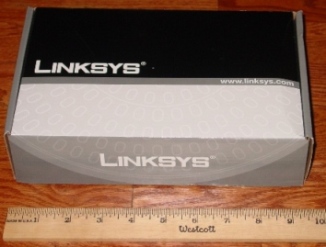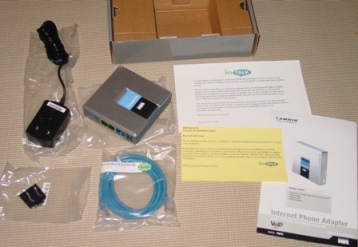 The below pictures provide some close-ups of the actual ATA device. The ATA device is approximately 4" x 4" x 1.25" (W x D x H) in dimensions. The first picture shows a close up of the connections, showing (from left to right) two phone line connectors, the Ethernet connector, and the power connector. The second picture shows the LED's that provide indication of phone 1, phone 2, the internet connection, and power applied (from left to right).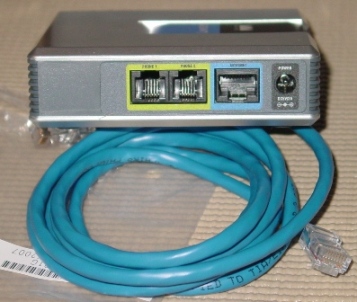 Installation:
So lets get to some of the nitty gritty stuff. Installation of the inTALK VoIP phone service was a breeze. We followed the very easy to read and illustrative installation guide and was up and running in less than 5 minutes. The installation consisted of just a few steps, connect the Ethernet cable between the ATA device and a broadband port on your router, connect the power adaptor to the ATA device and then to the electrical outlet, and then connect a telephone cable between your telephone and the ATA device. Once the power, Ethernet and the Phone LED's were solidly lit the ATA was ready for use. We turned the phone on and had dial tone. As we had set up at my home I dialed the office number and left a message on my office voicemail. I then called one of my other home phone numbers and talked to my wife on the other end. Everything worked great and the sound quality was clear with no noticeable echoes, clicks, fuzzy noise etc. More on the performance and features below.
Installation was rated with a 5 out of 5. Our only comment here is that we tend to recommend using the ATA device before your router so that the ATA can control the quality of service (QoS) rather than the router. However, we have to say that this worked just fine with the ATA after the router.
Broadband Connection:
To perform the testing on the inTALK VoIP phone service we were using a DSL service with a 768kbps/128kpbs connection. In recent times this is considered to be the minimum grade of high speed internet service available so we considered this a worst case test (with respect to download and upload speeds).
inTALK VoIP Phone Service Review and Ratings:
This is the part where we put the inTALK VoIP phone service through its paces and provide our own rating of the service. This section is broken down into different categories that relate to our VoIP review questionnaire for consumer submitted VoIP phone service provider reviews and ratings.
Voice Quality:
This is one of the main categories that people are interested in....is it like my cell service, does it sound like my heads in a bucket, is it all crackly, does it have lots of echo, or is it just like my landline? This category is somewhat subjective and can have some dependency on your internet connection. As a test, we decided to see how well the voice quality held up under various scenarios of computer usage at the same time as talking on the phone. The scenario's we came up with included rating the inTALK VoIP phone service quality during heavy downloads, then heavy uploads, and then comparing with the PC off.
Test Scenario Number 1; Heavy Downloads: For this test we performed a continuous (looped) download of a 20MB text document (pdf). We maintained the phone call for 3 minutes. During this test scenario we noticed an added background noise but it was faint and did not affect the sound quality of the phone conversation in any way. The noise was not continuous though and came and went. We did not consider this enough to be annoying. The called party noticed a couple of dropped words but this was with no adjustments to QoS.
Test Scenario Number 2; Heavy Uploads: For this test we performed a continuous (looped) upload of a 2MB text document (pdf). We maintained the phone call for 3 minutes. During this test scenario we noticed a similar background noise to the download test but again was faint and really did not affect the ability to have a clear conversation.
Test Scenario Number 3; PC Off: For this test we powered down the PC so there was no internet traffic other than the inTalk VoIP phone service during a call. Sound quality was excellent and sounded no different than a standard land line quality during the 3 minute test call.
We also made long distance calls and some international call. We were amazed at the quality of the international call to the UK. This was actually better than the quality of a call from a landline. The long distance calls were very good quality also. These calls were made during times when the PC was off.
Overall we are rating the voice quality with 4 out of 5. The only reason we dropped a star was the slight background noise during heavy internet usage. However, we did not feel it degraded the conversation in any way and also this was a continuous internet usage test, which will not always be the case when you are using the phone.
Reliability:
Another category of interest to potential VoIP phone service users is reliability.......will it work and will it work consistently? For this one we decided to monitor the service over a 4 week period and check for no dial tone, busy tones, calls going directly to voicemail or some unexpected message that says this phone number does not exist. This category included making calls from and to the inTALK VoIP phone service under test.
We set up a schedule where dial tone was checked in the morning, at lunchtime, around dinner time, and then again later in the evening. Once dial tone was verified then a test call was performed. We used the inTALK VoIP phone service for general use also, but we wanted to have a minimum schedule for each day. The test phone calls were all made to landlines so as not to bring in an unknown (for example, cell phone or another VoIP provider). We also set up a minimum schedule for incoming calls of mid-morning, mid-afternoon, and after dinner time in the evening. Each test case consisted of two phone calls, the first to be answered and the second one directly afterwards left to go to voicemail.
I'm happy to say that we did not experience any reliability issues that we can contribute without question to the inTALK VoIP phone service. We had one time that was late in the evening when we did not get dial tone. We checked our internet access via the computer and it was down. Power cycling the DSL modem cured the issue so we believe it was the DSL service at fault (as we have observed that problem occasionally in the past). For this reason we are rating the reliability with a 4 out of 5, although maybe not completely justified, but still very good.
Features:
One of the great advantages about VoIP phone service is the multitude of cool and useful features that go along with internet phone service. This category provides some information on the features provided with the inTALK VoIP service and how we rate them overall.
The following provides a list of the main inTALK VoIP phone service features (these could change at the providers discretion without notice) : voicemail, adjustable ring length, caller ID, call waiting, call waiting caller ID, call hold, 3-way conference, contact list, speed dial list, simultaneous ring, find me follow me, do not disturb, call history viewer, call screening, click 2 call, and E911 services.
These are a solid set of features that we consider useful and a lot better than you get from your local phone company by far. However, we rated their feature set with 4 out of 5, only because there are a few other VoIP providers out there that provide a larger set of features, although not necessarily better in any way (feature overload!).
Customer Service:
From the over 4000 consumer submitted reviews (at time of writing) we have on various VoIP phone service providers one of the common themes for some VoIP providers is regarding bad, difficult to understand and unresponsive customer service. Therefore, this was a good candidate as part of the overall inTALK review. We found the customer service friendly, knowledgeable, patient, clear, and helpful. The lady I chatted with helped me set some parameters inside my router (this meant logging into it from my PC, finding it and setting it). I had told her that my issue was calls being dropped after about 15 minutes into the call. The parameter change fixed the issue.
We rated this 5 out of 5 from our good experience with the inTALK customer service and when compared with some of the horror reviews submitted to our site for some of the other VoIP providers available.
Value for money:
This is an easy one. We feel that after having this service for a while it provides excellent value for money. inTALK provide an annual plan for a mere $195 for the whole year, which equates to just $16.25 per month for the unlimited calling plan (at time of writing). A landline phone service can easily cost 3 times that amount, and with less features. There are plenty of VoIP competitors out there though who come close to this deal, and its just a great sign for the consumer who can keep their hard earned cash in their pockets. We rated this with a 4 out of 5 based on the price, quality of service, reliability and feature set. The slight drop is only because some residential focused services have appeared over the last few years which have great introductory deals that beat this price.
Web Portal (Internet account):
The web portal is a very useful and great way to stay in control of your VoIP phone service. We found the web portal generally a little basic but that actually made it very user friendly, easy to navigate and easy on the eyes.
The login page was very straight forward. Once logged in you enter the "Control Center". The first screen provides a quick summary and visual of your current status (phone, caller profile setting, do not disturb feature, caller id block and Voicemail summary). The navigation menus on the left side provide the following options:
Your Phone: This provides access to items such as the phone number, phone settings (allowing you to set sound quality - lower or higher, a forwarding number, a caller ID name, and international calling enable/disable), voicemail, call history (received and outgoing), and a profile scheduler.
Features: This provides access to features such as your Phone Book (where you can add contacts), Profiles (including call handling, find me and filters), Reminder Calls (where you can set reminder calls), Feature Access Codes (a list of feature access codes), and Speed Dials (where you can set up speed dial numbers).
Your Account: This provides access to your Account Information, Billing History, Recharge Account, and Order Status.
Vital Stats: This provides access to your Phone System Status, New Voicemails, System Messages, and Current Plan information.
Overall we rated this as 4 out of 5 as functionally it does everything you need, only dropping a point because it would have been nice to be able to set up your own features for the initial control panel screen after login.