The Grandstream GXP2130 is an enterprise grade IP Phone that is part of the GXP series and supports broad SIP interoperability with any PBX or hosted platform that utilized the SIP standard.
Use the tabs below to navigate to various information options.
Grandstream GXP2130 Review by WhichVoIP
The below provides a summary of our review followed by a description of what is in the box, setup and installation.
Our Ratings for the GXP2130
| | | | |
| --- | --- | --- | --- |
| OVERALL RATING | (4.0) | | |
| Performance | | Installation | |
| Voice Quality | | Durability | |
| Features | | Ease of Use | |
The Good
Incredible price for a color screen IP Phone. Current pricing on Amazon is around $75 before tax and shipping.
Although color screen is just 2.8 inch and 320x240, the text and numbering is clear, sharp and easy to read without straining your eyes.
Really like that this phone comes with a power supply, unlike some of the competitor phone models that charge another $20 or so for the supply. You could argue that this might be a waste if the phone utilizes POE but we still think this is a nice to have device.
Good number of features that include 3 lines (SIP accounts), 4 XML soft-keys, PoE (Power over Ethernet), 10/100/1000 Mbps Ethernet, HD voice and 8 BLF extension keys.
Incredibly easy to install, setup and use.
The Bad
Like many other models of IP phone, this model uses graphical icons to identify the functionality of each key. Although these are mostly intuitive it may take some users a few tries to figure out what each button does.
The handset feels just a little bit too small in your hand and also when pressed against your ear. This may be personal preference but the physical size is definitely smaller when compared to other models. This is likely not an issue for most people in addition to the likelihood that the speakerphone or headset will be more commonly used.
There is no Bluetooth capability with this phone so if you like to strut around the office while you are on a call, choose a different model.
While this is certainly a nice looking phone, the plastic buttons don't quite seem to have as high a quality feel and finish that some other more expensive models do.
The Bottom Line
We had somewhat low expectations of this phone due to the low price and number of nice features, so found it hard to believe that such a package would be a quality offering. Well we are in fact very pleasantly surprised and it is actually hard to critique this phone since the price is so low, it comes with a good number of features and it looks and works great. In particular a very nice color display, with 3 available lines makes it stand out from most of the competition at this price point, and makes it a great choice for any office.
The option to use PoE (Power over Ethernet) is a great option and will facilitate easy deployment to larger offices that support this feature in their networks.
Overall Thoughts
The Grandstream GXP2130 is a low cost, simple to use IP Phone with advanced calling features and is a perfect choice for home offices, small to medium sized businesses and larger enterprises. Buyers looking for more lines, a larger color display and additional BLF buttons should also look at the GXP2140, GXP2160 and GXP2200 models from Grandstream.
What comes in the box?
Quick Start Guide for GXP2130.
Guide to other Grandstream IP Phones and Adapters.
The actual GXP2130 phone.
A handset for the phone.
12v Power Adapter.
1x Ethernet Cable.
1x Phone Cord to connect handset to main case.
1x Phone stand for using on the desktop.
1x Wall mount bracket.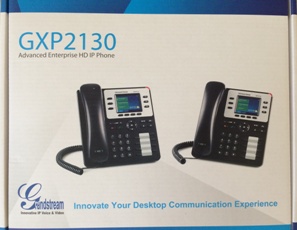 Setup and Installation
Setting up the phone was simple and was just a matter of adding the phone to our private test network via an Ethernet cable and then connecting the power supply. In well under a minute the phone was up and running and ready for configuration. Figure 2 below shows the Grandstream GXP2130 phone and a description of the various buttons.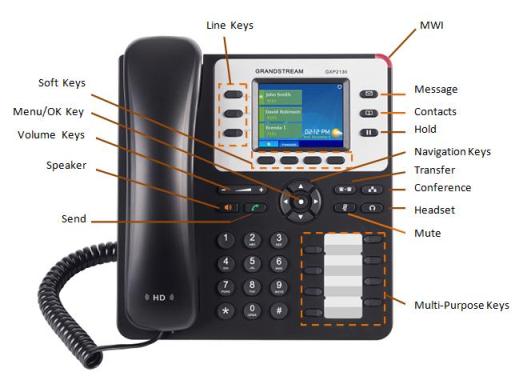 To configure the phone, you will need to find out the IP Address that has been assigned by your DHCP server. Follow this procedure to find it:
Select the Menu key then use the navigation keys to select option (2) Status.
Scroll down to "Network Status" and hit the select button.
Your IP address is listed here and for the purposes of this discussion, let's assume the address is 192.168.1.81
Now for the fun part and you get to open the Grandstream Graphical User Interface (GUI). To do this simply open a browser and your IP address and show should immediately be taken to the login screen. Go ahead and enter the username and password as admin and admin and you should be taken to the configuration menus. Now navigate to the "Accounts" menu and select "Account1" and you should be taken to the General Settings for line 1. At this point you will need the following information from your service provider:
The name or IP address of your SIP server.
Your SIP User ID
Your authentication ID
Your authentication password
Your name
Voicemail user ID
Our private network is running on an Asterisk server so we had complete control over this configuration. Fore more information on setting up an on-premise Asterisk call-management switch read our article on how to setup an Asterisk switch.
Figure 3 below shows what the screen should look like after you have entered the information and saved (our SIP server IP has been masked):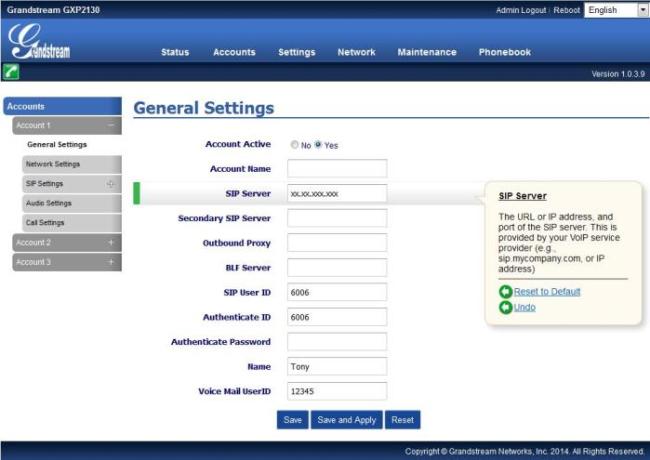 You are now done configuring the phone and it should be up and running as part of your telephone network.
Published: by WhichVoIP
---
We're sorry, there are currently no user submitted reviews for Grandstream GXP2130 matching your search criteria at this time. Please add your own review or check back later as reviews are being submitted often.
Disclaimer: The opinions, views and ratings expressed in these reviews are those solely of the reviewer who submitted the review. WhichVoIP does not necessarily agree with any of the expressed opinions, view or ratings.