Introduction
The increasing popularity of the virtual office, telecommuting and remote computing frequently makes it necessary for employees, partners, and customers to hold multi-party meetings leveraging various Conferencing solutions. Of course, having all parties fly off to meet in Cabo for a week and talk business over margaritas would be great fun, but today, economics demand that most meetings take place virtually. The most common way to achieve these is through calls and to do this, a provider is required.
VoIP (Voice over Internet Protocol) has made Conferencing easier than it has ever been. This is because it works in the same way as your data network. Packets are sent over the Internet and it does not matter if these packets are audio, video or web data, it is all converged to just digital data. It is for this reason that many collaborative services have emerged on top of VoIP solutions, especially by busines providers. You still get your regular phone service and abundant features thrown in plus you can schedule webinars to train or be taught remotely and share virtual white boards and presentations, hold video calls with customers on the other side of the planet and save on air fares and the dreaded jet lag, and much more.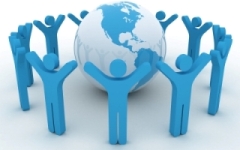 Everything You Need to Know About Conferencing Services
This article will walk you through the following:
A short history of the use of video for connecting multiple parties.
The main benefits of using an Internet Conferencing service.
An introduction to some of the main features that are typically included.
Our guide to selecting a service provider that meets your needs.
An introduction to some of the most popular service providers today.
A Short History of Video Meetings
Video conferencing started with the development of the television. It began as a closed-circuit, two point conference. People were at either end of the telephone/television and used a dedicated circuit to have a video meeting with each other. The German postal service is the first known company to use this method and they began in 1936.
From this early type of video conferencing, have come other types of two-way, closed-circuit solutions. Space agencies regularly use radio waves to have closed-circuit discussions with their astronauts; this is how NASA talks to astronauts on the space station. In a similar manner, television stations use closed-circuit, two-way video to allow reporters in the field to speak with, and answer questions of, the reporters in the studios.
After these early developments satellite link-ups were used. These satellite link-ups allowed point to point communication between two units. However, this technology was very expensive, and had the same results. Additionally, satellite connections could not be used for a business meeting.
Before 1990, video meetings used expensive technology. This technology was not available to the general public. The technology often used analog signals that produced low-quality images and audio. With the advent of the Internet in the 1990ís, everything changed.
After 1990, the technology available for video meeting became more common, less exclusive, and less expensive. Instead of needing dedicated equipment, meetings could now include multiple parties using normal, readily available equipment.
In 1995, the first public video conference took place. This was between North America and Africa which connected a fair in San Francisco with a party in Cape Town, South Africa. This was the first, public example of what could be accomplished with the new technology and infrastructure of the Internet. Since then the technology has continued to grow and this type of functionality is readily available at low costs.
Benefits
Lets take a quick look at some of the main benefits for your business.
Effective Decision Making
This means getting input from everyone involved so that decisions are made with full and accurate information. In a world where many businesses gather information from many sources, including international sources, there needs to be a way to gather this information quickly and accurately. A Conferencing service provides the perfect solution, with all participants in one location Ė a virtual location. The ability to collaborate on such decisions is a benefit to businesses.
Reduction of costs
This is the most obvious benefit. Instead of paying employees to travel (flights, hotel costs, food, taxi's etc), even just across town, employees can conduct meetings from whatever location they are currently in. This can include a variety of scenario's, from meeting with other company personel when working on joint projects to training new employee's or employee's looking to learn new skills. Reducing costs means your business can maintain a competitive advantage, such as providing your product or service at a lower price or simply achieving greater profits. Also, being involved in meetings at their normal work location can allow employees to attend to any immediate issues that arise rather than waiting for their return, improving productivity.
Real-Time Communication
Although the parties may be in different time zones and different locations the involved parties are able to communicate in real-time. This allows questions to be asked, and answered, without confusing correspondence and delays due to timezones or other priorities.
Real-time communication also means the availability of document and program sharing between participants. Being able to share documents and programs means less time spent editing, sending the documents out for review, and more editing. Instead, changes can be incorporated as they are discussed, and participants can view the final document and give approval all at the same time.
Features
Here is a short list of some of the available features that many Internet Conferencing solutions provide today:
Presentation Sharing - most basic feature that allows you to share your presentation with everyone.
Document Sharing - share any document with your audience.
Application Sharing - share any application with all conference participants.
Desktop Sharing - share anything on your desktop.
Remote control sharing - allow another participant to take over your screen.
Annotation - anyone can make changes to a document during a conference.
Polling - ask participants for feedback.
File Transfer - upload/download files.
Text Chat - chat window for questions and answers.
Video Integration - see the people you are talking to.
Recording and Playback - Record the entire conference and save to a file.
Mobile Integration - use Apps on your Smartphone.
Draw and Highlight on the screen.
Selecting a Conferencing Solution
When considering options, there are five key criteria that should to be addressed. While there are other things to consider, these five criteria are the basic considerations that must be determined before selection. The five criteria are goal, effectiveness, technology, location, and cost:
First, consider the goal. If the goal of the conference is simply to disseminate information, or to hear someone give a presentation, a webcast might be the best solution. If the goal is to have a discussion, then a call or online conference is a better solution. If the goal is to have everyone work on a document, and talk about the changes they want to make, and work on those changes together, then an online solution that includes the ability to manipulate documents is the best option. The goal can determine which of the options will work best for your conference needs.
Second, consider the effectiveness of each solution. As an example, if time is not a concern then perhaps an audio option will work for editing documents. One person can be placed in charge of editing. That person will make notes based on the discussion, then edit the document, then send the document out to people. However, if face-to-face interaction is needed in order to have an effective meeting, then an online solution will work best. Making sure the conferencing solution is effective will make sure the goal can be reached.
Third, look at the technology available and the technological know-how of the participants. If having an online solution would mean purchasing new equipment, like webcams and microphones, perhaps a simpler audio solution is better that uses existing phone lines. If the participants are uncomfortable with technology, like document sharing and editing, then that needs to be taken into consideration. The participants in the conference need to be comfortable with using the technology so it can be effective, and reach its goal.
Fourth, examine the location of the participants. If everyone is within an easy drive of each other, or a walk, perhaps a traditional face to face meeting will work. If everyone is in different locations around the world, then an online conference solution would work better. If the participants are spread out across the same time zone, but not within easy travel distance, perhaps an audio solution will work. The location of the participants can determine what type of solution is needed.
Lastly, study the cost. The cost should include everything associated, such as the technology, purchasing the use of an online platform, the time of the participants, travel and shipping costs (if any), and any other associated costs. Physical meetings, where people are in the same room, are often very costly. However, meeting online tends to be cheaper because they use currently available technology without having anyone travel. The conference solution can change based upon the budget.
Popular Service Providers
Below are just a couple of the many service providers in the market today.
GoToMeeting

GoToMeeting is a pay-for-service Internet conferencing software solution (audio, web and video). They have a 30 day free trial option which is a great way to check out the service before making your decision. They currently provide 2 plan options, one that allows up to 25 attendees starting at $49/mo (per organizer), or one that allows up to 100 attendees starting at $69/mo (per organizer). Each plan includes unlimited usage.
The software is easy to install and use (on PC or MAC), and includes mobile Apps (iPad, iPhone and Android devices) so you can use it on the go or at your desk. Technical support is available 24 hours a day, seven days a week, and the plans include unlimited free version updates. Each plan also includes built-in phone and VoIP audio at no additional cost.
GoToWebinar and GoToTraining are products also available. GoToWebinar comes in 3 different plan options, each including GoToMeeting. The lowest cost plan starts at $99/mo/organizer and allows up to 100 webinar attendees, then $399/mo/organizer for up to 500 attendees, and then $499/mo/organizer for up to 1,000 attendees. There are currently two (2) GoToTraining plans (both include the GoToMeeting service), one starting at $149/mo for up to 25 attendees, and the other starting at $349/mo for up to 200 attendees.
To learn more you can read our GoToMeeting Review and access user submitted reviews, or add your own.
Webex

WebEx, by Cisco, is a cloud based Internet conferencing software solution (audio, web and video). There is no software to download to your computer, rather you enter their secure site and use the software online. Mobile Apps are available for iPhone, iPad, Android, or Blackberry devices so you can use it on the go.
Instead of having to use an outside program, like Google Docís, to share documents and programs, WebEx allows a meeting presenter to store all the files needed for the meeting for all attendees to access in the Meeting Space. You can also share files on your desktop during the meeting. This is an extremely user-friendly interface for anyone who has to give presentations over the Internet.
Four plans are currently available. The Basic plan is free and allows 3 people per meeting and uses standard quality video. The Premium 8 plan starts at $24/mo/host and allows up to 8 people per meeting plus has high definition video. The final two plans are the Premium 25 (most popular) and the Premium 100, allowing up to 25 and up to 100 people respectively, with a cost of $49/mo/host and $89/mo/host. Annual plans are available at reduced pricing.
Live 24/7 support and up to 1GB storage is included in the paid plans. They also include VoIP, phone call-in and call me/toll free call-in audio options, high definition video, and Microsoft Outlook integration.
To learn more you can read our WebEx Review and access user submitted reviews, or add your own.
Read our GoToMeeting versus WebEx article to see how these two solutions compare.
Join.Me

A recent newcomer to the web conferencing marketplace is join.me. It has quickly gained in popularity due to its simplicty, ease of use and the basic fact you can have a web conference with up to 10 participants for free.
To learn more you can read our join.me Review and access user submitted reviews, or add your own.